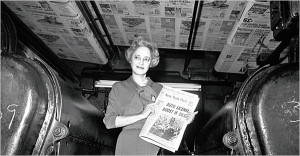 Post editor Dorothy Schiff, before the arrival of Murdoch in 1976…
Yes, there is a New York institution that one can use the headline above as its description, and that institution is the New York Post. Given all the recent calamities within the Murdoch empire these days, I thought I would re-post the link to our podcast (#41) on the Post, from April 4, 2008. Give it a listen. You can also find it on iTunes in our Bowery Boys Archive feed. It's also an 'illustrated' podcast, so the items we are speaking about will pop up on the screen of your listening device.
The original blog posting can be found here.