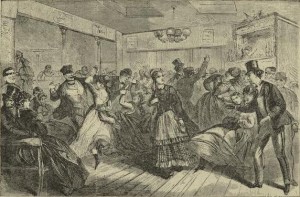 A torrid night at Harry Hill's concert saloon on Houston Street. Naturally, such fun must be stopped! (Pic courtesy NYPL)
Yes, yes, the Civil War began 150 years ago this year. I hope you have not grown tired of hearing that fact, as I've got an entire summer of posts and podcasts relating to it! But for purveyors of New York nightlife, something else occured during that same time period — the peak of the concert saloon. While this particular performance venue does not have a specific date of birth, by 1861, this new form of nightlife rose to such prominence that, quite naturally, cultured people sought to close them down.
The concert saloon combined many entertainment pastimes into a single experience, but its true objective was merely to sell booze. This type of venue developed over a series of years, combining the austerity of the English music hall with the ribald and often debauched leanings of the American musical theater. Think of the Bowery theaters, filled with rowdy audiences and prostitutes going about their business in the balconies, and combine it with the lust for alcohol found in basement grog houses and corner taverns.
As Brooks McNamara notes in his book on the New York concert saloon, the more fashionable concert saloons were found near Broadway, while the more notorious variety found homes near the Bowery. The two streets were often viewed as twins — one good, one evil — but on certain nights, it might have been difficult to tell the two apart.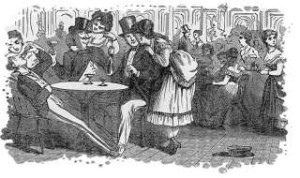 Vaudeville and cabaret trace their lineage to the concert saloon, with musical acts, 'waiter girls', and drink served in vibrant excess. The saloons reflected the character of their neighborhoods, although all would have a touch of debauchery about them. Or perhaps a few touches. They would eventually be associated with prostitution and general lascivious behavior. In the 1880s, perhaps the grandest descendant of the city's concert-saloon tradition, the Haymarket dance hall, was so synonymous with the ancient profession that it was nicknamed 'the prostitute's market'.
The concert saloon was a thriving venue by the 1850s, so much so that reformers and prohibitionists made it the concentrated focus of their ire. On their side were owners of so-called legitimate theaters, who saw their clientele drift into these more lustier establishments.
It came to a head in 1861, with petitions circulated throughout the city to shut down the concert saloons, to eliminate "the abominations of Pretty-waiter-gallism and dram-selling, against which the decency and morality of the City have revolted." Believe it or not, reformers made serious headway with the Republican-controlled state government. A bill was introduced in January of 1862 "to preserve the peace and order of public places" by forcing venues to seek a license if they intended to feature spoken or sung performances of any kind.
Why were reformers so mobilized in 1861? New York was a station for Union militias, both New York's own volunteer militias and those from New England states. By the spring, hundreds of young troops were stationed here, awaiting orders and transportation to battlelines. What would be more distracting to a group of young men from out of town than a lively concert saloon filled with pretty girls?
The bill was passed in April of 1862, and the New York Times proclaimed "its effect will be to purge our places of public amusement of most of their evils, and to make respectable and popular those that are properly conducted."
Many concert saloons did go under. Others turned into traditional saloons without the dazzle. Some venues went the opposite route, throwing out the booze and becoming legitimate variety stages albeit, with the same bawdy entertainments. By the 1870s, these stages produced the first American stars of burlesque and vaudeville.
However, many concert saloon simply shrugged off the law. City lawmakers were often at odds with the state anyway, and constituents for in Democratic-leaning wards preferred to look the other way. Some saloon owners took advantage of the law's ambiguous language, providing music without vocals and encouraging 'spontaeous' song. ("Sorry, officer, they just broke out in a chorus!") And of course, many others, perhaps protected by Tammany Hall or other political ties, simply flaunted their antics in open violation.
The concert saloon would continue to exist into the next decade, and now it had the element of elicitness attached to its very existence. The battle between New York's two instincts was far from over.
For many other articles on New York City nightlife, check out my part articles titled Friday Night Fever, which survey the city's great drinking and dancing venues throughout its history.