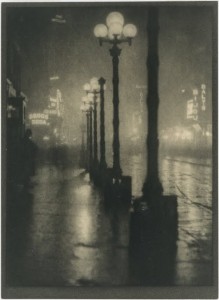 Albert Langdon Coburn sees mystery on 'Broadway at Night'
While you rush to join the thousands of museumgoers checking out the Metropolitan Museum of Art's fantastic Alexander McQueen exhibition 'Savage Beauty' — now in its last few weeks — may I recommend you check out a small room near the back of that long hallway where you'll be standing in line? This small gallery contains a treasure of a show — a collection of illuminating nighttime photographs, "Night Vision: Photography After Dark."
Naturally, images of New York City feature prominently in this compact and sophisticated little exhibit. After all, what city looks better at night than ours? (The films 'Midnight In Paris' and 'Lost In Translation' might form the basis of a rebuttal to that previous statement.)
The show surveys both subject and technique through a variety of periods, although the earliest days of night photography are most prominently featured. And, honestly, they're the most engaging, capturing a distant past through a once gauzy, imperfect medium.
The curators have not made obvious choices. Of their New York portraits, they lead with a dazzling Sid Grossman image of the San Gennarro festival from 1948. It's not the bright signs that catch your attention, but a boy caught in the glow, the dizzying brightness whipping around him. There's a Times Square marquee here, of course, but it's in a soft blur (William Klein's 1954 'Man on Ladder Working on Theater Marquee, at Night').
This is nighttime as reflected through faces and bodies — a man passed out on the beach in Coney Island, well-to-do gentlemen at the opera, a menacing loner on a park bench. Then you also have your images more classically noir-ish (Weegee's infamous 'human head' photo) and gaslit (Alvin Langdon Coburn's impossibly beautiful image of 'Broadway at Night', pictured above).
The show runs for the rest of the summer, until September 8th. Visit the Met's website for more information.