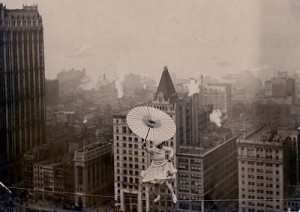 Bird in the sky: The delicate Ms. Millman makes it look easy

Last night on my walk home, I observed something you just don't always see everyday — a renegade acrobat dangling from the top of the Williamsburg Bridge! The perilous pair, Seanna Sharpe and Savage Skinner, performed this foolhardy trapeze as traffic whizzed by below them, and the two were later apprehended by police. Will this stunt place them in the annals of great stuntwork performed by others who have used New York landmarks as their own personal stages?
1 Jules Leotard
This young French performer, renown in his home country, performed at New York's Academy of Music in 1868 where he essentially debuted the art of the flying trapeze to startled New Yorkers. While we would not consider his feats particularly compelling today, audiences went wild, with local papers calling him a 'dazzling, plumed bird' and the Tribute referred to him as 'tremendous, as a son of thunder'. He would return to Europe, where his tight, one-piece uniform would be mass produced and eventually bear his name.
2 Hanlon Brothers
The lofty endeavors of tightrope walking and trapeze acrobatics were forever changed on November 1, 1869, when an acrobatic troupe brought an aerial show to New York so ambitious for its time that it required one of its members to invent the aerial safety net! (William Hanlon eventually held the patent for it.) But here's the odd part. The venue for that performance? Tammany Hall, at the time at 141 East 14th Street — and nearby the Academy of Music — making the block a sort of revolutionary spot for 19th century stuntwork. [source]
3 Steve Brodie
A teenage newsie looked over at the Brooklyn Bridge as it slowly rose over the East River during its construction in the 1870s. He looked and thought, "I'm going to jump off that one day!" And so he did, on July 23, 1886 — or so he claimed — and the single event transformed him into a minor celebrity. He toured in a stage show recounting the event and opened a popular saloon at 114 Bowery (at Grand Street) in honor of his claim to fame. Today most people attempting such a ridiculous stunt are hardly considered heroic.
4 Harry Houdini
The legendary magician moved to New York at an early age in the 1880s, and as he honed his crafts of illusion, he frequently used the city as a backdrop to heighten the drama. He was thrown into the East River on July 7, 1912, locked in a crate and bound in handcuffs and leg-irons. (Time it took him to escape: 57 seconds.) And in another rather famous trick in 1916, the escape artist, bound in a strait-jacket, hung precipitously from a crane over an excavation for the New York subway in the middle of Times Square. (Escape time: 2 minutes, 37 seconds.)
Below: Houdini, coming up for air (Pic courtesy NYPL)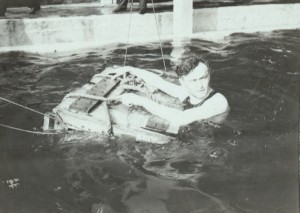 5 Bird Millman
The lovely queen of the tightrope (pictured at top) was a favorite of the Ringling Brothers and Barnum & Bailey Circus, not to mention a featured performer for Florenz Ziegfeld. She performed hundreds of times within vaudeville theaters in New York well into the late 1920s, but occasionally she performed outside, dancing across tightropes stretched between buildings.
6 Evel Knievel
Garbed in his trademark patriotic colors, Knievel leapt over nine cars at Madison Square Garden during a series of shows in July of 1971 — his only major New York appearances. But the stuntman's real dream never got off the ground: the desire to jump his motorcycle from one great skyscraper to another. The city wouldn't have approved of something so dangerous….
7 Philippe Petit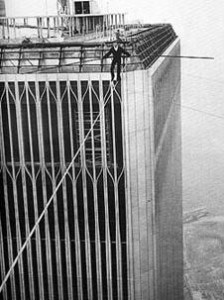 …which is why you don't ask them. The eccentric French high-wire performer snuck into the World Trade Center several times to plan the specifics of an extraordinary display of daredevilry. And on August 13, 1974, this 'Man on Wire' walked a narrow cable from one tower to the other. A masterful display of personal courage, and a rather embarrassing on the Twin Towers' lax security.
8 Alain Robert
This modern daredevil — the 'modern Spider-man' as the press has dubbed him — has scaled all sorts of tall surfaces throughout the world, including the Empire State Building in 1994. When the new New York Times headquarters was completed in 2008, it was like a red cape to a charging bull, and Robert took to the building on June 5, 2008, and unfurled a banner about global warming.
ALSO: Coney Island has been the site of a great many deathdefying performances over the decades. An August 14, 1904 issue of the New York Tribune marvels at the amazing stunts at the theme park Dreamland — "Men Must Do Much to Thrill The Public Now" — and notes one performer who fell off a rusty 725-foot sliding cable, tumbling into the 'Shoot the Chutes' ride!