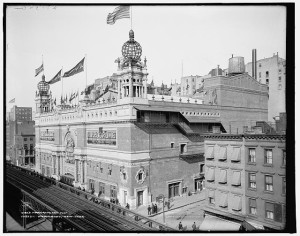 I hope you've had a chance to play around in the Library of Congress's National Jukebox was recently launched on their website. It's an incredible catalog of old music, from a variety of genres, and could easily play as a soundtrack to many of the posts on this page.
One old tune I happened to find is a medley of songs popularly performed at the New York Hippodrome, and performed here by the Victor Military Band. The Hippodrome, once located on Sixth Avenue and 44th Street, was one of New York's largest and most popular live venues. It was among the most successful theaters owned by the Shuberts.
The Victor Military Band was a collection of musicians hired by the Victor Talking Machine Company, one of the earlier makers of phonograph records and later incorporated into RCA Records. The band was specifically formed to record dance records, a rarity in the early recorded music era, which was dominated by classical and opera.
The songs in the medley include these forgotten gems: The Girl In The Gingham Gown, Ragtime In The Air, Dark Eyes Are Now A-Shinin' For You.
The Hippodrome opened its fall season in 1911 with the hugely successful musical extravaganza 'Around the World', which ran until 1913. The ambitious program featured numbers set in exotic destinations, including Egypt, Constantinople, Venice, India, Ireland and the islands of Hawaii (well before they joined the United States).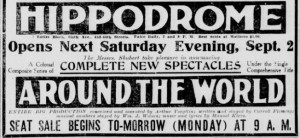 Both the song and the photo courtesy the Library of Congress