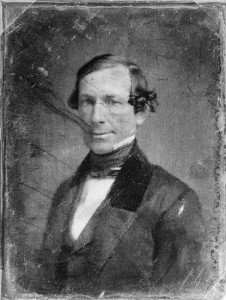 Somebody should make a movie about Fernando Wood, and the role should be played by Johnny Depp. Wood is endlessly fascinating, not only as a shady character of political theater, but as a example of bald tenacity. He was written off as finished at many occasions — and saddled with mounting corruption charges — only to return to ever greater public office.
He was blatantly ambitious as a young man, in an era where such naked power grabbing was frowned upon in proper society. By the end of his career, such ambitions were a requirement of New York politicians. Fernando strengthened Tammany Hall style politics even in those occasions when he was blatantly against them. He perfected every despicable element of New York politics as though he were a craftsman.
This was also the 'set up' show for our next two episodes, which Tom and I will record later this summer. There's a lot of coverage of the Civil War this year, but you might be surprised to see the directions we take with these upcoming shows.
Correction: I stated that the amount of business brought to New York per year by just five Southern states equaled $300 million. I overstated; the amount is actually "at least $200 million" according to author Ernest McKay. However, Southern states are estimated to have owed somewhere between $150 to $200 million in New York creditors. Needless to say, from a financial perspective, it's easy to understand New York's sympathies to the seceded states.
Places to Visit: Fernando Wood was a rather saavy real estate investor as well. In fact, he profited handsomely from leasing a building he owned — at 115 and 117 Nassau Street — to the city government! But his most lucrative acquisition was most likely his own estate of Woodlawn. The borders of his property were between Broadway and the waterfront on the west, running north to south from 76th Street to 78th Street. That's some pretty lofty acreage today. Part of Wood's land was acquired for the development of Riverside Park during his lifetime.
What To Read: Fernando pops up in all the great histories of the city, including Herbert Asbury's 'Gangs of New York'. Jerome Mushkat's 'Fernando Wood: A Political Biography' takes you through the intricacies of the man's politicking. But challenge for biographers is that Wood wrote very little about his private life. What we do know certainly alludes to details as salacious as some of his public shenanigans
Listen In: Wood figures in greatly to two of our prior podcasts. The details of the Police Riot of 1857 were presented in our show Case Files of the NYPD (episode #103). And he makes his first appearance in a Bowery Boys podcast way back in episode #40, in our Union Square show.
Above: Another portrait of Wood by Matthew Brady, courtesy Library of Congress