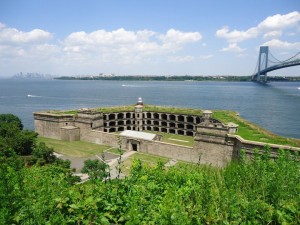 Battery Weed pictured above, a peaceful ruin with almost two hundred years of history
In 1864, there were few places in New York harbor more intense than the three fortesses alongside the Narrows. On the Brooklyn side, Fort Hamilton served as a training site, while Fort Lafayette partially functioned as a Confederate prison, notably holding the only man captured for the terrorist conspiracy of November 1864, involving the arson of several posh New York hotels. (That man, Robert Cobb Kennedy, was also hung here at the fort.)
But its companion fort on the Staten Island side — Fort Richmond — was equally crowded. Notably, the 5th Regiment of New York Volunteers was stationed out of here. In August 1864 the military installation was loaded with new weaponry (based on early designs by then-ally Robert E. Lee from a decade before!), and in that year, it was also given a new name. The Union general James Wadsworth was killed in the Battle of the Wilderness that May, and his memory was honored with the renamed Fort Wadsworth.
Today, the collection of old batteries, buildings and fortresses, in a wonderful state of ruin, are managed by the National Park Service. And the grounds are well worth an afternoon of wandering. By the way, the picturesque Battery Weed, the structure in the photo above, is also named for a Union war hero — General Stephen Weed.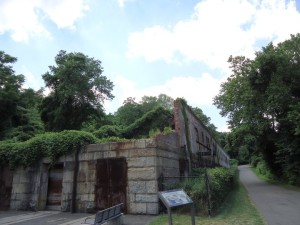 You can find other photos from my Fort Wadsworth walk over on our Facebook page.