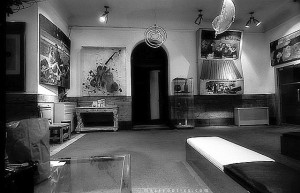 Interior of the Hotel Chelsea, photo from 1972, by Carter Tomassi
Imagine taking a treasured New York landmark and slowly strangling the very reason it was famous in the first place until nothing was left of it but an empty shell. Welcome to the Chelsea Hotel, August 2011. [New York Times] You can also follow Ed Hamilton's Hotel Chelsea blog for updates.
These are truly strange days for one of New York's most famous addresses, as it closes for renovations by yet another new owner. But just who is this "mysterious big shot" new owner? [New York Observer]
For some background on the embattled old Chelsea survivor, take a listen to our podcast on the Hotel Chelsea's long, strange history. Download it from here or find it on iTunes. It's episode #89!