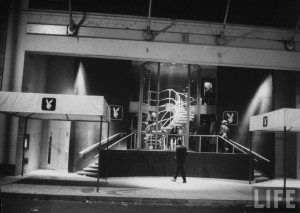 Manhattan's Playboy Club, at 5 East 59th Street
NBC's saucy new series 'The Playboy Club' starts this Monday. I believe it's set in Chicago, however I thought this was a fine time to revise and reprint an article I wrote last year on the Manhattan branch of the Hugh Hefner club, which was featured in an episode of 'Mad Men' last year. The original article is here.
In 1964, a salacious pulp novel was published with the title 'I Was A Negro Playboy Bunny," billed with the tagline "The beautiful woman you see on this cover was once a Playboy bunny….read the startling story (in her owns words) of what goes on behind the doors of the wildest sex palace in the world – the New York Playboy club – and behind her own doors!"
The author, Anna English, worked at the New York Playboy Club, a Manhattan branch of the successful swanky lounge franchise started by Hugh Hefner in Chicago in 1960. The Manhattan venue was located at 5 East 59th Street (between Fifth and Madison), and, like those in Chicago, Miami and New Orleans, was famously a members-only club; you gained admittance by possession of an exclusive key decorated with the Playboy logo, described by comedian Dick Gregory as "a status symbol, like a Mercedes is now."
You would think Manhattan would have gotten its own Playboy Club earlier than December 1963, but Hefner had troubles getting his liquor license. "It is a shame that the biggest city in the country should have this sort of problem," Hef lamented. Due to the political content of the magazine (yes, this was back when people read Playboy), Hefner also had problems with the FBI, which he faced with aplomb, sending J. Edgar Hoover the following letter:
"Dear Mr. Hoover,
Hugh Hefner, Editor-Publisher of Playboy Magazine and President of the Playboy Clubs, has asked me to welcome you back to New York, and to make certain that whenever you wish, the facilities of the New York Playboy Club will be made available to you and your guests.
Therefore, at Mr. Hefner's request, we are enclosing a special Celebrity Key which will make it possible for you and your friends to visit the Club anytime during your stay. . . ."
(No word on whether Hoover used his gift.)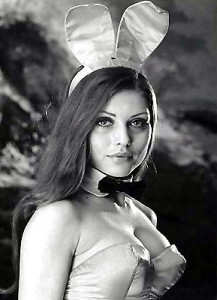 When the $4 million club finally opened, even some naysayers fell prey to the club's charming opulence. "The skeptics came to scoff and left singing the praises of the most singularly successful night club operation of our time," Hefner wrote, rather immodestly.
After checking in their coats, businessmen were greeted by sexy cocktail waitresses, dressed in the trademark Playboy bunny ears and cottontail. A young Gloria Steinem went 'undercover' at the New York location for a magazine expose*, revealing some of the more unsavory requirements in the 'Playboy Club Bunny Manual'. ('Bunnies are reminded that there are many pleasing means they can employ to stimulate club's liquor volume'.) You can read the sad, hilarious, thoroughly bizarre article here, featuring the excerpt: "'My tail droops,' she said, pushing it into position with one finger. 'Those damn customers always yank it.'"
Another notable employee of the Manhattan club? Deborah Harry, making ends meet in a bunny outfit in the late 1960s. Believe it or not, that's her in the picture, at right.
Yet the women who played the Bunnies often used the seemingly demeaning roles to their advantage. According to one New York employee, Kathryn Lee Scott,: "These were college girls and girls trying to launch careers and work their way through school … These girls loved what they were doing and that came across. They weren't bad girls. They were having a walk on the wild side in a very safe environment."
The upscale club also featured live performances, often male comedians whose schtick fit snugly alongside the club's racy dynamic (Bill Cosby) or ran hilariously counter to it (Woody Allen and Bob Newhart). The clientele was sometimes more famous than the talent; Tony Bennett, God bless him, was a regular here, and later one, one might see a Beatle or two.
The shimmery glitz and respectability of the Playboy Clubs (and the misogyny it embodied) faded with the 1970s, and by the following decade, New York's tattered hotspot was a joke that even People Magazine took a moment to poke fun of: "A large illuminated rabbit's head glows over the door. It seems impossible now to look at the logo without thinking of an automobile air freshener."
A revamped version of the club moved to Lexington Avenue and renamed itself the Empire Club, discarding the antiquated Playboy brand and its relevant costume accessories. Most shockingly, the enterprise hired both male and female wait staff! The club closed in 1986.
However, the coney-inspired erotic brand has made a comeback of sorts, recently re-opening in London, Las Vegas and other locations.
*Steinem's article was called 'I Was A Playboy Bunny'. I believe Ms. English's book was most likely a play off this title. A 1963 issue of Jet Magazine ran a picture of Anna with a blurb about the club.
Top photo courtesy Life Google images; bottom photo from Marlene44