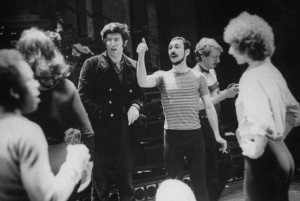 Singular sensation: Marvin Hamlisch and director Michael Bennett on the set of A Chorus Line, 1975, photo by Martha Swope (courtesy Noh Way)
"Like the Yankees, Mr. Hamlisch is a New York institution." – Pranay Gupte, the New York Sun, 2006
The composer Marvin Hamlisch, who died last night in Los Angeles at age 68, won countless awards, created memorable scores for classic films, wrote timeless pop melodies, and exposed the soul of Broadway with 'A Chorus Line'. But if none of those things had ever happened, Hamlisch would have still made music history before he was old enough to ride a bike.
One day, Max and Lilly Hamlisch entered their living room on West 81st Street and found their five year old son Marvin playing the piano, copying the style of his older sister. Max was convinced of his child's brilliance and wanted to send him the best school available. This being New York, that school was the Julliard School of Music.
From Gerard C Gardner's 1992 biography of Hamlisch 'The Way I Was': "In his eyes, Julliard was where God learned to play the scales, and if Juilliard was good enough for God, it just might be good enough for Marvin."
Marvin secured an audition in 1951, performing the same song in different chords in front of an admissions board dressed in "his sailor-boy suit". Hamlisch was accepted into the 'pre-college division' at age 6 1/2, the youngest student ever admitted at that time.
Fortunately, Marvin became too restless for the world of concert piano.
Here's an interview with Hamlisch talking about his early years with the piano:
More information on Hamlisch's passing at the New York Times blog
And here's some Barbra, performing the Hamlisch tune which won him an Oscar and a Grammy: