Hunter and gadabout Paul Rainey: An accidental matinee idol
Catching a movie this weekend? Many New Yorkers had the same plan one hundred years ago, but the experience was vastly different. Motion pictures in 1912 were shorter, without sound and in black-and-white, of course, but they were sometimes presented as part of a set of vaudeville performances, with live musical accompaniment and in repertory with several short films.
In the days before movie palaces, movies were shown in legitimate theaters which often gave them a must-see feel. This was the case with a strange non-fiction film that played in New York for well over a year — Rainey's African Hunt.
In September 1912, the film played Joe Weber's Music Hall at Broadway and 29th Street: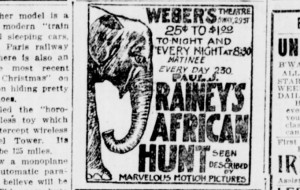 The film made its debut in April 1912 up the street at the Lyceum (45th/Broadway) and played there through the summer, heralded as a serious entertainment, for 'wealthy people at top prices' to distinguish it from the fiction films favored by everybody else.
But is seems that 'African Hunt' resonated with all sorts of audiences. The film moved to Weber's in August, then to the Bijou (30th/Broadway) in October, where it stayed put until April 1913!
So what made this film so popular? Americans were still safari crazy in the early 1910s thanks to Theodore Roosevelt's famous African trip in 1909, in which he brought back the carcasses of dozens of exotic animals and donated them to natural history museums around the country, including New York's own American Museum of Natural History.
The wealthy playboy Paul Rainey was also a renown game hunter and filmed his exploits in Africa following Roosevelt's trip there. The film depicts his interaction with African tribes and the trials of hunting exotic animals. Although Rainey claims to have been more interested in photographing and trapping live creatures, he ended up killing several dozen animals, including "twenty-seven lions in thirty-one days." One notable scene features Rainey's specially trained fox hounds stalking and killing a leopard.
Claimed one advertisement: "One touch of nature makes the whole world kin. That is the secret to the extraordinary success of this picture."
The film came with a sterling pedigree and glowing reviews, include praise from the American Museum's Henry Fairfield Osborn, who proclaimed it the 'greatest contribution to natural science of the decade.' [source]
Distributed by Carl Laemmle's Universal studios, 'Rainey's African Hunt' grossed over a half-million dollars, an extraordinary sum for an early motion picture. It would stand as one of the most successful non-fiction films of the decade.
Like every box office success, a sequel debuted in 1914 at the Casino Theatre (29th/Broadway). Portions of its first week gross were donated to a newsies home and summer camp in Staten Island. Despite emphatic reviews — "better and clearer" than its predecessor, according to the New York Times — it appears to be mostly recycled material and was not a hit.
Below: A grim photo from Rainey's safari. The hunter killed so many animals that is exploits eventually led to stricter regulations on foreign hunters.