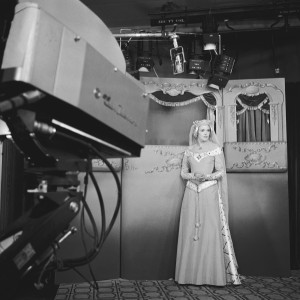 Above: In 1953, Fran Allison prepares for an NBC production of 'St. George and the Dragon', one of the first programs ever broadcast in color. The NBC studio was at the Colonial Theatre at Broadway and 63rd Street. (Courtesy NBCU Photobank)
This summer we're giving you three new podcasts specifically devoted to New York City and the history of television. That's over 100 years of history, from its early development by New York inventors and broadcast mogul to famous stars and iconic programs. David Letterman, Jerry Seinfeld, Big Bird, Bill Cosby and Sarah Jessica Parker will figure in there somewhere!
Our official 'Summer TV mini-series' starts this Friday with a brand new episode about the early days of the television medium in New York City — the people and places that brought the small screen into people's homes across America.
Two more shows will follow in July and August. Join us, will you? We're movin' on up!