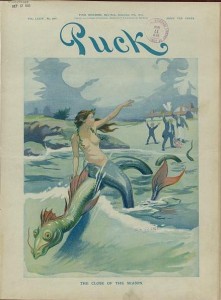 This was the September 17, 1913 cover of humor journal Puck Magazine, featuring summer symbolized as a lovely mermaid on the back of a sea serpent, departing the Long Island shore.
She wasn't the only female embodiment in Puck that issue. In the illustration below, according to the official caption, "a female figure with wings ris[es] from the flames of summer romances that are burning out as the season comes to an end; she leaves behind many broken-hearted men on the beach at a summer resort."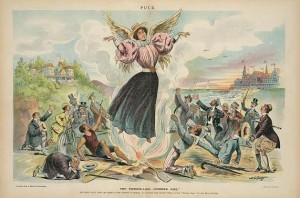 In another image from that issue, summer stock actors put away their costumes, with the approval of Puck himself, while "a young woman learns that her engagement ring is next to worthless, both in economic value and romantic sentiment." That's summer for you!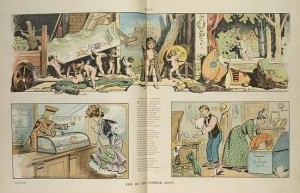 Puck Magazine made its home, of course, at the Puck Building, still ornamented with the Shakespearean imp himself that the magazine used for its mascot. Today it's the home REI sporting goods on the ground floor.
Did you know that the Puck Building used to be almost one-third larger but was partially demolished and its entranced moved with the construction of Lafayette Street? For more information, check out my 2009 podcast on the history of the Puck Building (Episode #81). Find it on iTunes or download and listen to it from here. The original blog posting features a few more illustrations from Puck.
Images above of courtesy the Library of Congress who has a great collection of old Puck illustrations to thumb through.