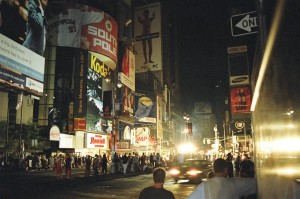 Photo above courtesy Drew Dies/Flickr He has a cool set of pictures from that day here.
Today is the tenth-year anniversary of the Northeast Blackout of 2003 which shut down power for most of New York City (and much of the Northeast) for almost 24 hours, with some areas experiencing outages well into the second day.
I was on the 35th floor of the Bertelsmann Building in the middle of Times Square. My co-workers and I traipsed down 35 floors under the glow of emergency lighting.
As ATM machines were offline, I had a grand total of $5 in my pocket, so I was unable to enjoy any of the cheap-beer and bbq fests that were underway in the East Village, as bars and restaurants rid themselves of items before they spoiled. Down in the Lower East Side, it was a lonely night under candlelight, trying to tune in updates on my old battery-operated portable television.
We still didn't have electricity the next day, so I walked the Manhattan Bridge over to Cobble Hill, where power had been restored, and there I hung out at my friend's shop Halcyon the entire day, a place filled with Manhattan refugees that day. I returned over the bridge in the evening, but the Lower East Side still did not have power.
The heat was slowly driving people insane; I remember seeing a woman carrying groceries for some place a few miles away and almost collapsing on the street. Had the power not returned then that evening at 10 pm, it probably would have gotten a bit messy in the LES. (It all seems so relatively manageable, of course, in light of the Sandy blackout.
Here's a few more recollections from Twitter. If you lived in the northeast United States then, where were you ten years ago during the blackout? Leave your recollections in the notes here, or on Twitter of Facebook:
Where were you during the 2003 blackout, ten years ago today? I was on 35th floor, Times Square, $5 in pocket (no ATMs working). #blackout
— The Bowery Boys NYC (@BoweryBoys) August 14, 2013
@BoweryBoys I was escorting 2 female coworkers uptown from 39st to 172nd.
— Adam Vale (@Adamvale) August 14, 2013
@BoweryBoys At work, 11th floor, Midtown. Walked home to the Lower East Side with free ice cream and beers along the way.
— J Cajigas (@pusher17) August 14, 2013
@BoweryBoys at work walked home. Ran into some people on the way who were in a subway tunnel when it happened glad I wasn't on the train.
— Abbie NYC (@AbbieLicious07) August 14, 2013
@BoweryBoys Stuck in New Brunswick, NJ. Spent the night at a friend's house, then walked from Penn Station to Prospect Heights the next day.
— Sunny Stalter (@slstalter) August 14, 2013
@BoweryBoys At work, midtown. Emergency lights in stairwell out, so co-worker & I used cellphone glow until rescue by person with flashlight
— Amy Roth (@aimster215) August 14, 2013
@BoweryBoys Celebrating our son's 3rd birthday. We never knew about the blackout until TV went off as our buildings have own generators.
— Des Brownlie (@Desb65) August 14, 2013
Some links on the blackout:

Gothamist: Flashback — Massive Blackout Hit NYC 10 Years Ago Today
New York Times: Original coverage from August 2013
WNYC radio piece of the tenth-anniversary of the blackout