If glasses are fashionable today, you can thank President Theodore Roosevelt, whose stylish C-bridge pince-nez diminished the reputation as mere apparel for the weak.
— The Bowery Boys are featured this week on the official blog of Warby Parker, the fashionable eyewear company specialize in vintage-style prescription frames and sunglasses. Thanks to Dixie Roberts for a terrific interview! You can check out the story here, and a couple pictures of us striking a pose in Hudson Square: [Warby Parker]
— Warby Parker get their name from two early characters created by Jack Kerouac — fictional baseball players named Warby Pepper and Zagg Parker.
According to the New York Times, Kerouac "obsessively played a fantasy baseball game of his own invention, charting the exploits of made-up players …who toiled on imaginary teams named either for cars (the Pittsburgh Plymouths and New York Chevvies, for example) or for colors (the Boston Grays and Cincinnati Blacks). More on Kerouac's curious obsession here: [New York Times]
— No surprise here, but if you were buying eyeglasses a century ago, you'd head over to the optical department of New York's leading department stores. Fifty cent spectacles at Bloomingdale's!
— As of 1915, in the Lower East Side, you could stop by this rather flamboyant looking store on Rivington Street — Moscot Optical. They're still in business in 2013, but they've moved to Delancey Street. (Photo courtesy Moscot)
— And finally, is there nothing more glamorous than a pair of hearing aid glasses? This is what Life Magazine tried to convince its readers of in 1955. After all, look at her! (Photo by Peter Stackpole)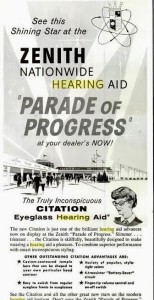 This innovation, combining aids for sight and sound, was created by Otarion Inc, based in Dobbs Ferry, NY.
According to a June 1955 edition of Life Magazine: "Called the 'Listener', it has 187 parts compressed into the side pieces with only a short, transparent ear tube to betray what it really is. Since most people who are hard of hearing are middle aged, they wear glasses anyway and can simply have lenses put into the frames."
An ad for Otarion hearing-aid glasses from 1956 at left. At right: A later style from Zenith, best known for their television sets.