Meryl Streep is one of New Jersey's greatest natural resources. She was born in Summit, NJ, also the hometown of Ice-T, and grew up nearby in the town of Bernardsville.
You may not otherwise associate Streep with New Jersey (at least, not in the same way we look at Bruce Springsteen) because, in 1975, after graduating from Vassar and developing her dramatic skills at Yale, she moved to New York City to begin her career in theater. The Meryl we know, the movie star and acting icon, grew up here.
Almost forty years later, Streep is considered one of the world's greatest and most accomplished living actresses.
She's been nominated for more Academy Awards than any other actor. In fact, she's considered a benchmark for many thespians to aspire to. She's so revered that she's occasionally a punchline. (The Onion: "Court Rules Meryl Streep Unable To Be Tried By Jury As She Has No Peers.")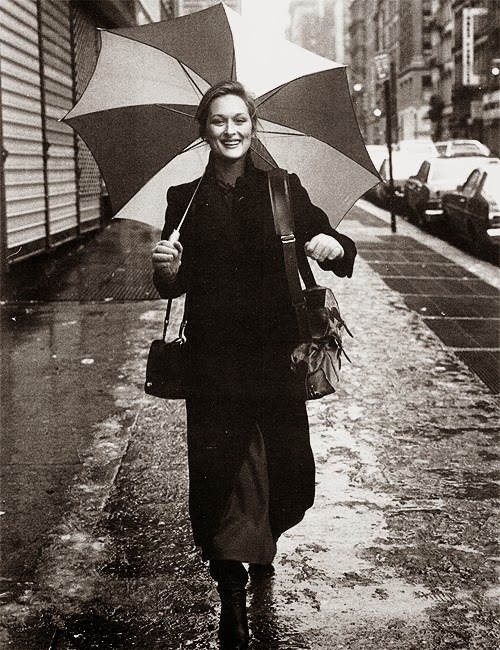 It's Meryl in the rain, 1979! From the tumbler ingridsbergman (If anybody knows the name of the photographer, please let me know!)
But her early work on the New York stage — much of it with The Public Theater — cemented her reputation as a performer of uncommon ability. She became a fixture of both Broadway and off-Broadway at the moment when the creative revolutions of the 1960s were beginning to sink into mainstream productions.
She often worked in classical drama, retooled with unconventional direction.
Her formal training mixed with the spirit of off-Broadway innovators such as Joseph Papp.
It's hard to imagine Streep in a world parallel to that of A Chorus Line (which debuted the summer of her arrival in New York), hoofing it to Midtown auditions, cramming onto crowded subways to get to her performances in Shakespeare plays at the Delacorte Theater in Central Park.
Below: Meryl on the subway, 1981 (Courtesy Google Life images)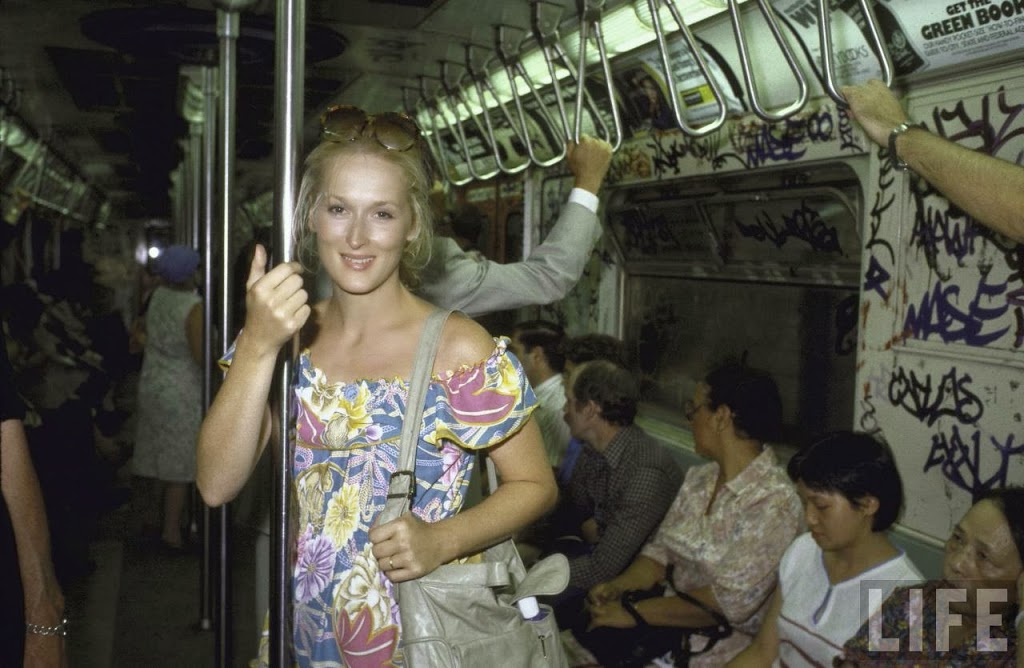 "For those who believe that stars are born overnight only in old movies like Stage Door on the late, late show, let me present Meryl Streep. Â She is on the threshold of stardom," wrote the prescient Syracuse Herald-Journal in 1976.
Here is a look at some of her early New York stage successes from the 1970s, both off and on Broadway, accompanied by a few quotes from her first reviews: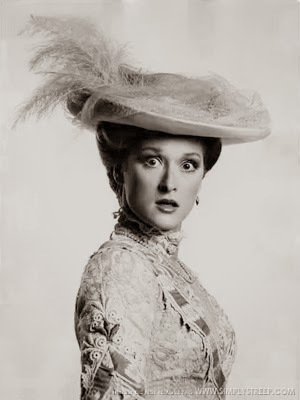 Trelawny of the Wells (October-November 1975)
Vivian Beaumont Theatre/Lincoln Center
Playing: Miss Imogen Parrott (at left)
In her professional stage debut, Streep was praised by the New York Times: "tart, level headed, stunningly decked out in salmon gown and white plumes."  The play itself was only modestly received.  "A Chorus Line soars, Trelawny falls flat." [source]
(The Times didn't see the appeal in her early years. Her first mention there, for a play by the Yale Repertory Theater, described her performance as "perhaps too giddy and high strung.")

27 Wagons Full of Cotton by Tennessee Williams (January-March 1976)
performed with A Memory of Two Mondays by Arthur Miller
The Phoenix Theatre in the East Village (today the Village East Cinemas)
Playing Flora (pictured below)
Writes Walter Kerr: "We can settle down now, locked in the girl's dilemma, to let actress Meryl Streep studiously slap away most believable mosquitoes, splay her legs like a rag doll, twist an evasive but sinuous toe to keep the porch swing rocking rhythmically, count her thoughts on her fingers, clutch her oversize white purse as she weighs inadvertent betrayal against what is happening to her flesh." [source]
This was her breakthrough, and the very first of thousands of awards and nominations that would come her way for her work.
When it transferred to Broadway, she received a Tony Award nomination for Best Featured Actress In A Play. (She was nominated up against Mary Beth Hurt, her co-star from Trelawny. They both lost to Shirley Knight.)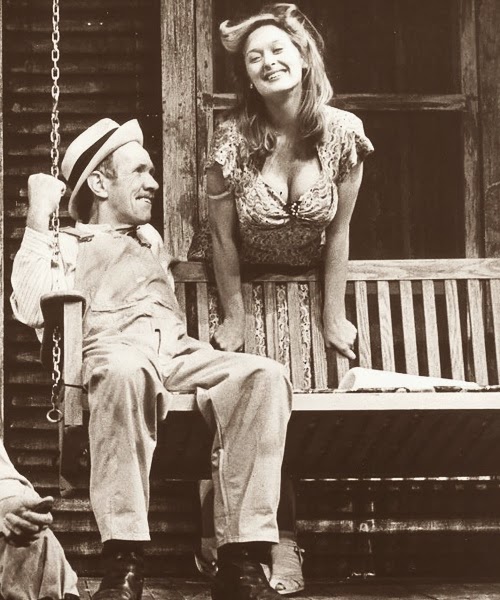 Secret Service (April-May 1976)
The Playhouse Theater
Playing Edith Varnay
"Streep was all heaving anguish, startled eyes and passionate stances." [review]
Henry V (June-July 1976)
Shakespeare In The Park
Playing French princess Catharine, pictured below ("I cannot tell vat is dat.")
This is her first appearance in the New York Shakespeare Festival and the way she spent America's Bicentennial. New Yorkers also got to hear her first non-English accent.  "[T]hough Meryl Streep tends to be stiff in her first scene –the English lesson — she displays lovely bite and timing when Mr. [Paul Ryan] Rudd courts her." (Picture courtesy Public Theater)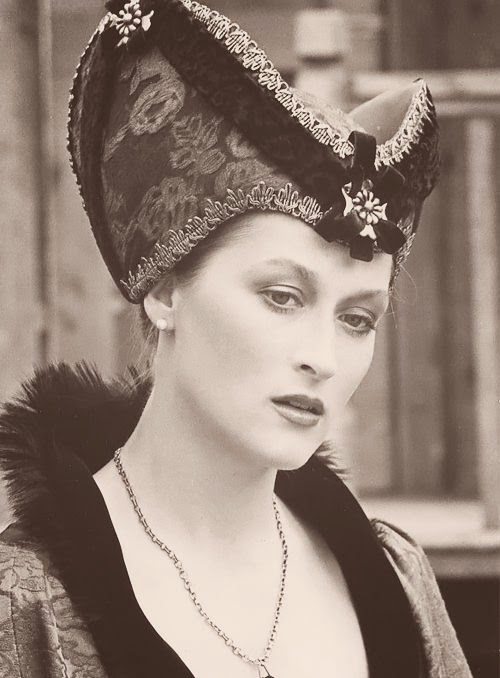 Measure for Measure (August 1977)
Shakespeare In The Park
Playing: Isabella ("And have you nuns no farther privledge.")
This is her for first nun role. She would return to the habit in the Oscar-nominated film Doubt. Reviews were mixed, the Times questioning the chemistry between Streep and her co-star John Cazale.  The reviewer Kerr suggests her timing is off.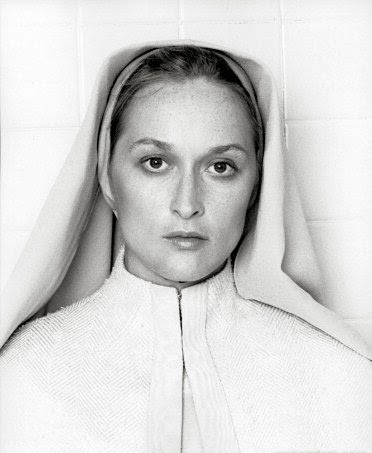 She took a break from the theater to star in her first work for television and film.
From an interview in the New York Times: "Miss Streep, who was drinking a Heineken at the Algonquin, gestured with her hand…. 'Last summer I did all those things in the Park … and then I went and made a movie in London — Julia. I were a red dress in every scene and I look bizarre."
The Cherry Orchard (February-April 1977)
Vivian Beaumont Theatre/Lincoln Center
Playing: Dunyasha ("I must tell you at once, I can't bear to wait a minute.")
Happy End (May-July 1977)
Martin Beck Theater
Playing Lieutenant Lillian Holiday ("Hallelujah Lil")
For this short-lived musical, Streep sang for the first time on the Broadway stage, and looking like a mix of Liza Minnelli and Charlie Chaplin: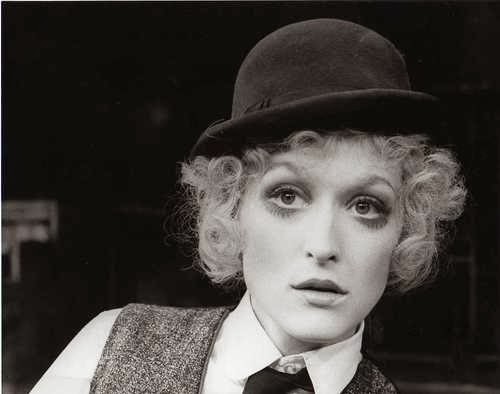 Here's an interview she did for that show:


The Taming of the Shrew (August-September 1978)
Shakespeare In The Park
Playing — who else? — but Katarina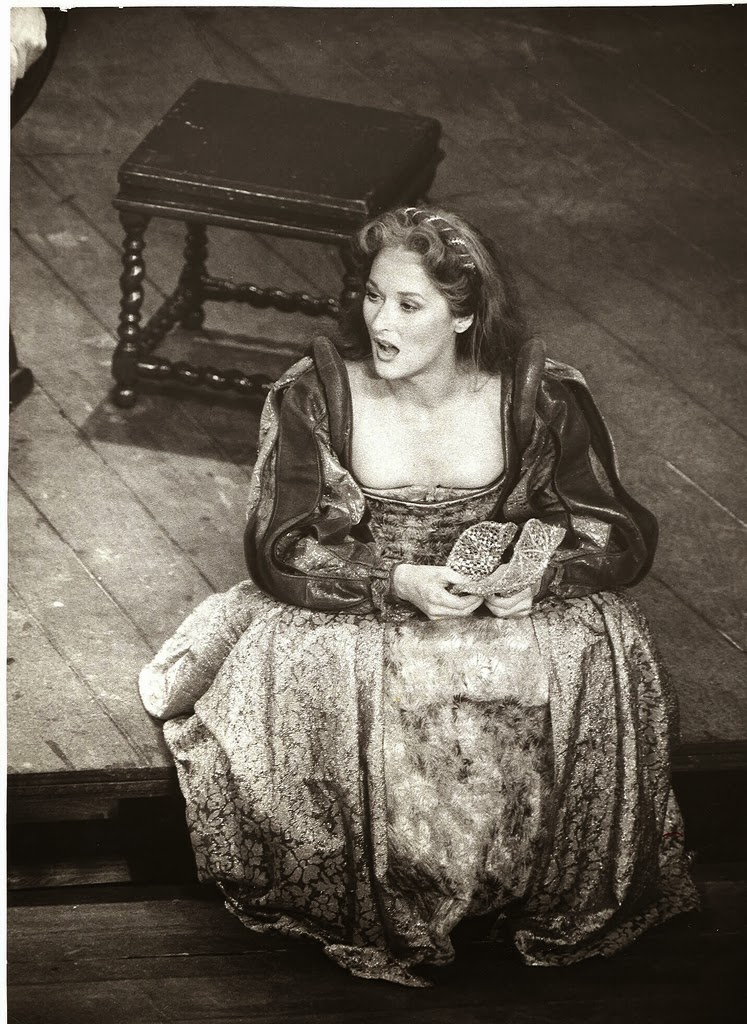 She's featured in this behind-the-scenes video with her co-star Raul Julia:
Taken In Marriage (February-April 1979)
The Public Theatre/Newman Theatre
Co-starring with Dixie Carter, Colleen Dewhurst, Kathleen Quinlan and Elizabeth Wilson
"Meryl Streep, as Andrea, is a series of prisms, breaking the character's pale light into flashes of misery, remorse, frustrated love and self-hatred…..[S]he is the most wretched member of her family." — Richard Eder. (Picture courtesy Public Theatre)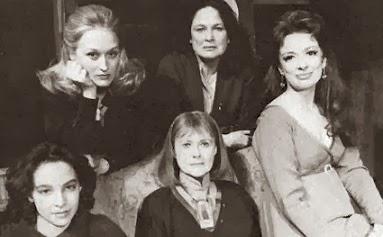 Below Meryl Streep in the rather unusual rendition of Alice In Wonderland, originally called 'Alice In Concert' (later retitled 'Alice In The Palace'). According to the Public Theater, this was from an early 1978 showcase which ran for three performances. She's pictured here with Elizabeth Swados and Joe Papp.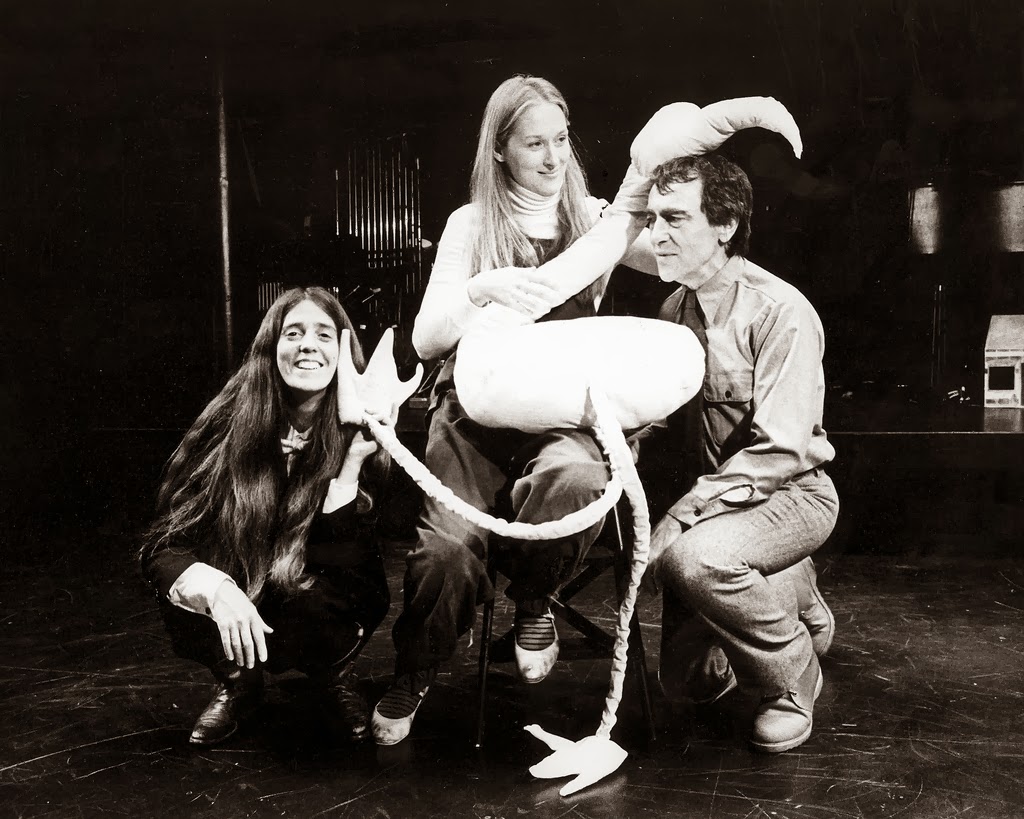 Most pictures here courtesy the Public Theater, unless otherwise noted. You can already visit their website for information about this season's Shakespeare In The Park.

And thanks to Simply Streep for help on the dates of the productions.