Yesterday the normal bustle of Union Square was interrupted with a dragon attack courtesy a promotion for the HBO show Game of Thrones. Â Either that, or Mayor De Blasio needs to work harder to keep our public parks safe from mythological beasts.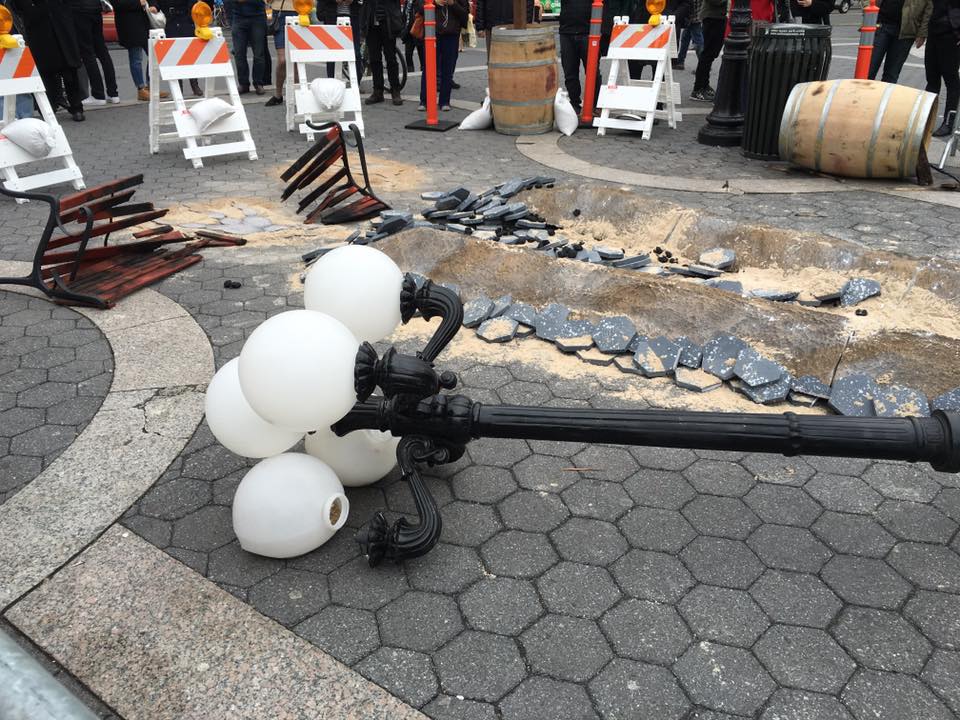 If you think this might be the weirdest stunt ever pulled in Union Square, you'd be completely, utterly wrong. Â The park that was both the location of America's first Labor Day parade and the first Earth Day celebration has certainly seen it all.
My favorite Union Square stunt took place 99 years ago this spring when the USS Recruit, a wooden battleship, was installed in Union Square in support of the American war effort during World War I. The faux vessel remained in the park until war's end. An extraordinary image: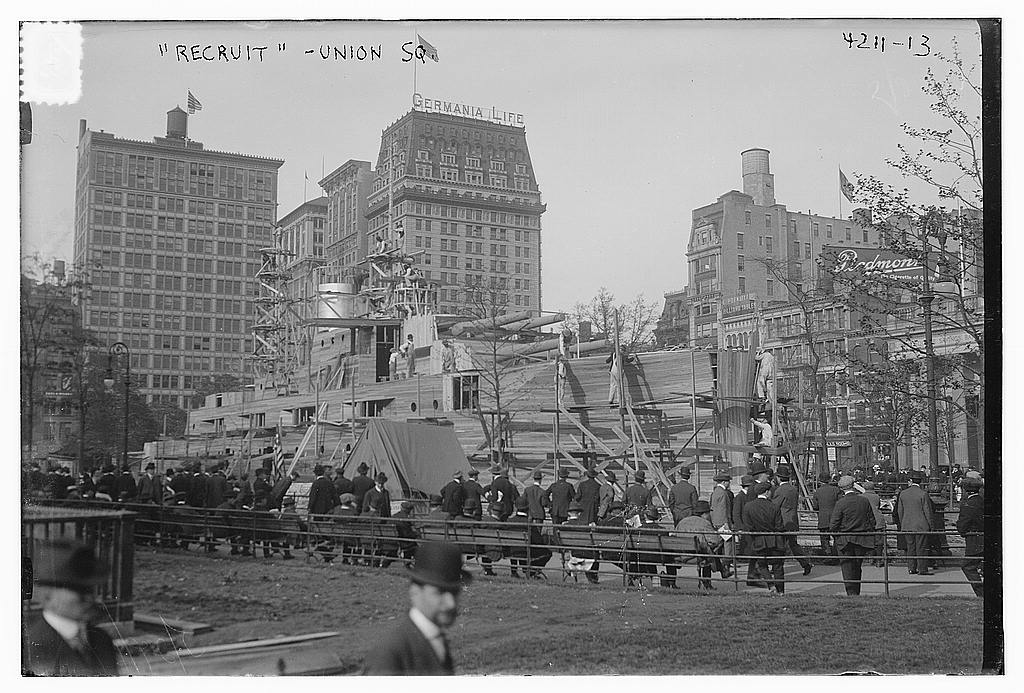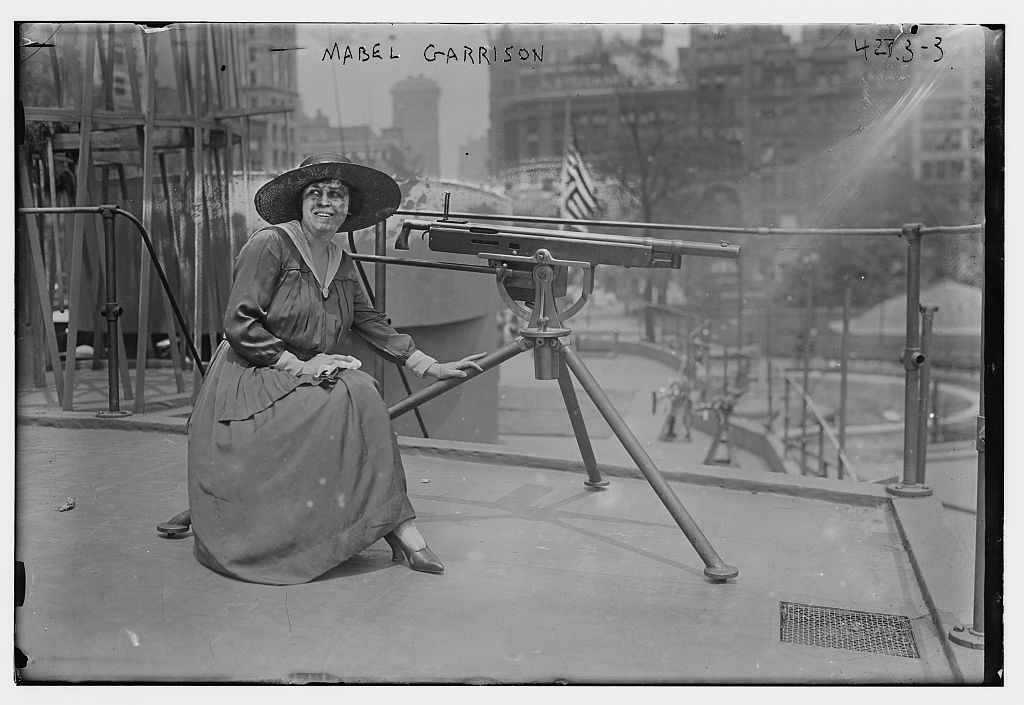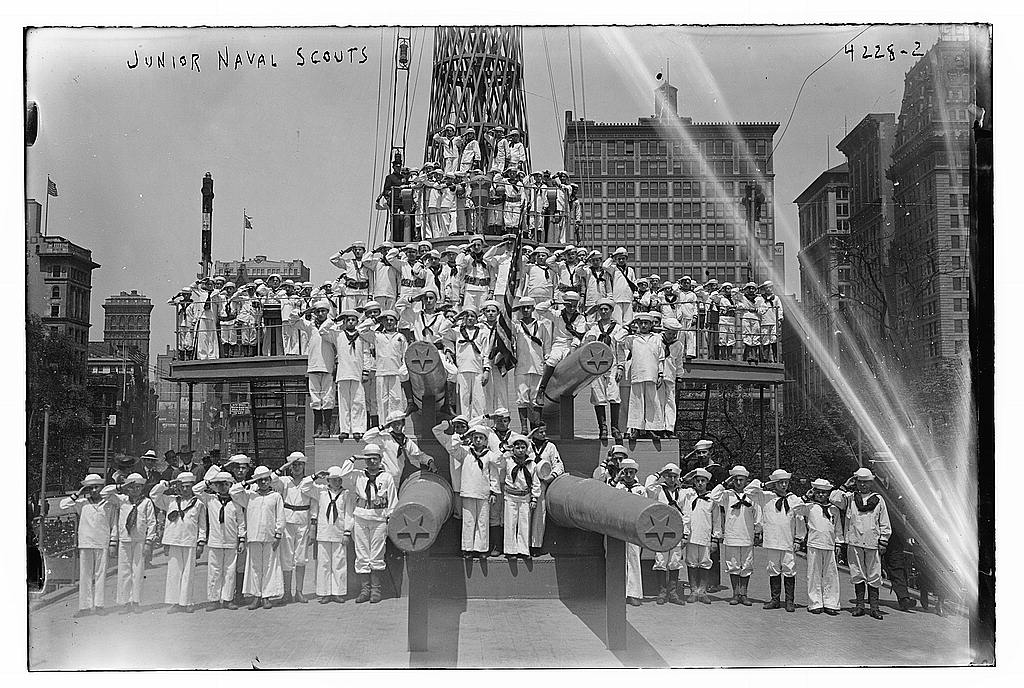 Photos courtesy Library of Congress
———————————————————————————
Speaking of parks, New York's newest park — or certainly a public space that will expand the word 'park' — The Lowline is currently being developed within a former trolley terminal on Delancey Street. Among the big changes to the neighborhood over the next few years will be a big move to new digs by the vendors at Essex Market, the shopping space that has served New Yorkers since the 1940s.
Join The Bowery Boys this Sunday at a special talk about the future of Essex Market. We're moderating this discussion on The History and Future of Markets in NYC with Essex Market vendors Anne Saxelby of Saxelby Cheesemongers, and Giulia Della Gatta of Arancini Bros; as well as Rohan Mehra, Principal at Prusik Group. And there's going to be delicious food!
The event is from 12-1pm at The LowLine Lab (140 Essex Street) so come on out and meet us there! You can find more information on this event here via EventBrite.
——————————————————————————–
And now a few links which you may find fascinating:
The West Goes West: You've seen classic building disappear with the wrecking ball. How about an entire street? Everything on West Street, from Clarkson and Leroy Streets, has just been demolished. [Vanishing New York]
In the Right Direction: Â An extraordinary and colorful map of Manhattan –Â "one of the best pictorial maps of the 1920s in the United States" — gets a lovely tribute. [Gothamist]
What's In Fashion? A designer is featured in what may be the latest must-see museum show: Isaac Mizrahi! [New York Times]
A Clean Home: The magical Midtown Manhattan mansion of Harley T. Procter aka from the Procter & Gamble empire. Â [Daytonian In Manhattan]
And Then There's This …. "Before municipal sewer systems, excreta piled up in the privies of people's homes—essentially a deep hole in the ground. But these poop storage units did not have unlimited capacity.  When the privies were eventually filled, that's when the night soil men were called in." [Atlas Obscura]
And how about a couple more pictures of the ole Recruit?