The final edits have been made and The Bowery Boys Adventures In Old New York has finally been sent to press.  We are incredibly excited to share this with you and take you on this journey through the many unique and surprising remnants of New York City history, both great and small. For every grand landmark that makes an appearance, there are two more that you may not have ever seen before.
The official release date is June 14. Â You can preorder now at Barnes and Noble, Amazon or at your local bookstore, both physical and digital editions. It's a big baby — over 500 pages, with hundreds of images — and in trade paperback for maximum portability.
We'll begin to have events related to the book starting in June, and we're starting with a big one!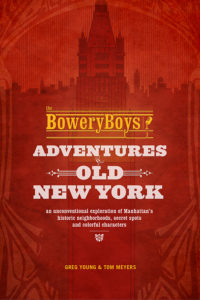 On Thursday, June 2, we'll be appearing in conversation at the Museum of the City of New  York, in a discussion moderated by Donald Albrecht, Curator of Architecture and Design at the Museum of the City of New York.
I suggest getting your tickets now as these events fill up pretty quickly.  You can grab your tickets and more information about the event here.
Since the event is a couple weeks before the book release, attendees will be able to buy copies of the book before the release date!  And there's a reception and book signing after the event if you'd like us to sully your fresh new book with our John Hancocks.
And if you can't make this event, don't worry. There should be several more in the New York City region announced in the coming weeks.
Below: The Museum in 1935, looking much as it does today.
http://www.mcny.org/event/bowery-boys-adventures