PODCAST

The trials and tribulations experienced by the Bronx through the mid and late 20th century.

In the third and final part of our Bronx history series, we tackle the most difficult period in the life of this borough — the late 20th century and the days and nights of urban blight.

The focus of this show is the South Bronx, once the tranquil farmlands of the Morris family and the location of the first commuter towns, situated along the new railroad. Â By the 1950s, however, a great number of socio-economic forces and physical changes were conspiring to make life in this area very, very challenging.

Construction projects like the Cross Bronx Expressway and shifts in living arrangements (from new public housing to the promise of Co-Op City) had isolated those who still lived in the old tenements of the South Bronx. Poverty and high crime rendered the neighborhood so undesirable that buildings were abandoned and even burned.

Mainstream attention (from notable television broadcasts to visits by the President of the United States) did not seem to immediately change things here. It would be up to local neighborhood activists and wide-ranging city and state programs — not to mention the purveyors of an energetic new musical force — to begin to improve the fortunes of this seemingly doomed borough.

FEATURING an interview with Inside Out Tours founder and chief tour guide Stacey Toussaint about the new Bronx renaissance.

ALSO: Appearances by Howard Cosell, Sonia Sotomayor, Robert Moses, Grand Wizzard Theodore, and Jimmy Carter!

To get this week's episode, simply download it for FREE from iTunes or other podcasting services or get it straight from our satellite site.

You can also listen to the show on Stitcher streaming radio and TuneIn streaming radio from your mobile devices.

Or listen to it straight from here:
The Bowery Boys #213:Â BRONX TRILOGY (PART 3) THE BRONX WAS BURNING

___________________________________________________________________________

The Bowery Boys: New York City History podcast is brought to you …. by you!

We are now producing a new Bowery Boys podcast every two weeks.  We're also looking to improve the show in other ways and expand in other ways as well — through publishing, social media, live events and other forms of media.  But we can only do this with your help!

We are now a member of Patreon, a patronage platform where you can support your favorite content creators for as little as a $1 a month.

Please visit our page on Patreon and watch a short video of us recording the show and talking about our expansion plans.  If you'd like to help out, there are five different pledge levels (and with clever names too — Mannahatta, New Amsterdam, Five Points, Gilded Age, Jazz Age and Empire State). Check them out and consider being a sponsor.

We greatly appreciate our listeners and readers and thank you for joining us on this journey so far. And the best is yet to come!

________________________________________________________________________
Construction of the Cross Bronx Expressway required the mass expulsion of residents from their homes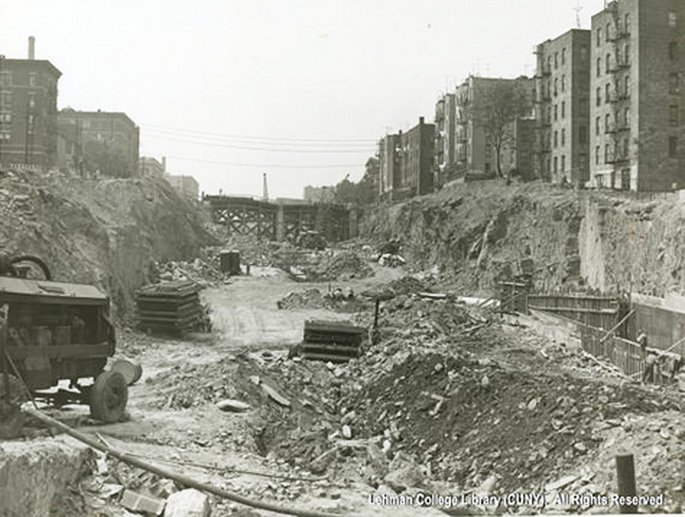 From this overhead view, you can see the areas of the city about to be wiped away by expressway construction. And you can also observe the powerful impact public housing has already had on the landscape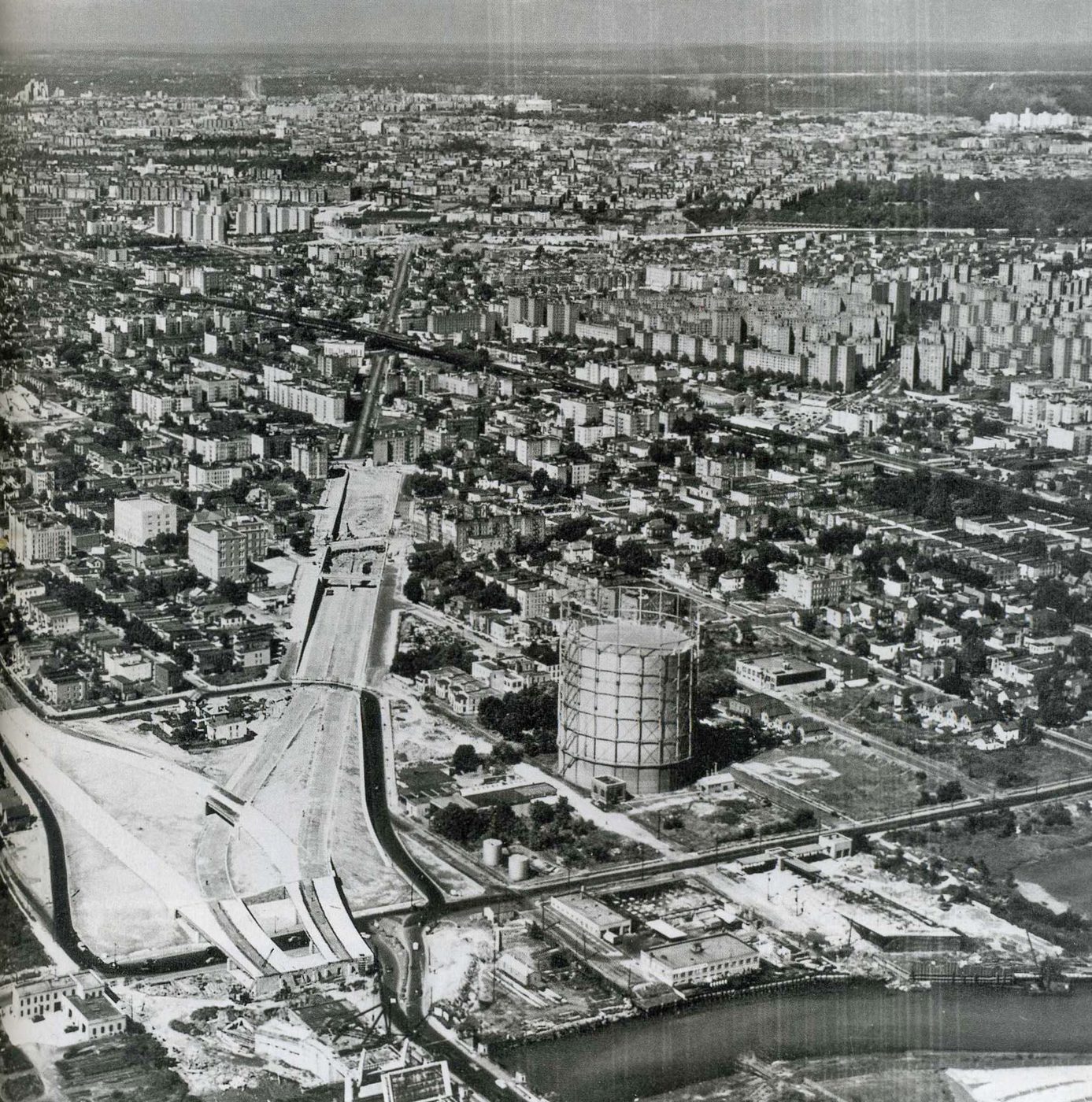 Life on Arthur Avenue, 1940. The Italian sector of the Bronx would only grow larger in the mid 20th century as more Italians from southern areas of New York City migrated to the Bronx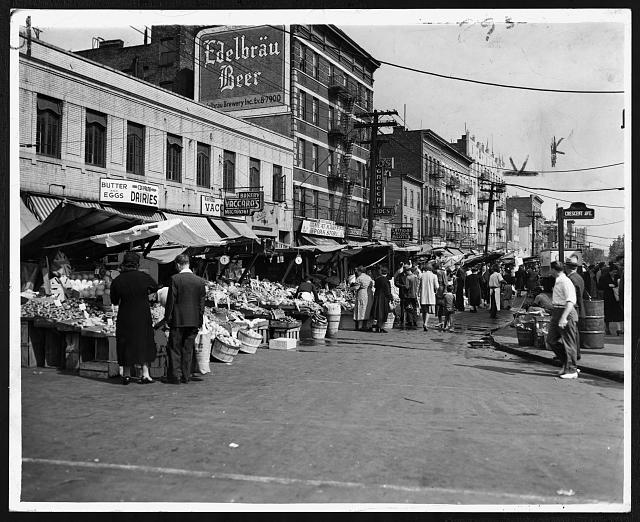 The scene on Macombs Road, 1964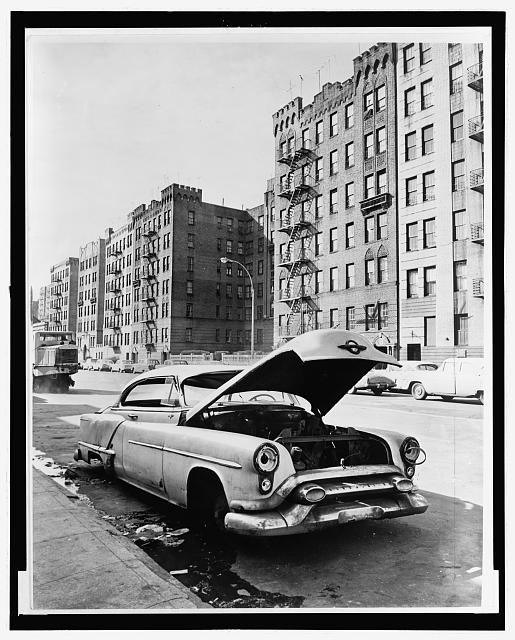 Yankee Stadium in 1969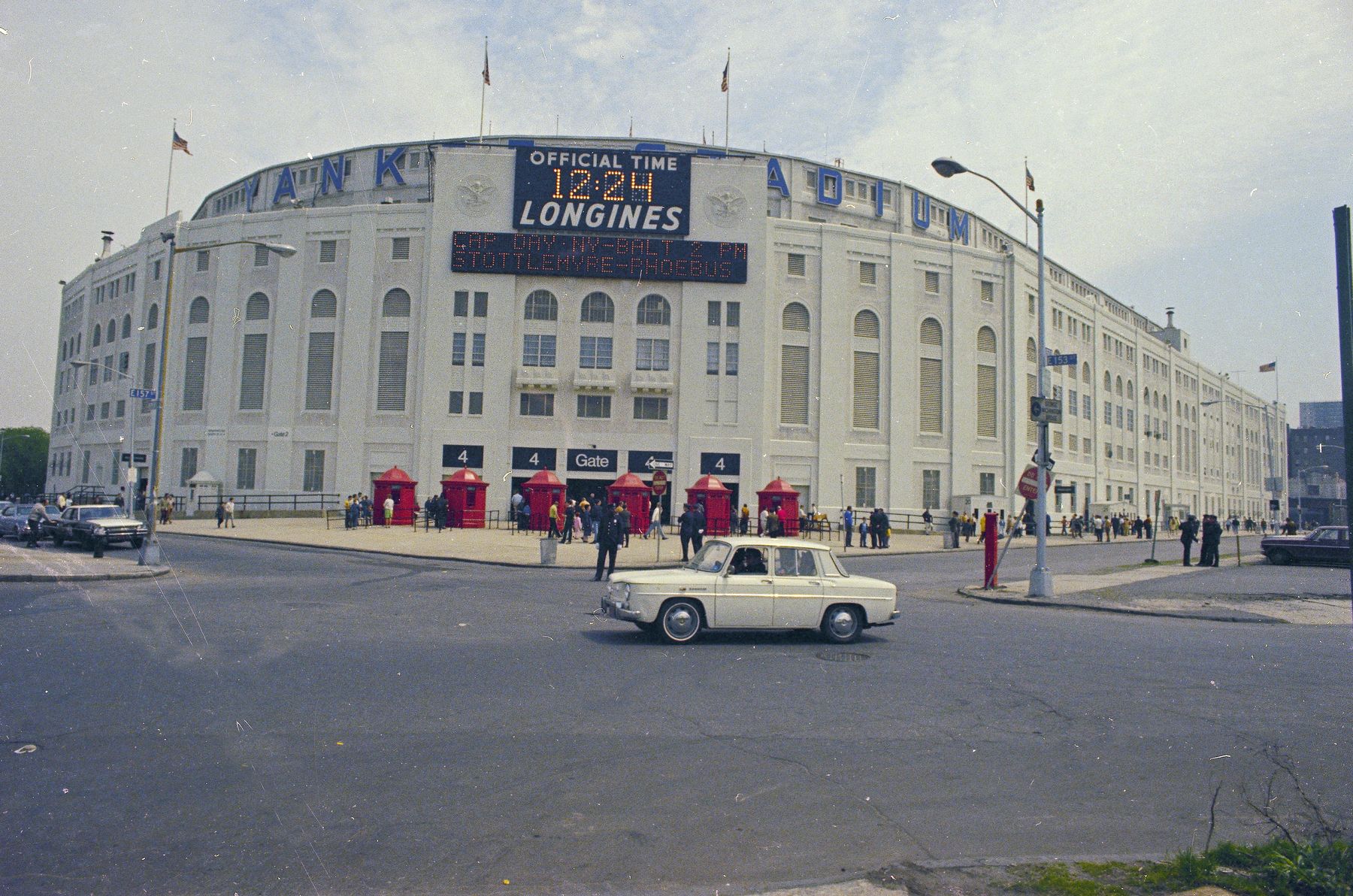 Scenes from the South Bronx, early 1970s, from photographer Camilo J. Vergara, courtesy Library of Congress
Overlooking a portion of the Bronx River, 1970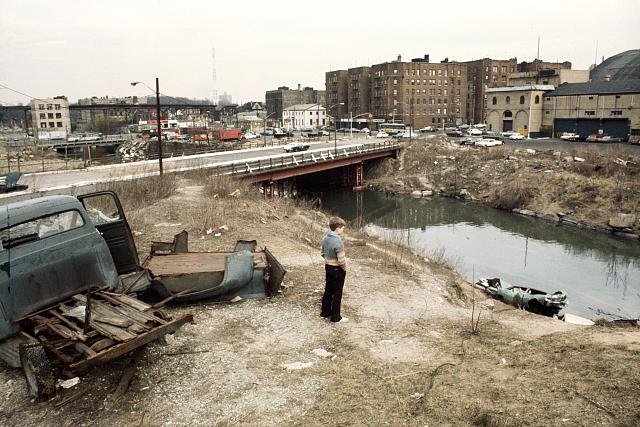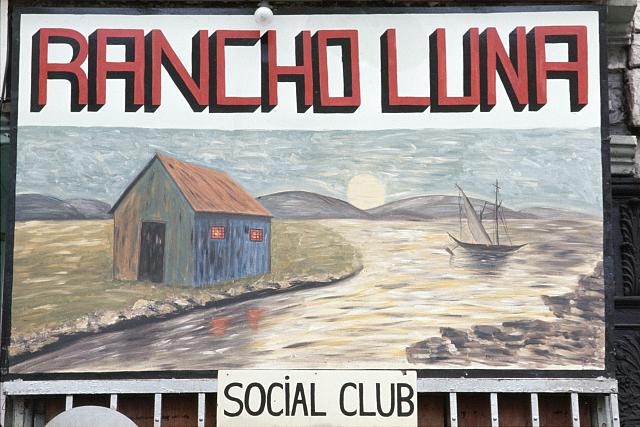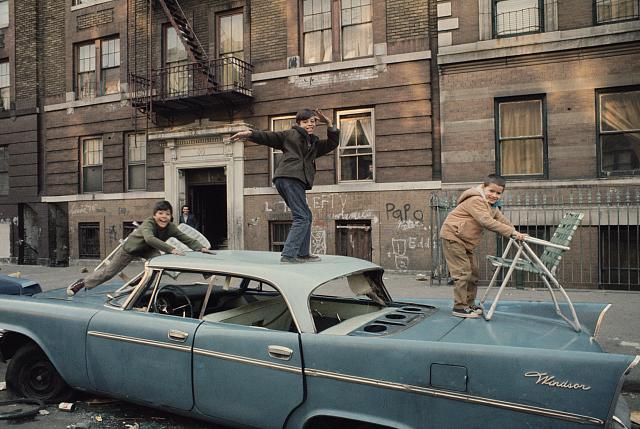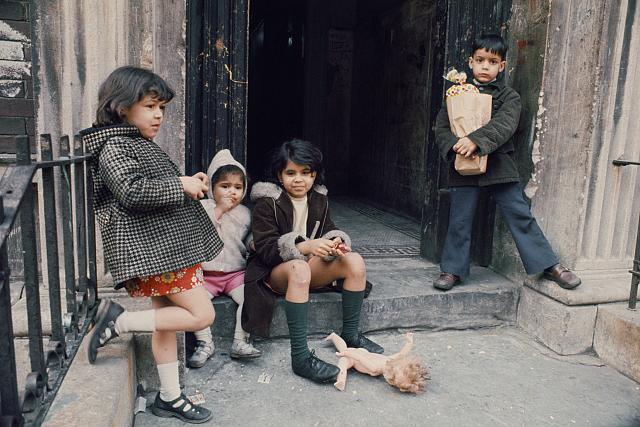 The view from Hunts Point, 1970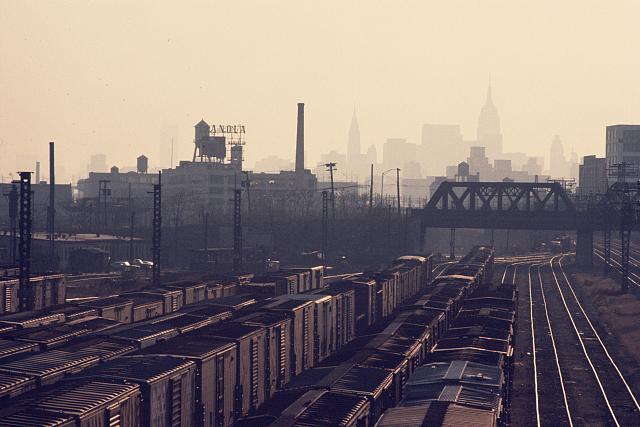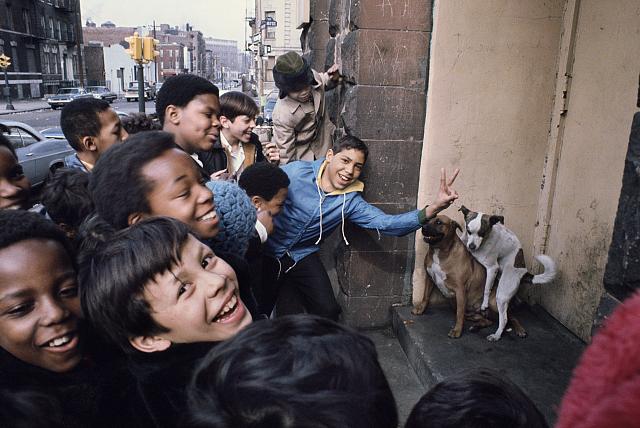 Members of the Reapers gang clean up a lot in the South Bronx, 1972. Photo by Life Magazine photographer John Shearer. Check out the rest of the photos in this series here.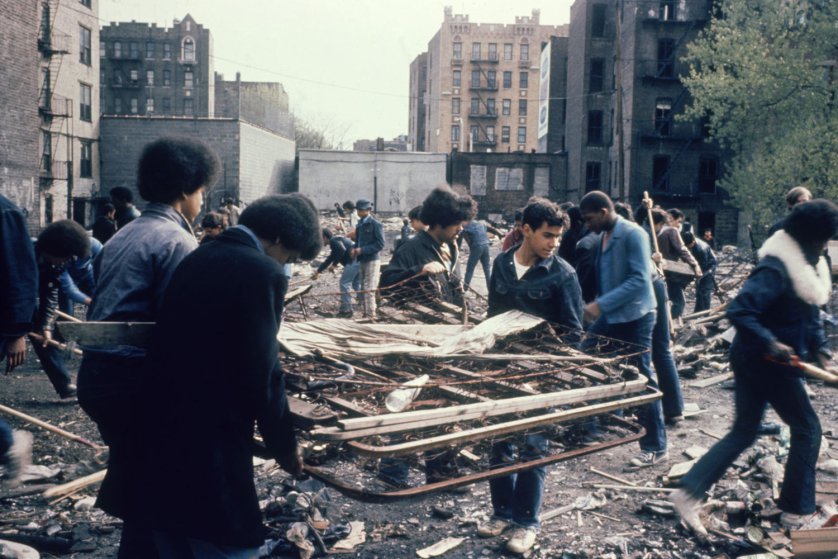 The termination point of the Third Avenue El (around 147th through 149th) which was torn down in 1977.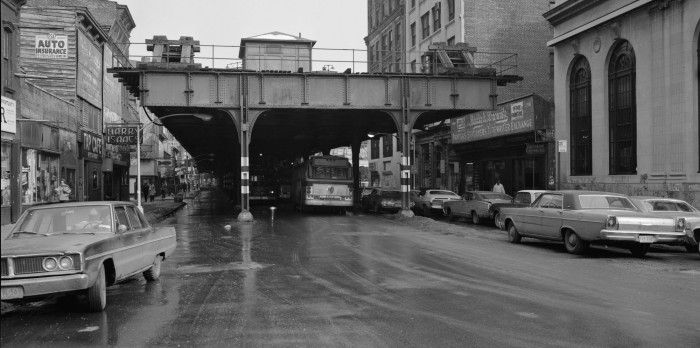 Insanity: One of dozens of fires that occurred in the aftermath of the blackout of 1977.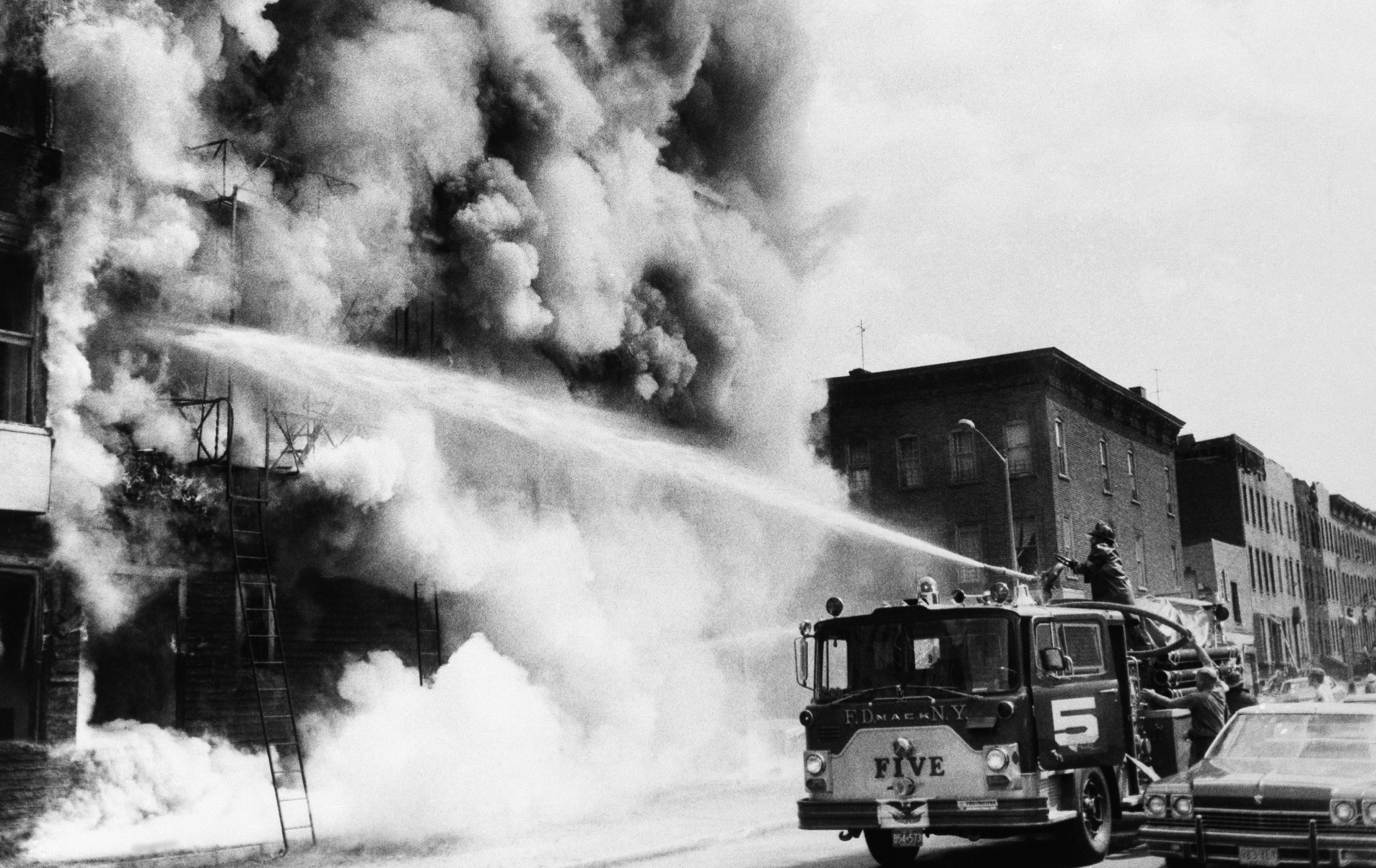 A child's baptism at St. Jerome's Church in the South Bronx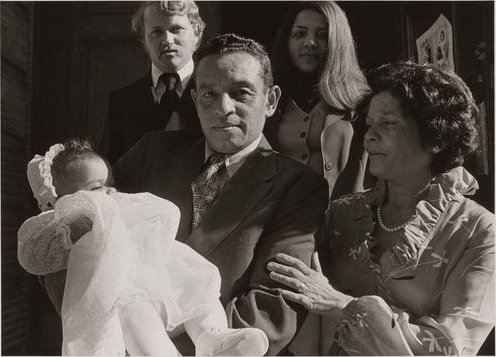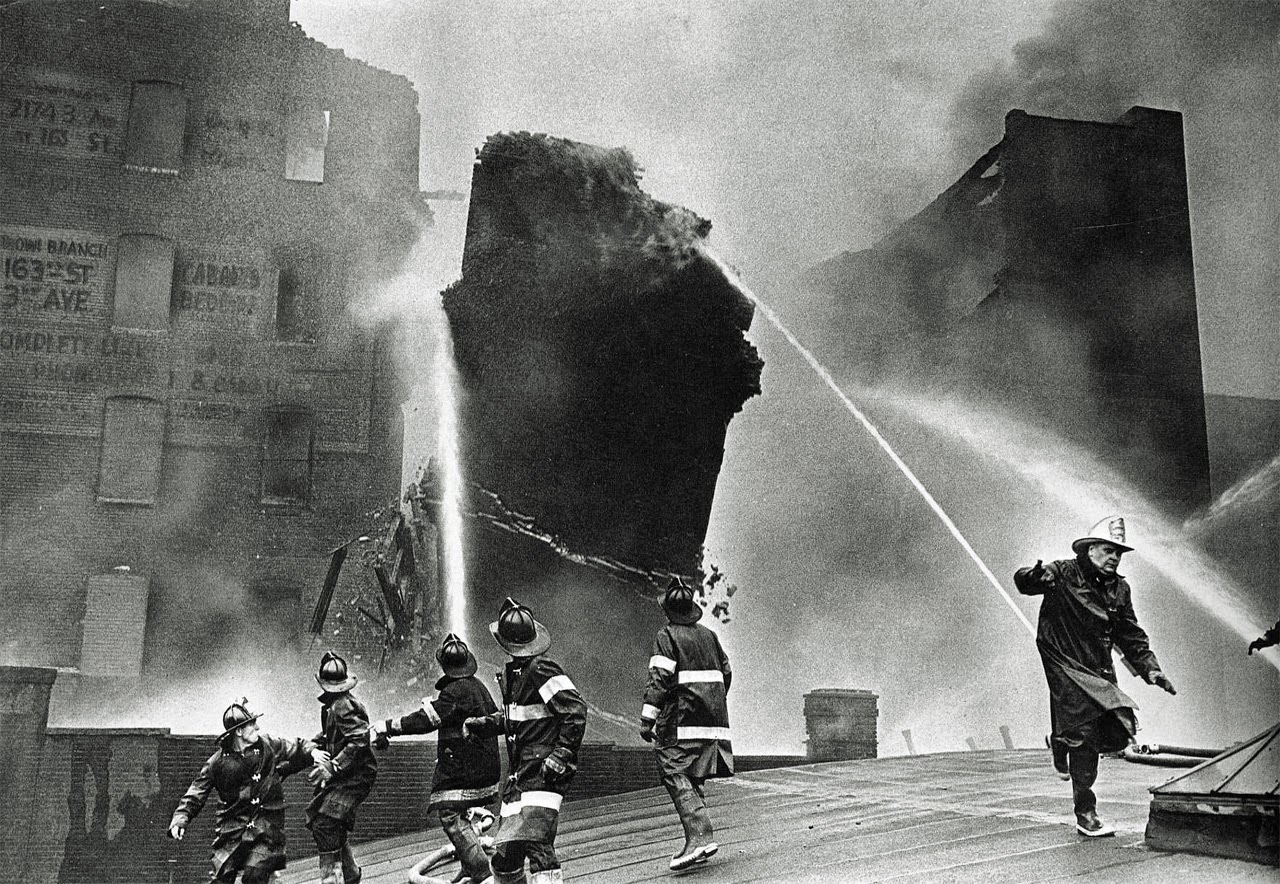 June 1977.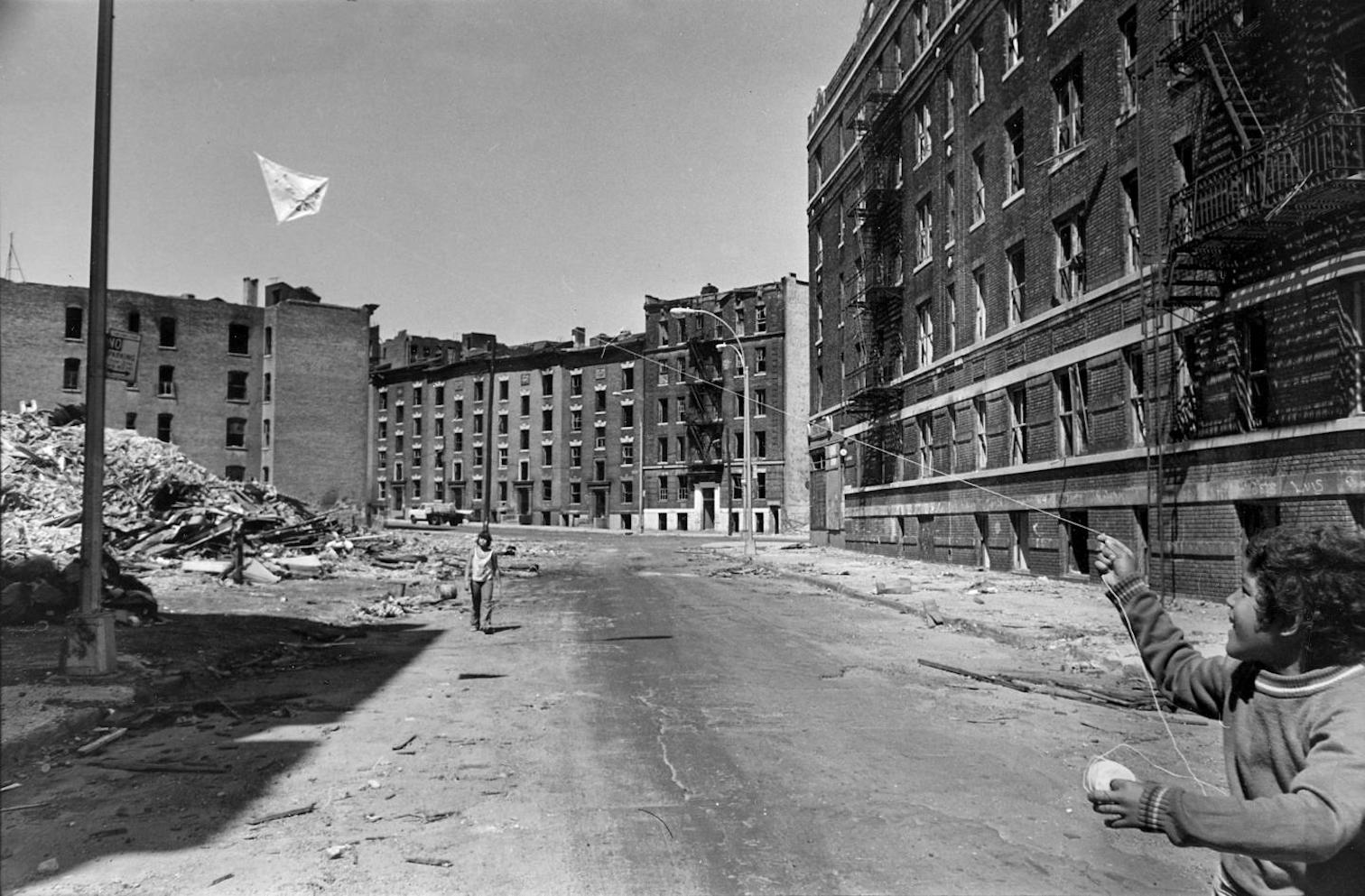 An abandoned building on Charlotte Street was turned into an art project by John Fekner, Broken Promises/Falsas Promesas, 1980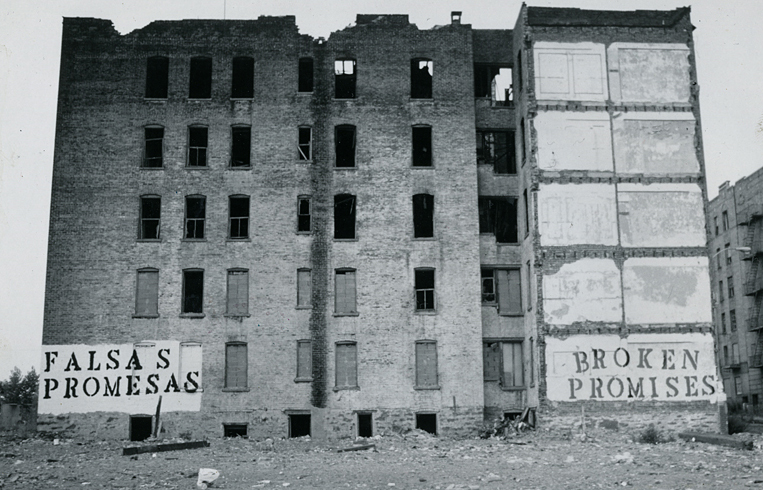 Planting a community garden in a vacant lot, 1980s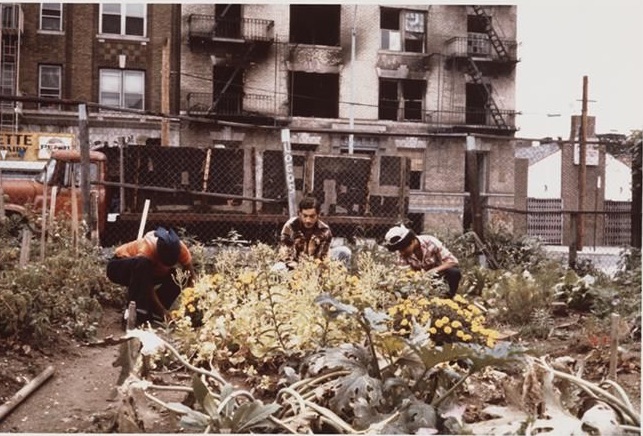 A current exhibit at the Museum of the City of New York celebrates the photography of Mel Rosenthal in their show In The South Bronx of America, running until October 16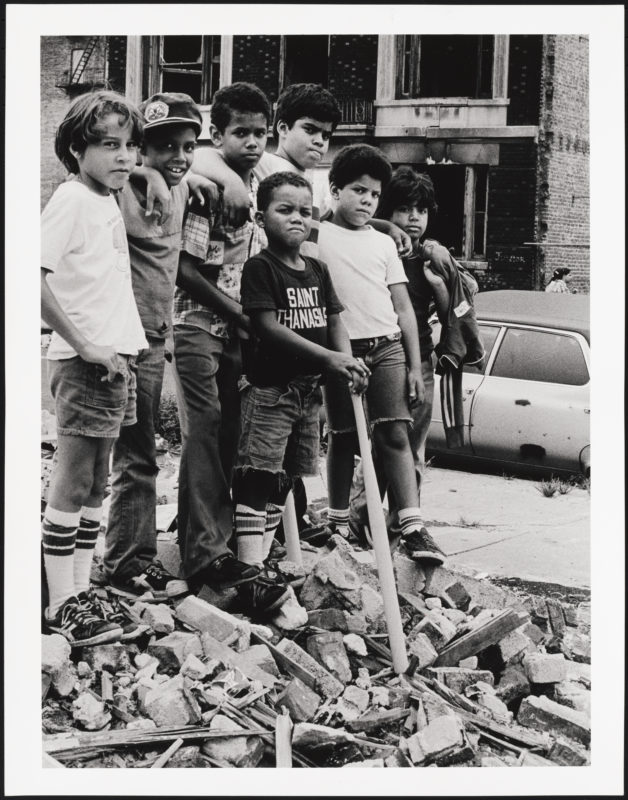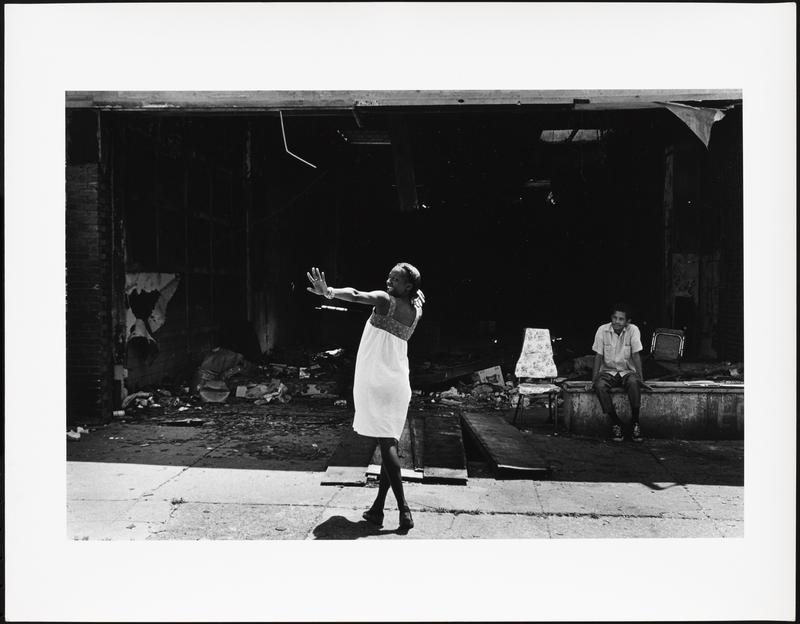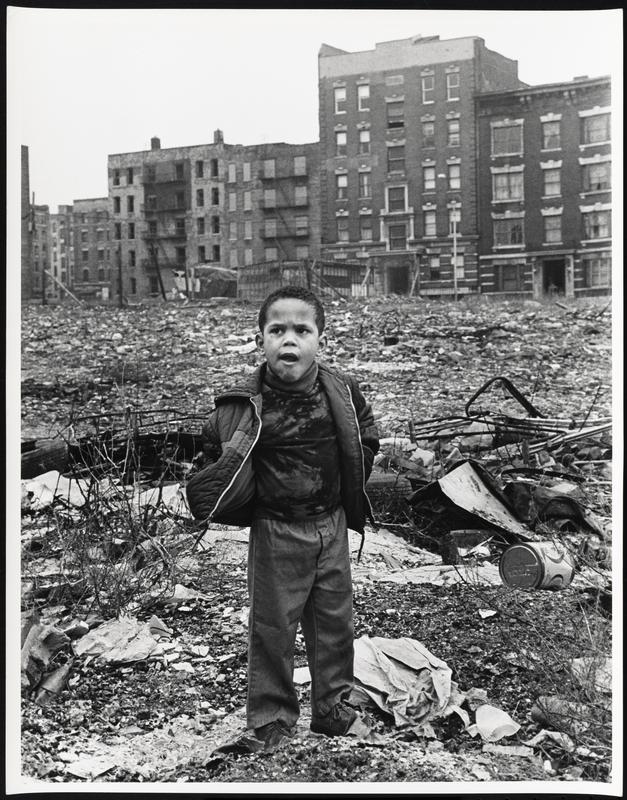 And now a few videos — both of actual events and dramatized, highly exaggerated depictions of the Bronx.
The infamous video from the 1977 World Series between the Yankees and the Dodgers, with Howard Cosell running play-by-play for both the game and the drama outside the stadium.
A film about DJ Kool Herc made in the 1980s

Dramatic video from ABC News of the Bronx as it looked in 1982

A news report about Fort Apache, police precinct in the Bronx. This uses documentary footage (albeit with dramatic music).

Later the film Fort Apache: The Bronx dramatized the events at this police precinct:

The trailer from the exploitation film '1990: The Bronx Warriors' made in 1982