Writing about New York City often means making big, bold statements — flamboyant, absurd and ridiculous — especially if you love it. And even more if you hate it.
New York Is Hell
Thinking and Drinking in the Beautiful Beast
by Benjamin DeCasseres
w. introduction by Peggy Nadramia
Underworld Amusements
Vanishing New York
How A Great City Lost Its Soul
by Jeremiah Moss
Dey Street
The early 20th century wit Benjamin De Casseres, a writer for the city's three biggest papers of the day (The New York Times, The Sun and The Herald), wrote with the flourish of his era, taking great pains to invigorate and often abuse the English language in his monologues about New York's latest trends.
In a terrific anthology of his writings New York Is Hell, the breadth of his obsession with New York — and his disgust at those changes he deems withering — is on full display. These essays document life in the post-Gilded Age, a city propelled by money but hindered by reality. Highlighted in this collection are his own priggish and highly entertaining takedowns on one particularly rueful reality — Prohibition.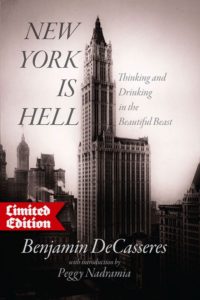 "When the cabarets, dances, cafes, saloons and seagoing hacks were in their flower the New Yorker found the Spirit of Adventure floating around every corner. After theater he set sail for the great voyage across the sea of wine, beer, high balls, jazz, conversation (not the dead exchange of canned smiles and dreary commonplaces you hear now at tables), casual acquaintances and taxis that whirled him to some strange 'little place' that some other fellow knew. 
The sea is dried up. 'Gay New York' has become a myth…..The romance of nightlife is gone."
The section above was accompanied (from the New York Times, Oct. 9, 1921) with the illustration below: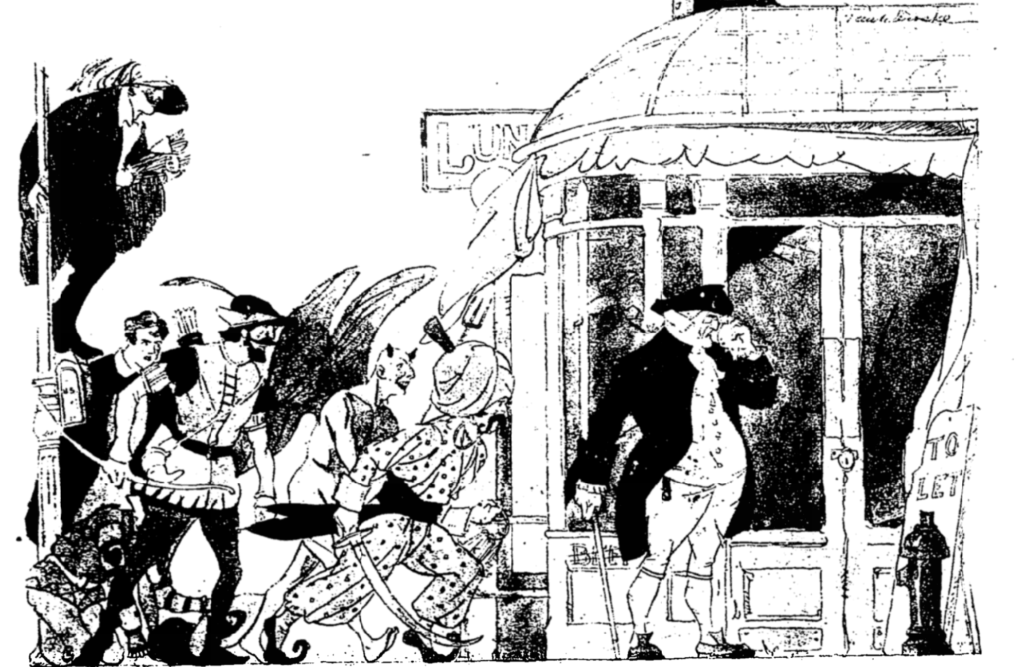 And yet DeCasseres must have written these with a drink in hand. His observations on regular New York life feel as relevant today as they did 90 years ago.
"Whenever you're 'up against it' take a boat to Staten Island. In summer time especially it is the Trip Magnificent."
He details the great restaurants of the day — Luchows, Mouquin's — and a great many other saloons and beer halls that have fallen into obscurity. Every word is wistful and lilting; you can get a little drunk while reading it.
As Peggy Nadramia writes in the intro, "DeCasseres was writing about New York a century ago, but his complaints are identical to mine: Things have changed — the great watering-holes are gone — you can't have a good time anymore. Don't all we old-timers say the same thing?"
_________________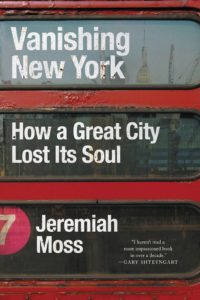 Loving New York, of course, doesn't mean you have to like what it's becoming. Â Most of you know the blog Jeremiah's Vanishing New York, observing the steady strangulation of New York City by hyper-gentrification, one fallen local landmark at a time. Its writer Jeremiah Moss has taken a step back in his book of the same title, observing the alterations of the city's DNA from neighborhood perspectives.
There are many New Yorks which have since vanished — the footprints of old immigrant cultures, the worn lunch counters and newsstands which took care of our grandfathers, the shadowy nightclubs which inspired a creative movement — and many culprits responsible.
"To escape, I go into faded coffee shops, dive bars, and bookstores, the refuges of New Yorkers who have not been brainwashed by the ethos of the New Gilded Age. In these places you can feel the old city, the brash, opinionated, neurotic, human city that once was."
Vanishing New York: How A Great City Lost Its Soul is a fuming, energizing read and often dispiriting. You'll want to run out and find your little corner of New York to protect.