PODCAST

The murder of a young woman in 1799 and the ensuing trial involving two of America's Founding Fathers
There once was a well just north of Collect Pond (New York's fetid source of drinking water in the late 18th century) in a marshy place called Lispenard's Meadow, in the area of today's SoHo.
One cold day in December — in the year 1799 — a boy came across a lady's article of clothing here matching that in the possession of a missing woman named Elma Sands. Upon looking into the old, boarded-up well, investigators discovered a horrifying sight — the lifeless body of Ms. Sands, which had been submerged in the well for several days.
Suspicion immediately shifted to the boarding house where she lived and worked, and the unusual tenants there all became suspects — including Levi Weeks, the brother of a prominent builder. Weeks was soon accused of her murder and thrown into jail.
This is the tale of the extraordinary trial that occurred in March of 1800 featuring two of the most prominent people in New York City — Alexander Hamilton and Aaron Burr. Years before their fateful duel in Weehawken, the two lawyers agreed to defend Weeks against charges of brutal murder.
But Hamilton and Burr were linked to the case in other ways. A banking institution borne from these early days still thrives today. And, believe it or not, the infamous Manhattan well still exists in the basement of a surprising place.
---
The Bowery Boys: New York City History podcast is brought to you …. by you!
We are now producing a new Bowery Boys podcast every week. We're also looking to improve the show in other ways and expand in other ways as well — through publishing, social media, live events and other forms of media. But we can only do this with your help!
We are now a member of Patreon, a patronage platform where you can support your favorite content creators for as little as a $1 a month.
Please visit our page on Patreon and watch a short video of us recording the show and talking about our expansion plans. If you'd like to help out, there are five different pledge levels (and with clever names too — Mannahatta, New Amsterdam, Five Points, Gilded Age, Jazz Age and Empire State). Check them out and consider being a sponsor.
We greatly appreciate our listeners and readers and thank you for joining us on this journey so far.
---
1798 watercolor by Archibald Robertson of the hilly countryside north of Collect Pond. The well would have been located a short distance from here, off to the right.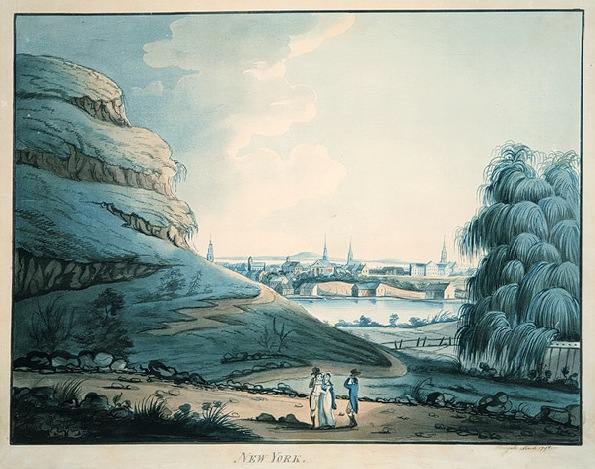 Sketches of Lispenard's Meadow by artist Alexander Anderson. The first is dated 1785, the second 1800.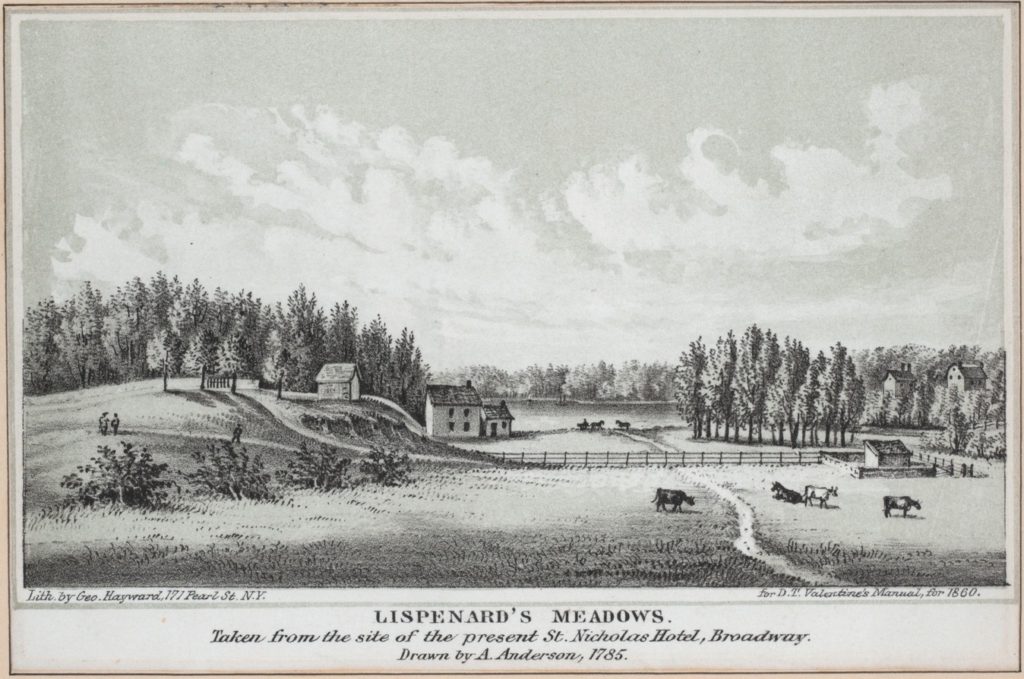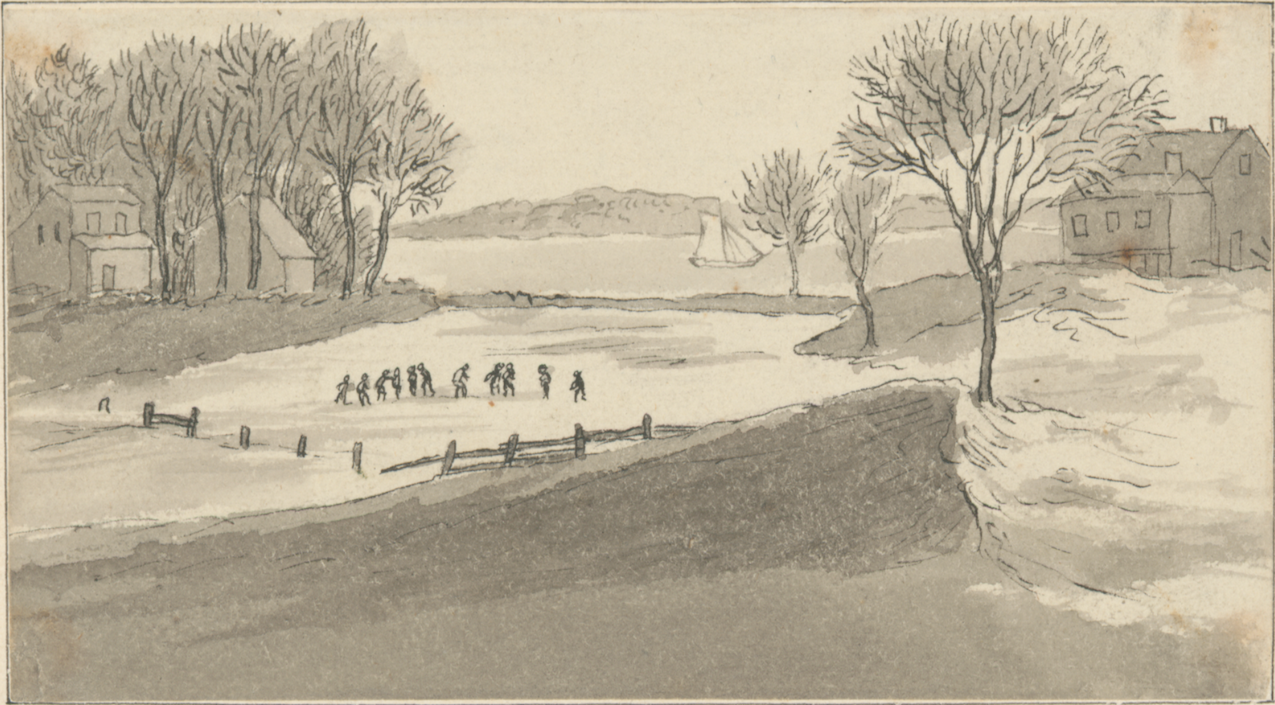 The illustration above was later re-drawn: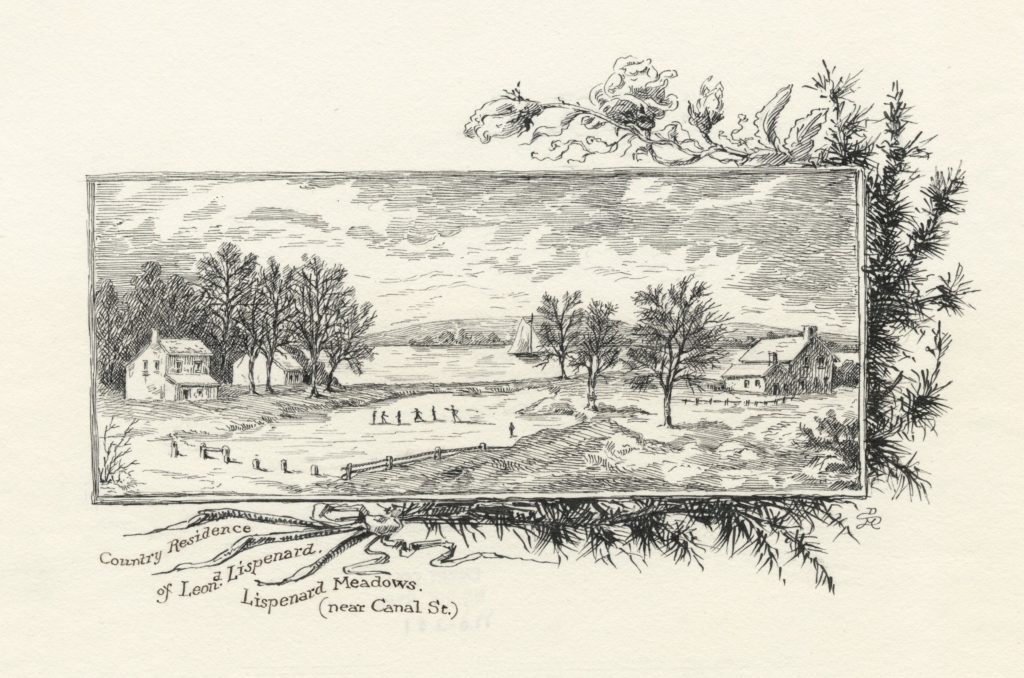 The reservoir of the Manhattan Company was built on Chambers Street but the Bank of the Manhattan Company — the real motivation behind starting the company — was at 40 Wall Street.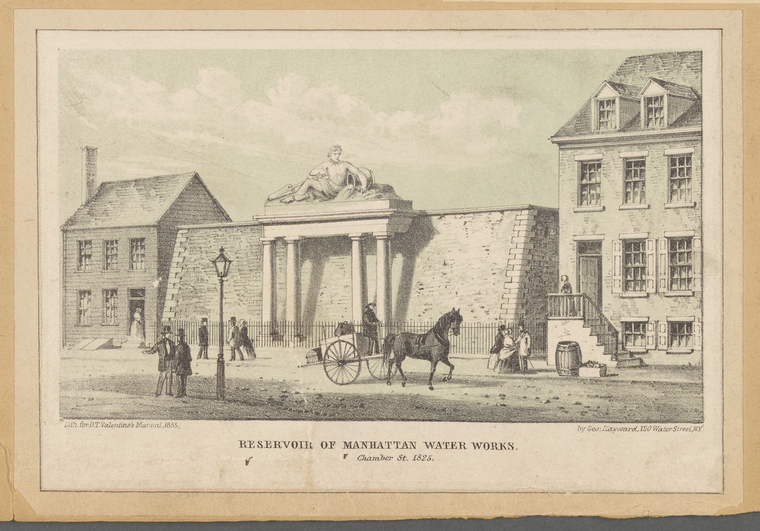 The scene of the trial — old Federal Hall, pictured here in 1797 in an illustration by Currier and Holland and drawn for D. T. Valentine's Manual.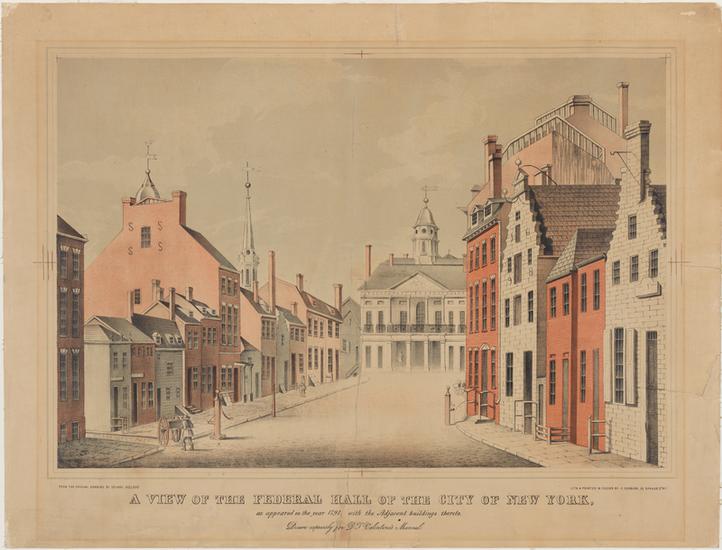 Notice of Levi Week's death found in the Mississippi Free Trader — Dec. 15, 1824.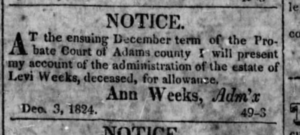 The old Manhattan Well was rediscovered underneath the Manhattan Bistro in the 1980s. The bistro is now the clothing store COS.