Gotham: A History of New York City to 1898, by Edwin G. Burrows and Mike Wallace, is my bible.
It sits with my reference books, not with the other history non-fiction, foundational in its importance to this subject. I've read every page, although not in one or even 50 sittings. It winds through about 275 years of history with an exhaustive confidence, exploring every aspect of life in this region with depth and dexterity. The subject is the island of Manhattan and the lands surrounding that will become Greater New York City. Like a Shakespearean comedy, it concludes with a wedding — the Consolidation of 1898.
It takes the authors 1,236 page to journey through this story. The new follow-up by Wallace, Greater Gotham: A History of New York City from 1898 to 1919, Â takes almost as many pages to tell the story of just a couple decades. But that's the 20th century for you.
Greater Gotham
A History of New York City from 1898 to 1919
Mike Wallace
Oxford University Press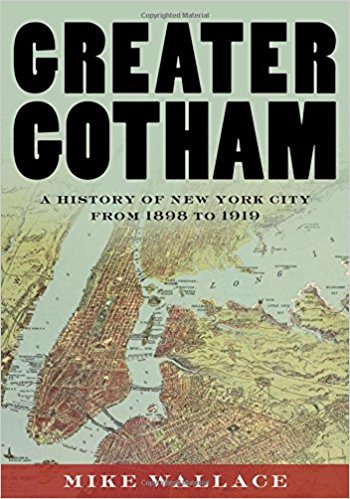 The decades between Consolidation and Prohibition saw the rise of New York City has an international symbol of American prosperity while being reshaped by an unprecedented collection of modern cultural forces. During the Gilded Age, New York became of city of wealth and a metropolis of stratified classes, forming immigrant enclaves and vital (if often corrupted) social institutions.
In the new century, a pivot occurs. Tradition gives way to the modern and a crowded city finds room for its new personalities.
Professor Wallace, founder of the Gotham Center for New York City, takes Gotham's comprehensive powers to new heights with Greater Gotham. Confined by two decades, the book visits virtually every aspect of life by category. It thoroughly explores one element of that critical period — politics or finance, for instance — then refocuses and reboots, starting at the beginning again in the next chapter, observing different histories.
This categorical framing makes Greater Gotham perhaps a more difficult straight-through read, but lends the work an authoritative feel. Will there ever be a better book about this period? How could there be?
The book starts with higher infrastructural forces — from great transportation projects to population movements — then gently settles into turn-of-the-century street life and everyday customs of New Yorkers. Baseball games, Times Square restaurants, Gibson Girls, ragtime music. I found the middle sections to be of special interest, those 'unofficial' collaborations borne from the social and intellectual ideas coming in from Ellis Island. Unions and radicals. Progressives and repressives. Maxim Gorky, Arnold Rothstein, Edith Wharton, Madam C. J. Walker.
Greater Gotham really does reach into all five boroughs and even into the extended regions of Westchester County and Long Island. The attempt to tell the total story is bold, perhaps bolder than the first Gotham. New Yorkers were much more diverse — from many backgrounds, many races — than they were even fifty years before. The goal of Wallace and his researchers is to find stories that attach to every New Yorker living here during this twenty-year period.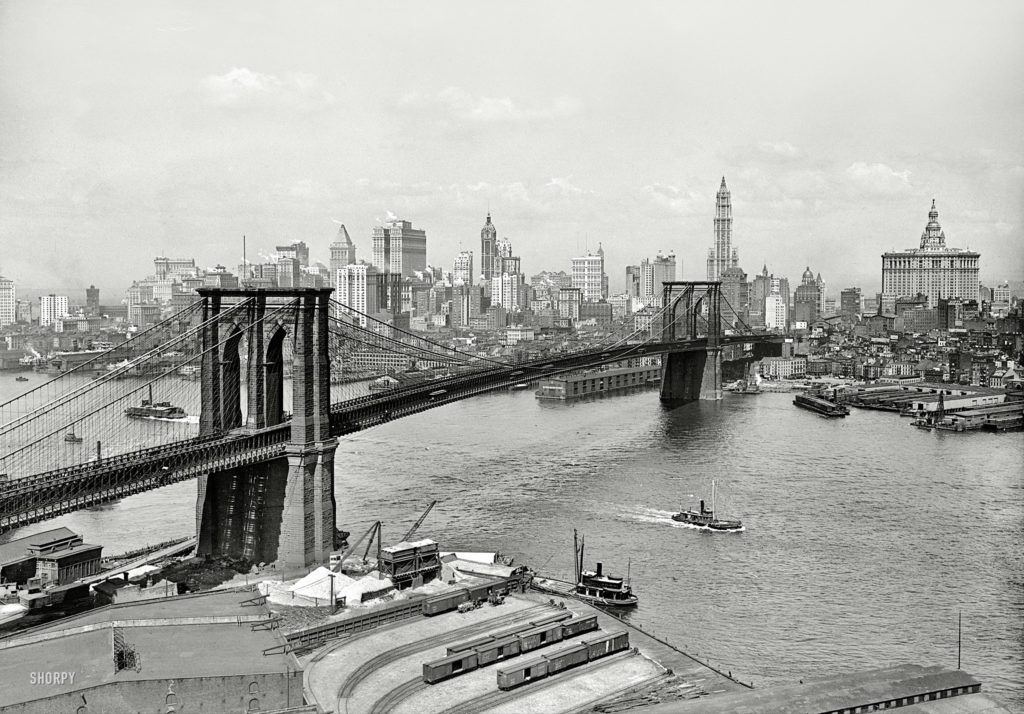 As categorically framed, some cultural shifts of the early 20th century may seem even more impressive, seeming to lurch forward with a bewildering speed: the dissolution of corporate trusts, the sophistication of organized crime, the lives of African-American New Yorkers. And this 'sudden' modern effect is especially true with the role of women which expanded in practice, if not in custom. "Women had also been contesting the double standard, revising family law, managing economic resources, building female-run institutions, and engaging in politics (despited being barred from the polls)."
Also explored is the rise of outer-borough communities during this period, particularly in the Bronx, Manhattan's closest companion, becoming transformed by post-Consolidation optimism, from rising institutions in its parks to the residential boom along the Grand Concourse.
I've spent a couple months with this book already and have found so many new marvels among the pages. I suspect its trove of particular details will continue to enthrall me in years to come. Time to make room on my reference shelf.
— Review by Greg Young