In the 1980s comic book Watchmen, a redheaded protester haunts a local New York newsstand holding a sign which says THE END IS NIGH.
Sometimes I feel the urge to hoist my own version of that sign upon a street corner, moaning as I watch the city I fell in love with change into something alien and unfamiliar, a luxury product completely out of reach of most of its own residents.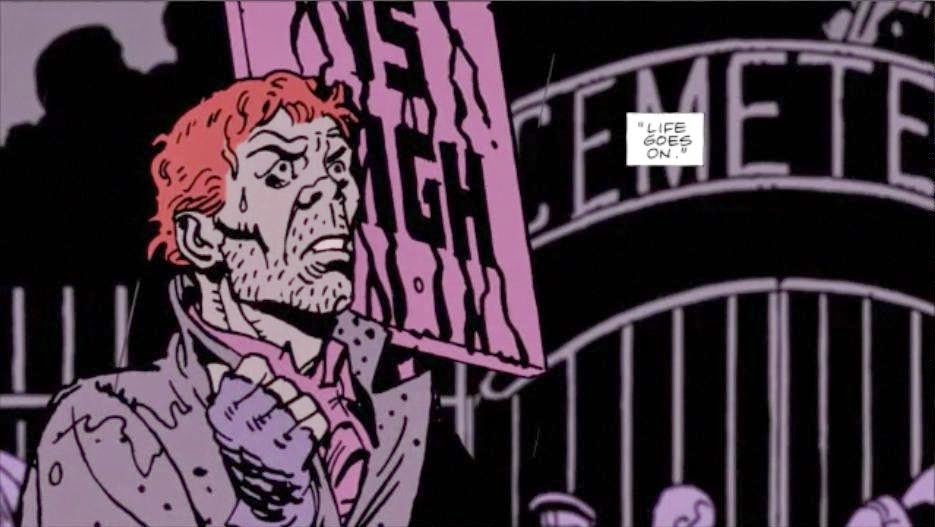 Beloved spots of substantial historical value are constantly closing. Mega-condos will rule Midtown. The phrase 'pricey neighborhood' applies to more places than ever before.
You sense that the character of the city might be changing too. You might be thinking about things that you can do to help preserve what you loved about New York in the first place and help keep it livable for the 21st century.
The city needs you! Here are ten ways of becoming a better New Yorker, ten things you can do (or mindsets you can develop) to continue making this a great place to live. This is the fleshed-out list that first appeared in our 2015 Year In Review podcast but it seems especially relevant in 2018.
1) Learn history. Talk about history.
We live in old buildings, walk down old streets. The stories behind them influence our lives to this day. Knowing the history of your neighborhood or your favorite landmark isn't just a fun stash of trivia you can unspool at a party. It adds greater value to the places you interact with everyday. And if you're going to pay all that money for rent, wouldn't you like get a bit more out of it?
This isn't just about reading books about history, watching Ken Burns documentaries, going to museums or, you know, listening to a podcast.
It's about conceiving your life as the next chapter of the places around you.
Engage with others about the importance of knowing history. Because you never know who will have the energy and power to preserve it should the places you love become endangered.
In this day and age, you can't fully trust that a landmarks commission or a preservation group will be fully empowered to step in.

Old Pennsylvania Station, photographed from Macy's, taken by Irving Underhill, courtesy Museum of City of New York
2) Read Jane Jacobs' book The Death and Life of Great American Cities
Jacobs was a community activist during the Robert Moses era of vast highways and the modernist architecture boom. She was a crusader for active streets, of fluid interactive neighborhoods, during an era dominated by the ideals of Moses and modernist concrete architecture.
Her great manifesto The Death and Life of Great American Cities, written in 1961, takes on a new relevance in the New York City of 2017. I suspect we may continue to need Jacobs' guidance as the city enters a new era of transformation.
3) Protest and speak out
Most people don't protest anything that exists outside their personal life. When confronted with the closure of a favorite grocery store or the demolition of a beloved building, the tendency is simply to shrug your shoulders and sigh, "That's sucks. Oh well!"
If it means something to you, take a few minutes out of your day, go in and ask why a place is closing. Interact with proprietors, let them know that you're sorry to see them go.
Perhaps you'll be told that there's something you can do (sign a petition, make a phone call).
Perhaps there's nothing you can do.
But your simple words of encouragement may help that shop owner or employee make it through a rough day. And could help in the thought process of their next great venture. And if enough people do the same thing, perhaps the fate of a certain place can be changed.
350 Fifth Avenue. Empire State Building, view of from Lincoln Building, East 42nd Street. Photo by the Wurts Brothers, courtesy Museum of City of New York
4) Look into a community group
Community groups are often on the front line of major shifts within a neighborhood.
The problem is, they can be intimidating to join. Regular meetings can be held at inconvenient times and are less than exhilarating, often bogged down with minutiae.
Don't let that stop you.
Community groups need you and they need your voice, even if you're a new resident.
There are perks to becoming acquainted with the most vocal members of your neighborhood. And keep in mind that you can participate in some groups even if you don't live there. The Greenwich Village Society for Historic Preservation is a great example.
5) Identify where you might be part of the problem
The unsettling end result of learning history and becoming involved with your community is that you may come to a realization that you are part of a larger problem. Perhaps you're part of a gentrification wave moving into expensive apartments in a once-affordable neighborhood. Perhaps you unknowingly displaced somebody else. Maybe you don't really spend that much time in your neighborhood.
Is it merely a place you hang your hat, as they say?
This sort of self-reflection can make you feel a little helpless. Or it can empower you to offset the negative impact you might be making upon a neighborhood.
After all, people interested in environmental issues will try and lower their carbon footprint.
If you're interested in a vital and rich New York City, why not make small, worthwhile changes to your own life?
Block of brownstone residences in Park Slope, photographed by Danny Lyon, 1974, courtesy US National Archives
6) Spend your money locally
This is the number one way to support your neighborhood. Seek out shops and services that are within three to five blocks of your home.
Try to visit them all at least once and evaluate what they can provide for you. I assure you that the convenience will make up for any extra costs, and you might find that local places may actually be cheaper.
Personal maintenance services (salons, manicurists, dry cleaners) are the easiest, then branch out to grocery stores and delis.
You probably will still need to spend at big box retailers or chains on occasion, but just be aware of the kinds of items that can be easily purchased within your neighborhood.
Even among the big shops, there's a distinction between local franchises and national ones.
Nine times out of ten, the services at local chains are more personal and the prices can be competitive.
7) Get out of your neighborhood
Mass transit operates a bit like a transporter on Star Trek, materializing you from point to point without the context of time and distance.
It disguises the fact that New York is one of the most walkable cities in the world with hundreds of miles of sidewalk. To understand your neighborhood, you sometimes must become more aware of those around yours.
Break out of your comfort zone and break out some walking shoes.
Get off the subway two or three stops before your home and just walk the rest of the way. (Or get out a few stops after you usually get out.)
This is greatest way of clearing your head after a long day, and you'll always discover something new along the way. Â Instead of leaving town for the weekend, chart a course via public transportation to a neighborhood on the outskirts of the city.
You'll be able to see the history of New York City this way as clustered brownstones give way to housing development or homes with front yards.
Avenues with towering skyscrapers sometimes lead to sun-filled side streets. The more you experience, the more attractive the city becomes.
St. George, Staten Island, photomechanical print/postcard, courtesy New York Public Library
8) Get young people and new arrivals excited about history
New Yorkers can get very jaded. That mindset can help preserve a neighborhood or it can generate a profound lack of enthusiasm.
History and preservation has always been seen as an elder pursuit.
The young don't care about history, right? Well, as the producer of a New York City history podcast and website, I can tell you quite the opposite.
I believe the present generation has the greatest potential for appreciating history and using its tools to create a better city.
Museums and community groups should be doing more to reach out to younger people, but you can help out with that too, everything from the presents you buy somebody for their birthday (put down that Dan Brown novel and get them Gangs of New York) to the places you go with them.
And this includes new arrivals to New York who simply may not yet feel comfortable wandering around the city themselves.
Outside the former Mars Bar in the East Village which closed in 2011. (Courtesy the Commercial Observer)
9) Remain a little outraged
I don't mean to take away the joy of feeling a little jaded and grumpy. Sometimes that's the fuel that can lead to a movement but only if you become proactive. Make yourself heard. Become a voice of discontent in social media. Read Jeremiah's Vanishing New York at least once a week and get a little angry at the closures of so many places that provide richness and texture to the city.
There is something very serious happening in New York — this era will be noted by future historians — and this requires a unique and unconventional effort.
If you care at all, then you have to be part of it in some way.
Find a way to contribute — through your written words or conversations, to your co-workers or your congressperson.
But through it all….
10) DON'T PANIC
NEW YORK CITY IS OVER. You will hear variations of this from your concerned friends and read similar refrains on message boards and comment sections. Check the comments on various local websites on any given day and you will see variants of this phrase about twenty times.
This statement is inaccurate.
New York City has gone through vast changes over the decades. Gentrification has been a regularly recurring process in the city for almost one hundred years.
The remnants of beloved eras (Harlem in the '30s, Greenwich Village in the '60s, East Village in the '80s) are disappearing, seemingly at a rapid pace these days. Urban blight reoccurs as well.
What's different is our perception of these changes. I can openly lament the loss of my Meatpacking District, for instance, because it wasn't like what I loved about it in the 1990s.
But another person will look at me and say, "Are you nuts? It's safer than ever. You're glamorizing things that are actually quite terrible. And besides the High Line is amazing."
The New York City that you fell in love with might be disappearing.
Do what you can to help preserve that part of it that you loved.
But always remember that your city most likely replaced somebody else's version of New York City.
It's constantly reinventing itself and sometimes to the detriment of many of its residents.
In the end, New York City is never over but it can become tremendously unbalanced. This should be a city for all of us, not some of us. Become a voice, a part of the conversation, to make sure that doesn't happen.
Brooklyn Bridge Park (courtesy Wired New York)
At top: Harlem Street with Church, by William H Johnson, 1939-40, courtesy the Smithsonian Institute