For the 1949 season, the caretakers of the Rockefeller Center Christmas tree decided to go fantastically over the top.
Just a few years earlier, New Yorkers were served up a plainly adorned tree with no electric lights, a reminder of the war in Europe and a nod to energy preservation.
But the war was over now; it was time to get delightfully gaudy.
Perhaps knowing the mild temperatures that awaited that season — it would only snow two inches between November 1949 and January 1950 — the Rockefeller Center holiday designers decided to spray paint the gigantic 75-foot tree in hundreds of gallons of whimsical camouflage paint.
It was then engulfed in 7,500 electric lights in pastel colors — pink, blue, yellow, green and orange, described as "plucked from a sky in fairyland."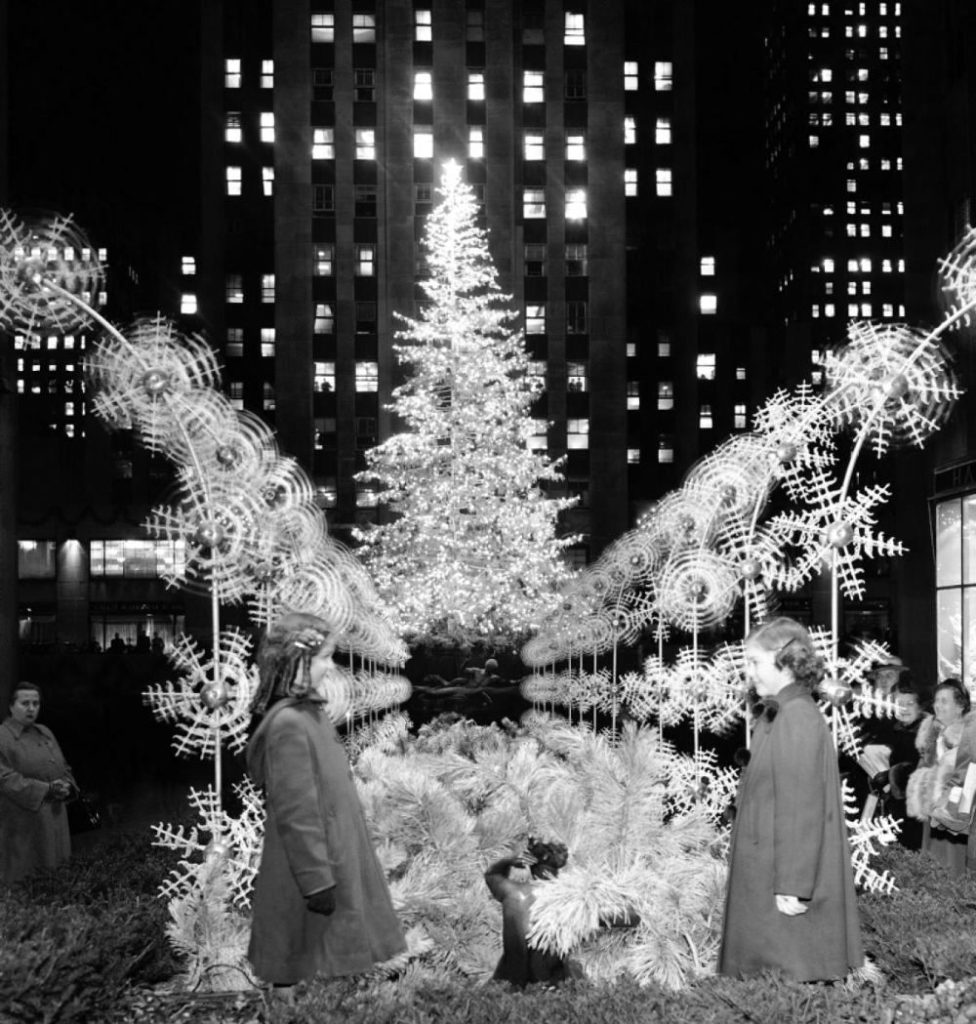 This Easter-like hue, bouncing off the silver-painted branches, reflected out from behind dozens of glass ornaments, leading up to the brilliant white star on top, which, according to the New York Times, "seemed to send glints of fire almost to the top of the seventy-seventh floor RCA Building in back of the tree."
As if that didn't grab your attention, the promenade leading up to the tree and the skating rink was adorned with a most dizzying decoration — rapidly whirling plastic snowflakes, 576 of them, "each as big as a dinner plate," illuminated for hypnotic effect.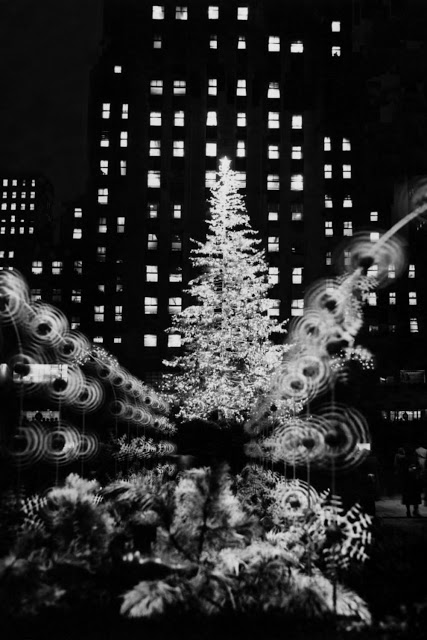 Is it any surprise then that this insane display would later create, on December 19, 1949, "one of the worst traffic jams Fifth Avenue traffic jams in recent years"?
Due to shocked motorists trying to catch a glimpse at this electric wonderland, Fifth Avenue became a rush hour nightmare for several hours. "Cars were pinned bumper to bumper from 72nd south to 41st Street along Fifth Avenue, making cross-traffic an impossibility and imprisoning automobiles in side streets."
Even through police were called out to enforce emergency traffic rules, Midtown was essentially in a state of vehicular trauma until 10 pm that evening.
Below: During the day, the silver-painted branches, adorned with heavy glass ornaments, cast a particular glow upon the ice skating pond and the surrounding buildings. Picture courtesy Flickr/lighthousenewsus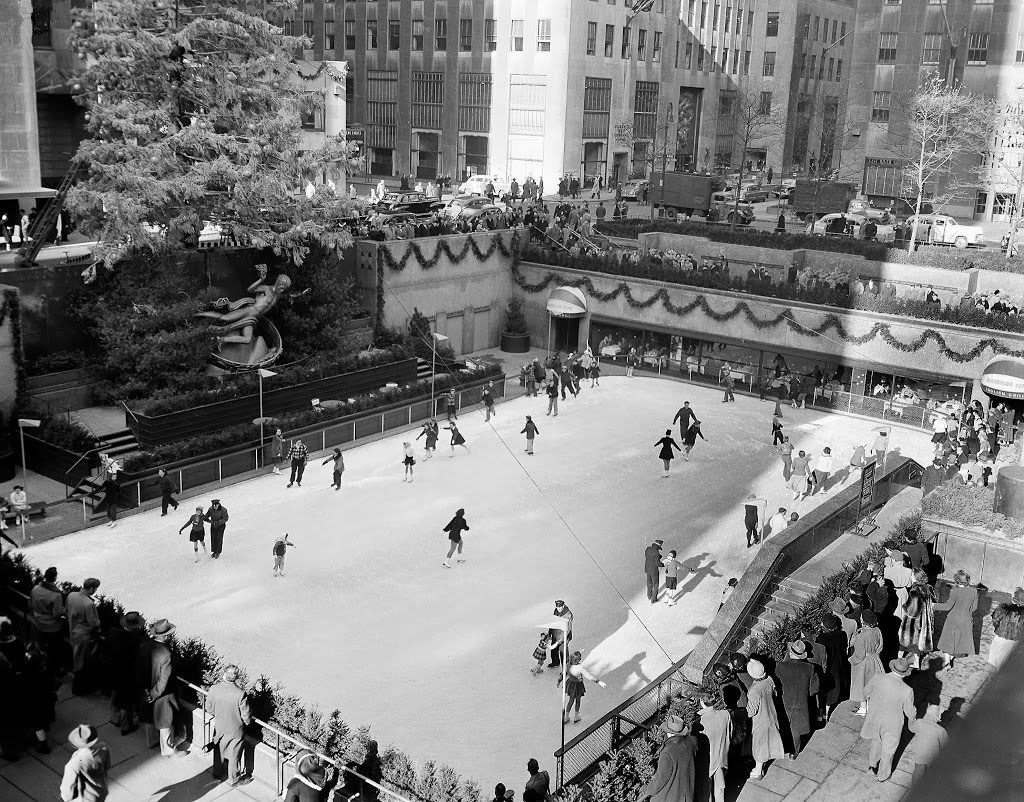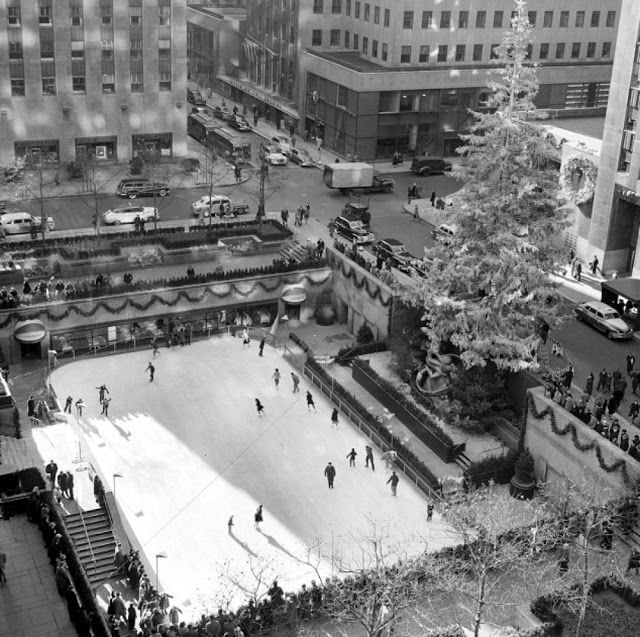 For visitors to Rockefeller Center, if even that wasn't enough bedazzlement, you could head inside into the forum to see the so-called Court of Jewels:
Then of course there was the annual Radio City Music Christmas Spectacular which often prefaced a splashy film premiere. And for that Christmas in 1949, audiences experienced a real treat (and a movie you know we love):
Picture courtesy Life Magazine/Andreas Feninger