Did you know the modern supermarket was created in New York City? The ways people purchased groceries in the first few decades of the 20th century had evolved very rapidly. And by the 1930s all roads to the grocery store would lead to Queens.
---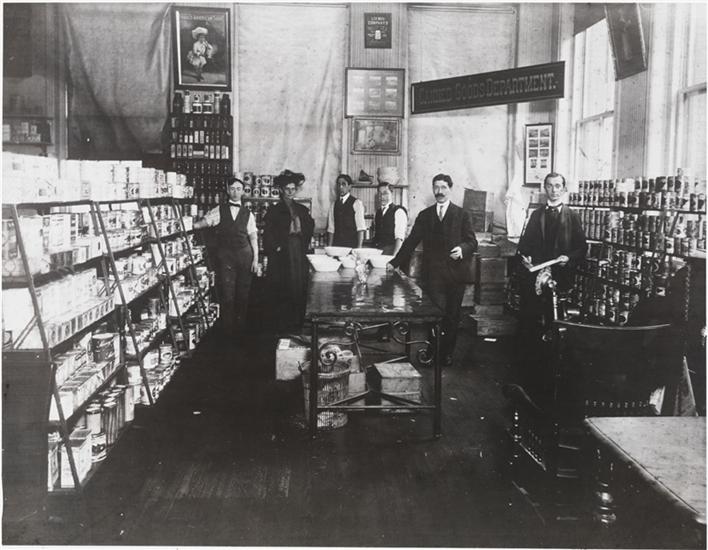 During the 19th century grocers provided shoppers with a limited number of items which the clerk procured for the customer from behind a counter. Items like meat and bread were often bought separately — at butchers and bakers.
There were of course outdoor markets, where customers would have greater flexibility in selecting their own produce. But markets with a truly fine and diverse selection were rarely available to most Americans outside of big cities.
Overall grocery shopping was a less dynamic affair than it is today with fewer options and an almost blatant disregard to convenience.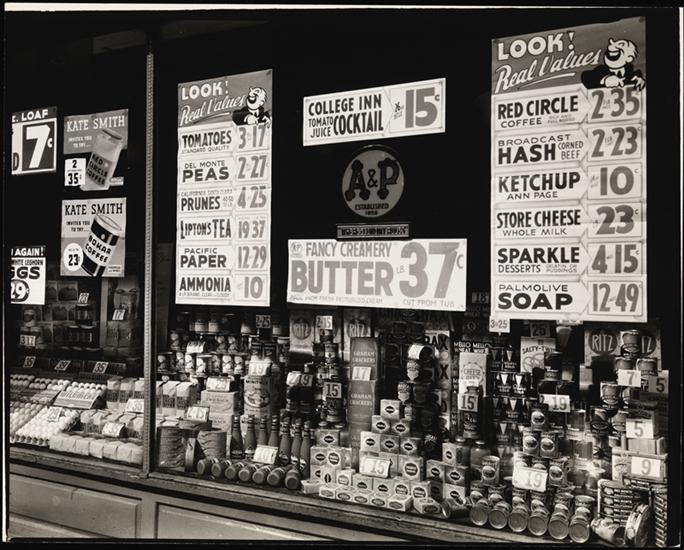 Advent of the Grocery Chain
Successful merchants would branch out into several grocery stores in one city, using a trusted brand name as a lure to customers who looked for conformity and assurances in freshness and quality.
Those grocers could share resources among its many stores and even get into the manufacturing business themselves, creating branded products.
The beloved A&P supermarket, which sadly closed just a few years ago, traces back to a small 1859 New York store The Great Atlantic & Pacific Tea Company.
Many other famous grocery names familiar to New Yorkers got their start well over 100 years ago — including Charles and Diedrich Gristede (in 1891) and John and Walter Wegman (1916).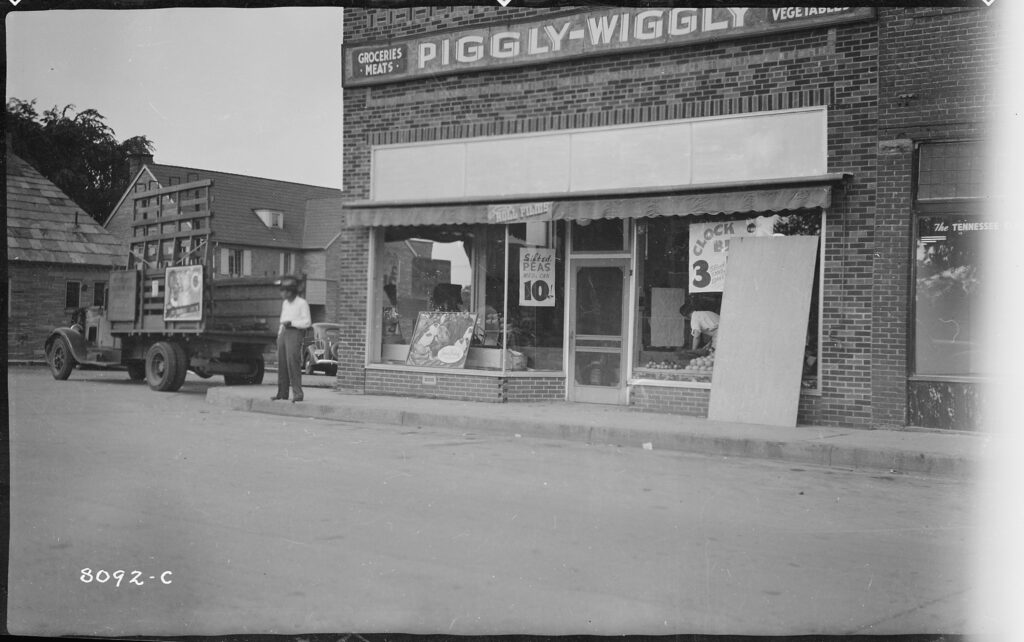 Choose Your Own Food
Perhaps the most important grocery innovation in American history took place in 1916 at a Memphis, Tennessee grocery store called Piggly Wiggly.
To cut cost, the store got rid of the clerks and allowed customers to pluck items from the shelves themselves.
From Smithsonian Magazine: "Just like today, a shopper picked up a basket (though Piggly Wiggly's were made of wood, not plastic) and went through the store to purchase everything. By the end of that first year there were nine Piggly Wiggly locations around Memphis."
This seemingly simple idea of self-service shopping was too cost effective to ignore and soon other grocery chains across the country picked up on this novel concept.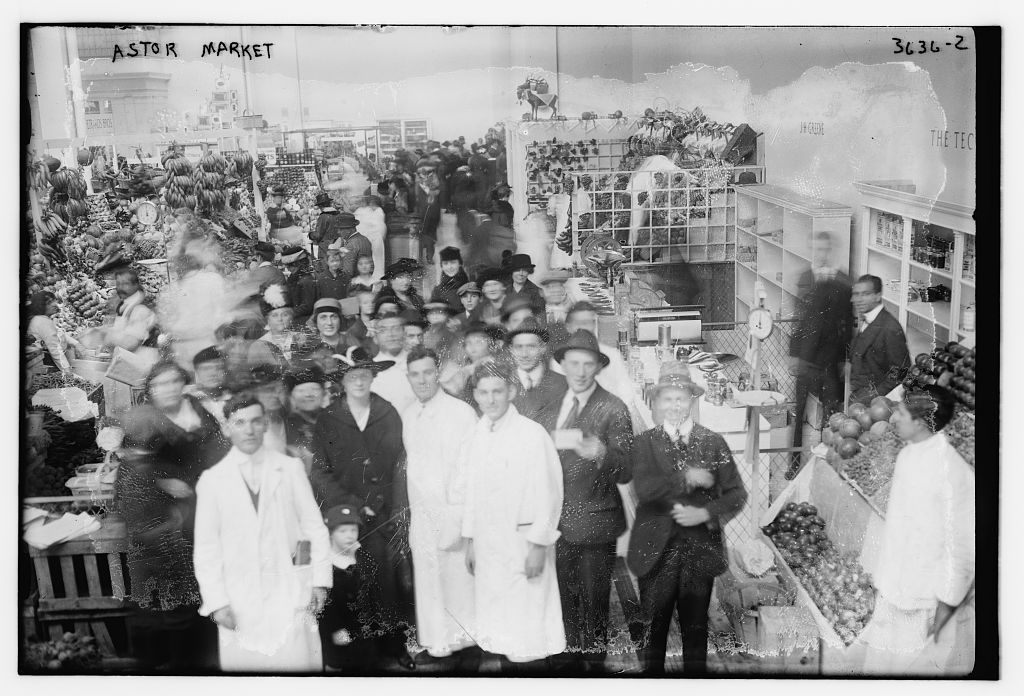 Going Big
Experiments like the 1915 Astor Market on New York's Upper West Side were a bit ahead of its time. The market allowed multiple independent sellers to work under one roof, a massive army of food options creating a 'super' market experience (if not quite yet a supermarket).
Unfortunately a grocery store of great size was not yet a desirable experience for shoppers who preferred shopping in their own neighborhoods, and the experiment closed in 1917.
In the 1930s, New York would pull outdoor markets and most pushcarts vendors off the street and place them in dedicated markets such as Essex Street Market. (Listen to our podcast on La Guardia's War on Pushcarts and the Creation of Essex St. Market for more information.)
But perhaps the most important innovation put a truly royal stamp on the grocery store experience.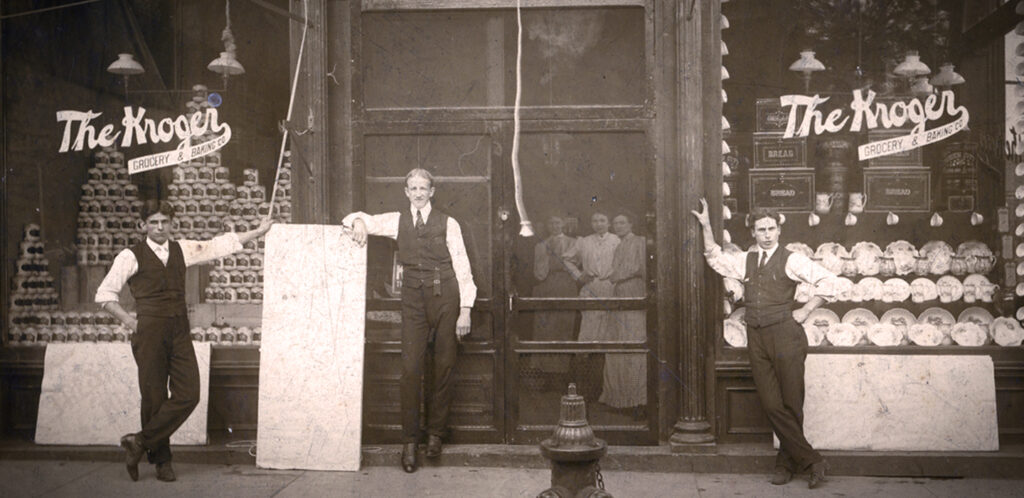 Everything In One Place
You also may be familiar with the name Kroger, still a thriving grocery store business in the United States today. That chain traces back to a small grocery story opened in 1883 by Cincinnati merchant Bernard Kroger.
In 1929 a Kroger employee named Michael J. Cullen proposed to his boss an eye-opening expansion to the grocery store business. "Before you throw this letter in the wastebasket, read it again and then wire me, so I can tell you more about my plan and what it will do for you and your company."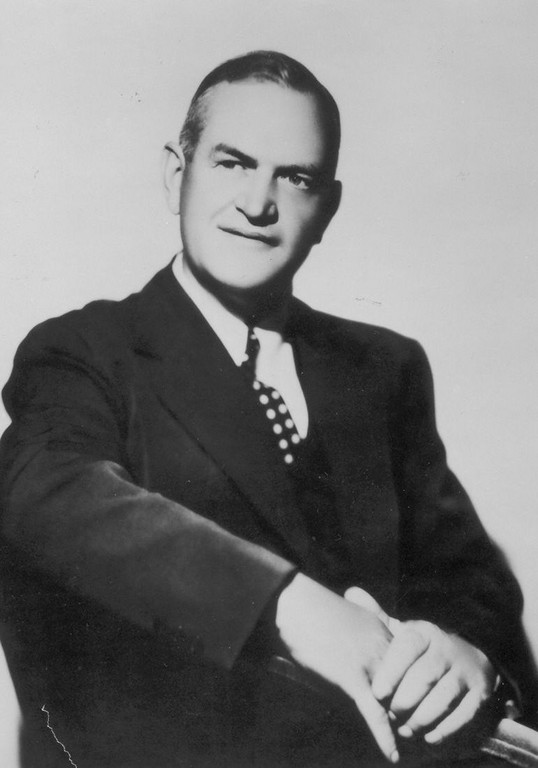 Cullen's plan involved, according to Supermarket News, "stores that would be 80% self-service, located outside a city's main business center" and involve a unique pricing scheme — "where 300 items would be sold at cost, 200 others at 5% above cost, 300 more at 15% above cost and another 300 at 20% above cost." [source]
The idea was to immerse a customer with bargain selections so that it would be nearly impossible for somebody to run in to pick up one or two necessary items without picking up a half-dozen unnecessary ones.
As he wrote, "When I come out with a two-page ad and advertise 300 items at cost and 200 items at practically cost, the public would break my front doors down to get in."
His boss wasn't interested in this grocery revolution, so in 1930 Cullen instead moved to Long Island and partnered with a Brooklyn grocery executive Harry Socoloff to build his dream store.
The destination? The borough of Queens.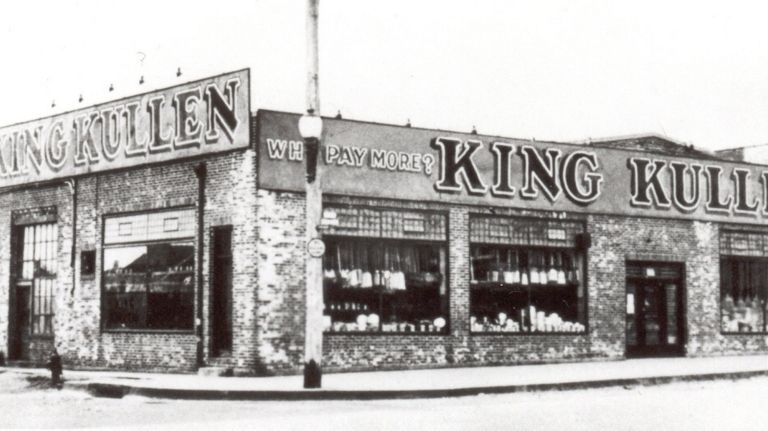 A Queens Shopping Experience
Queens was an ideal place to try out something new in 1930.
The borough was experiencing a huge population boom and new, inventive housing developments were turning former farmland into sprawling new neighborhoods. In effect, eastern Queens was developing as a 'suburb' to the more developed regions of the borough, as well as the denser populations of Manhattan and Brooklyn.
Cullen and Socoloff leased a garage at 171-06 Jamaica Avenue in the neighborhood of Jamaica Estates and opened his 'super' experiment on August 4, 1930 — King Kullen.
The name of the store came from a drawing made by his young son. "It was a picture of a globe, and on top of it was a man seated — Bobby's idea of a man seated on top of the world. And across the bottom he had printed the title, 'King Kullen.'" Cullen said. "Actually, it was because Bobby thought 'Cullen' was spelled with a K. But the title struck Mike at once."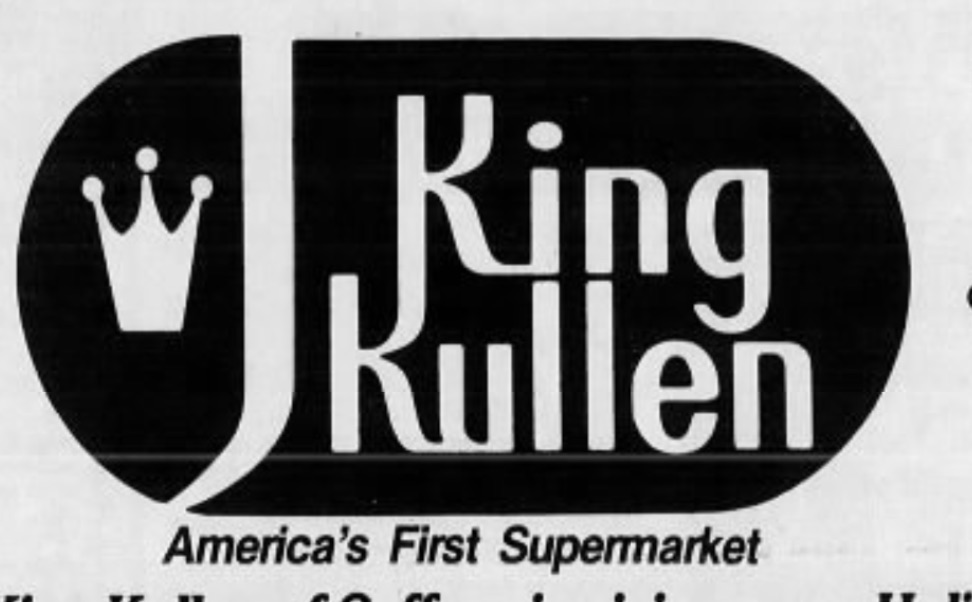 The Smithsonian declares King Kullen to be"the first to fulfill all five criteria that define the modern supermarket: separate departments; self-service; discount pricing; chain marketing; and volume dealing."
According to the book Savoring Gotham, "The store stocked thousands of food products — about ten times more than other grocery stores — at prices that undercut those at local markets. There was also free curbside parking drawing in customers with cars, who tended to stock up rather than just buying a few items for immediate use."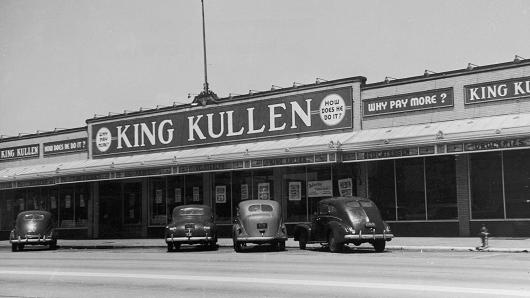 The automobile would be key. Customers could now buy more on one trip than they could at grocers near their homes and the spacious parking encouraged a leisurely adventure down the aisles.
More Stores
King Kullen's early promotional opportunities included a foray into radio; in 1931 music lovers could turn into Woodside radio station WWRL to listen to the King Kullen Krooners. (Has there ever been a more unfortunate alliteration?)
But it was King Kullen's reputation as "the World's Greatest Price Wrecker" that soon assured several locations of the grocery store throughout Queens, Brooklyn and into Long Island.
King Kullen was so popular that it almost immediately spawned imitators — sometimes with similar names! In 1932 Cullen took an Astoria competitor to court, a store with a very similar name of King Tuller which advertised itself as "America's Greatest Price Wrecker."
Below: A flashy newspaper ad for King Kullen, celebrating its appeal to housewives: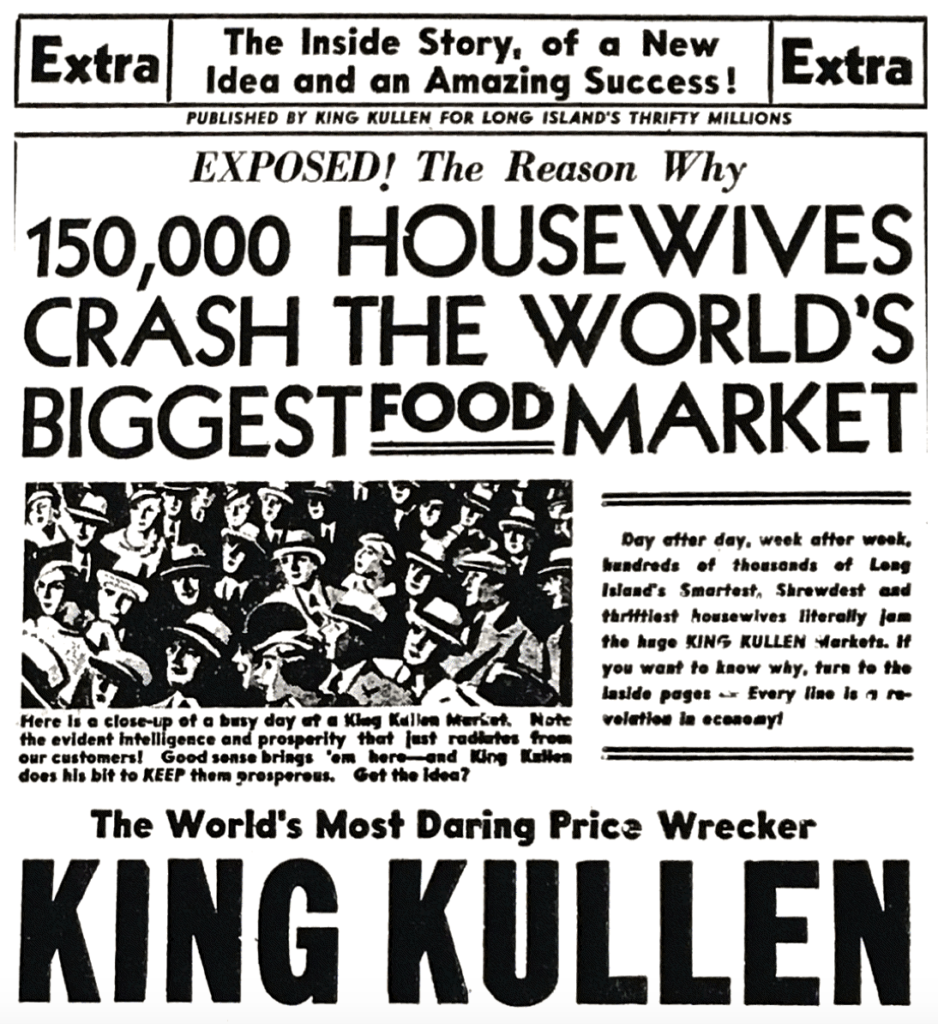 The following year, Cullen purchased a preexisting grocery store in Woodhaven, Queens, very much modeled after King Kullen. The store, Trump Market, was owned by Fred Trump. In keeping with Cullen's slogan, Trump declared "Serve Yourself and Save!"
Trump sold to Cullen after only six month in business. The store became a King Kullen, and Trump used the money to launch his career in real estate.
(In another odd connection to King Kullen, the Trumps lived on Wareham Place, exactly one mile north of the original location of Cullen's first supermarket on Jamaica Avenue.)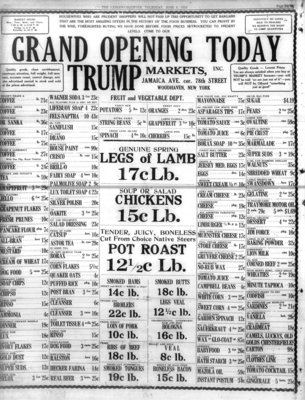 By 1936 there were 17 King Kullen supermarkets, each one larger than the last. (Sadly that was also the year Michael J. Cullen died at age 52 after an appendix operation.)
Below: A 1933 ad in the New York Daily News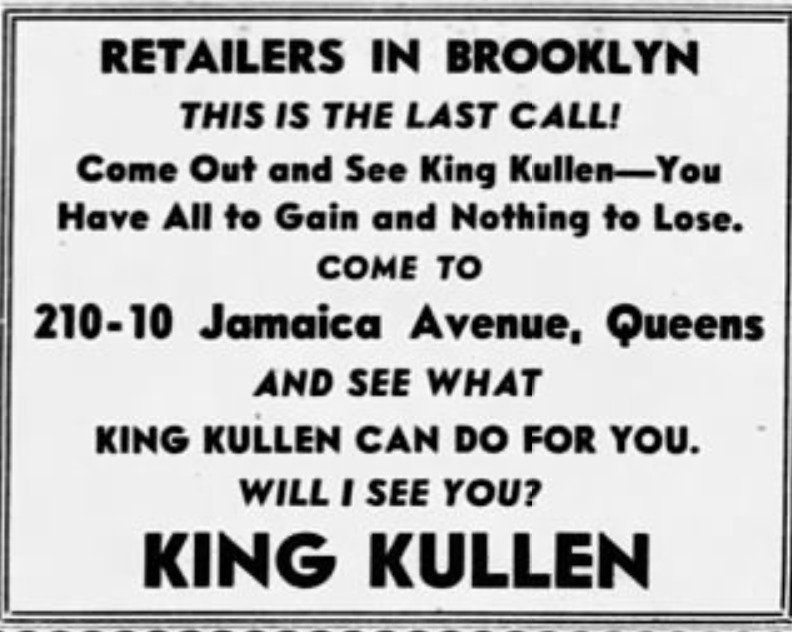 Despite lofty ambitions to expand, Cullen's death effectively sealed the grocery chain's lofty fate to expand, but to this day King Kullen remains a very recognizable regional brand name.
There are currently 29 locations in New York State, along with several locations of its health-food offshoot Wild By Nature.
Today there are tens of thousands of grocery stores and supermarkets across the country, most of which likely dwarf the size of Cullen's grand experiment. But there's only King.
IMAGE AT TOP: A traditional grocery store set-up 1920, from Illinois. Image courtesy Shorpy/Chasz