Even among New York's many gigantic housing complexes, Stuyvesant Town and Peter Cooper Village stands apart — and not just literally, walled off from the surrounding neighborhoods like a massive, post-war fortress.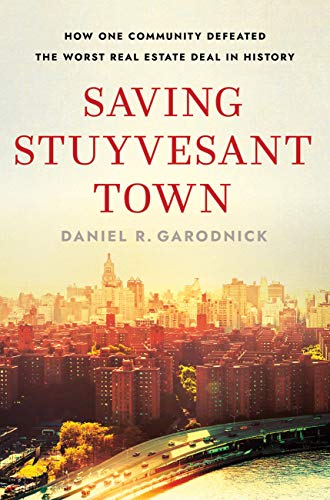 SAVING STUYVESANT TOWN
How One Community Defeated The Worst Real Estate Deal In History
Daniel R. Garodnick
Three Hills/Cornell University Press
With over 11,000 apartments geared mostly towards "middle income" families, the residents make a powerful voting bloc. And because of building management's troubling first years of discriminatory policies*, Stuy Town tenants are used to being very engaged politically.
So when, in 2006, the owner MetLife announced it was selling the complex (eventually to real estate behemoth Tishman Speyer for $5.4 billion), tenants feared that Stuy Town's famous middle-class affordability was about to disappear.
Fortunately one of those tenants was Daniel Garodnick, longtime resident and a newly elected city councilman.
In his new book Saving Stuyvesant Town, Garodnick reveals the backstory behind the unexpected and financially complicated events which followed the announcement, a battle between a community and the real estate world during one of the most volatile financial periods in American history.
His story is a molecular examination of Stuy Town's decade-long struggle — from MetLife's sale announcement in 2006 to a landmark agreement in 2015 that preserved affordability for thousands of residents there.
But the book resonated with me in a different way.
Saving Stuyvesant Town is a detailed and often thrilling account of one community's struggles against New York's real estate reality. The circumstances in this case were extraordinary — almost catastrophic — but a great many smaller battles of this type continue to be waged today. And not to the advantage of residents who are gradually being priced out of their homes.
The sheer size of this real estate saga made it prominent enough for the world to pay attention. And the residents of Stuy Town were blessed with a motivated tenants association (not to mention a patient and highly engaged councilman as a neighbor).
What happens to those New York homeowners and renters in less visible scenarios? Can Saving Stuyvesant Town be an instruction manual for future battles or will we look upon it as one last, great gasp towards a semblance of affordability?
---
*For more information on the history of Stuyvesant Town and Peter Cooper Village, listen to our episode Building Stuyvesant Town: A Mid-Century Controversy