The summer blockbuster Spider-Man: Homecoming may be the greatest New York City superhero movie ever.
It doesn't treat New York like a series of famous backdrops (although there certainly are a couple); it has a familiar landscape and there's a particular care given to depicting Queens, the home of Peter Parker. There's even a couple scenes with a mangy deli cat; you can almost smell it! (We will over look one major flaw that anybody riding the Staten Island Ferry will immediately notice.)
The film reinforces the notion of Spidey as the premier urban heroic figure. Indeed, in when faced maneuvering through a suburban neighborhood, he's virtually useless, ripping through trees, tumbling into backyards.
In tribute I thought I would update my tribute to Spider-Man, New York City's ultimate hero.
A shorter version of this article originally ran ten years ago at the start of that other reboot of the Spider-Man movie franchise. The following article was also inspired by a box of old comics books which have followed me around to various apartments for the past two decades. Last week I moved to yet another new apartment and the boxes are still with me.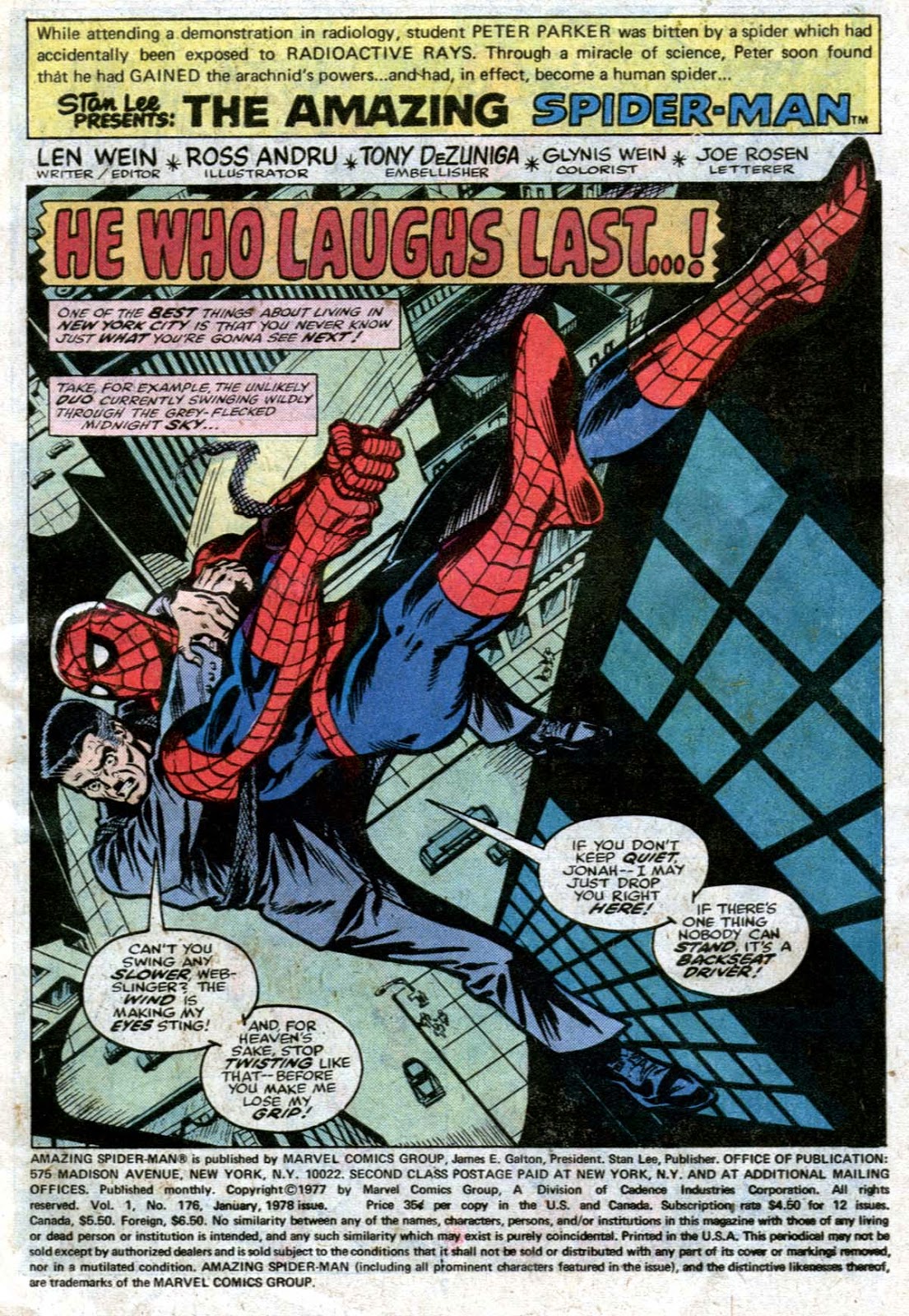 THE KING OF QUEENS
Spider-Man might be considered the superhero version of the New York Mets. Ever in the shadow of stronger, older, perhaps stodgier renditions from a different league (Superman, the Yankees), both Spider-Man and the Mets have origin stories which begin in Queens in the 1960s and are often considered New York underdogs. Their fans call them Amazing.
No modern fictional character inhabits a city quite like Spider-Man does with New York City.
Like other creations from the stable of Stan Lee, Spider-Man was meant to reflect a normal human being in a familiar setting, unlike the characters of DC Comics, who were space aliens, amazons or billionaires.
Yet it's only Peter Parker's humble beginnings as a teen from Forest Hills, Queens, that seem ordinary; as Spider-Man, he nimbly darts over the city, never in need of public transportation, elevators or a taxicab.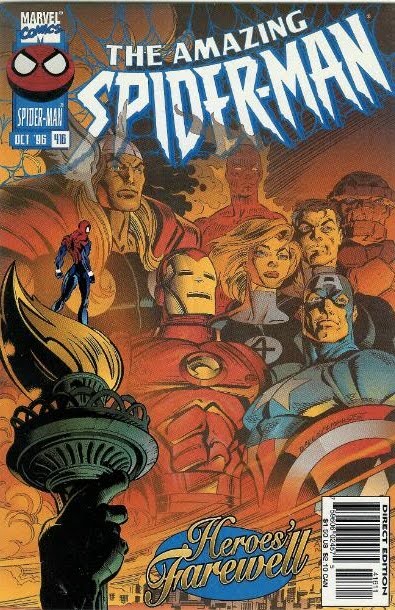 BITTEN BY THE BUG
Writer Steve Ditko** fleshed out Lee's vision of an awkward teenager-turned-acrobat who could virtually sail through the streets outside their window.
The locations of Marvel's offices and studios — formerly in the Empire State Building, but at 635 Madison Avenue by 1962 — certainly played a role in developing Marvel's early characters as urbanites.
Most all his adventures take place in New York, and the city plays backdrop to these melodramatic, often cataclysmic events.
Upon the covers of hundreds of comics books that Spider-Man has appeared since his debut in August 1962, the webslinger has perilously dangled over the grid, either swinging down the avenues or bouncing super villains against an endless number of brick walls. (Like more than a few fashionistas, he sometimes even wears all black to work.)
If superheroes existed, New York City's maintenance and security costs would well exceed its annual budget, and nobody would dare build a new skyscraper. Why, the budget to clean buildings of Spidey's used webbing would reach into the thousands each year! (Ed. note: I've since been informed that the hero's webbing is basically biodegradable. Great for the environment!)
Most structures depicted in his greatest adventures are mere abstractions, simple ledges for perching and windows for smashing. We rarely see pedestrians fleeing the falling debris or the contractors assessing the damage for disgruntled landlords.
YOUR FRIENDLY NEIGHBORHOOD TOUR GUIDE
Spider-Man doesn't fly. The superhero and the city have a symbiotic relationship; he needs the city's height to swing around, and the city needs him to protect it. And so New York landmarks have frequently popped up on Spider-Man comic book covers, perhaps more than any other superhero creation. He gathers his strength from the famous skyline itself.
You can actually take a tour of the city through Spider-Man covers, from the 1960s to today. Below are several examples of New York's guest appearances.
Swing along with him as he takes you past 1) the East Village, 2) Federal Hall, 3) the subway, 4-5) the Roosevelt Island tram, 6-7) the Statue of Liberty, 8) Cleopatra's Needle, 9) the George Washington Bridge, 10) the American Museum of Natural History 11) the New York Marathon, 12-13) the Empire State Building, 14) the New York Public Library, 15) a vehicle from the New York Police Department, 16) a yellow cab, 17) the Brooklyn Bridge, 18) Rockefeller Center, 19) Times Square, 20) the Chrysler Building, 21) the Metropolitan Museum of Art, 22) Grand Central Terminal, 23) One Times Square. (Not pictured: the Flatiron Building, where the Daily Bugle is located in the earlier films.)
For more information on Spider-Man and other super connections to New York City, check our show on The Secret Origin of Comic Books with an interview with comic-book legend Peter Sanderson:
**Note: There is some controversy over whether legendary artist Jack Kirby might also have been involved in the creation of Spider-Man. I have re-edited the story above, however I send you to i09's 2009 article Who Created Spider-Man? which discusses artist's possible involvement. (7/9/12)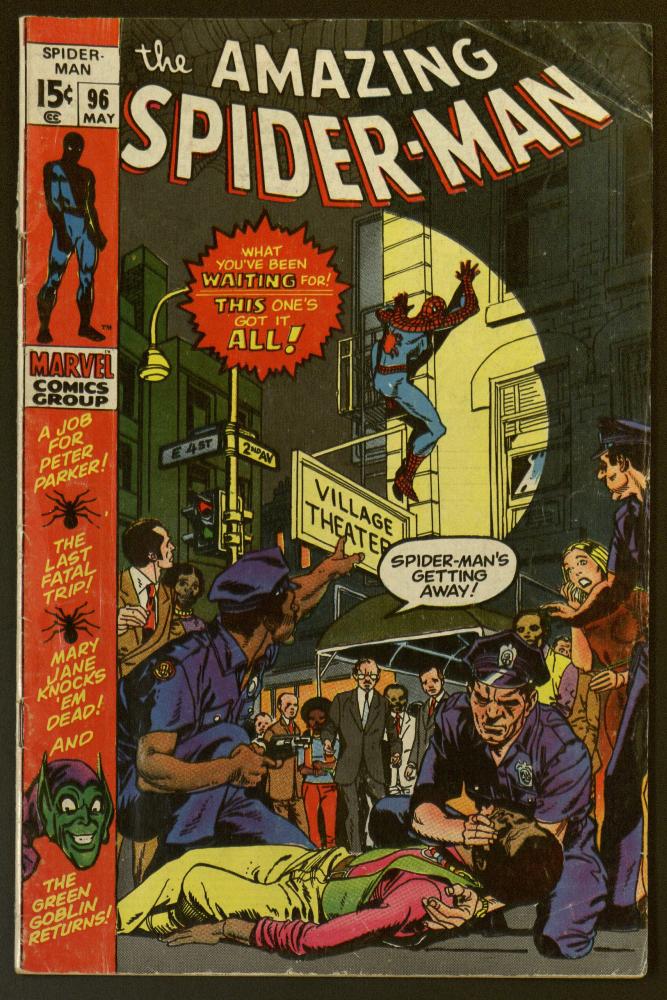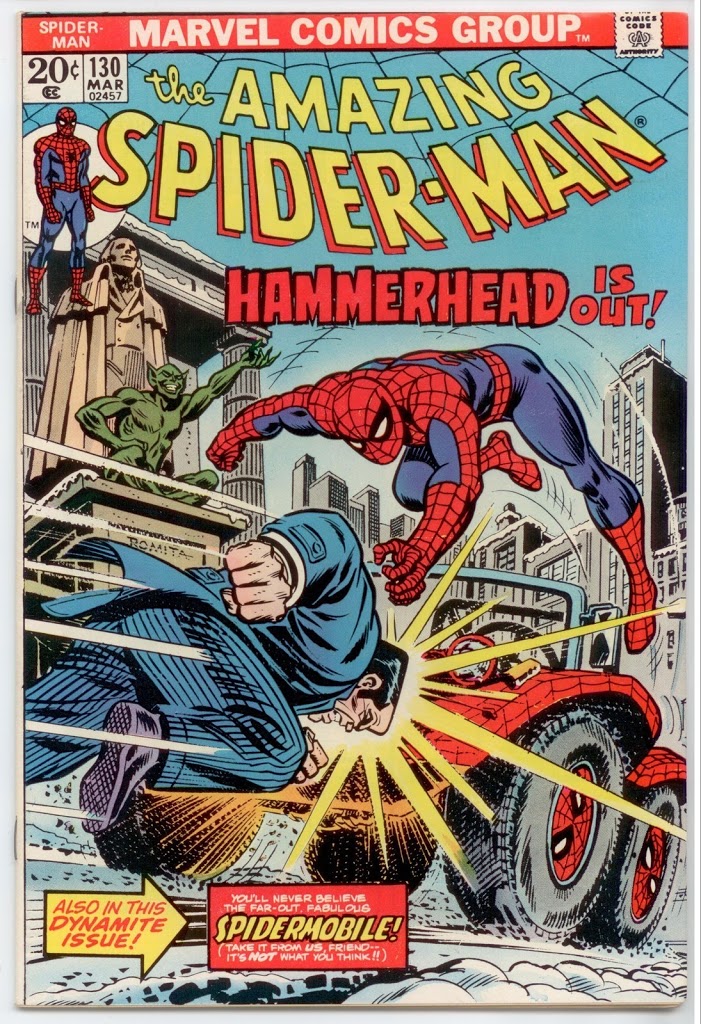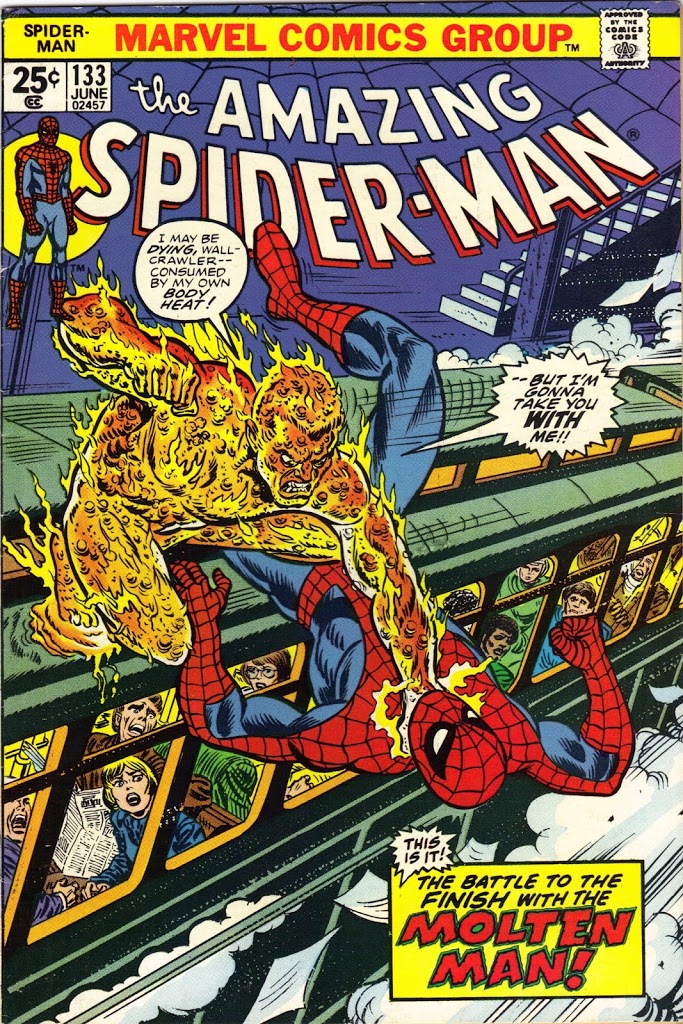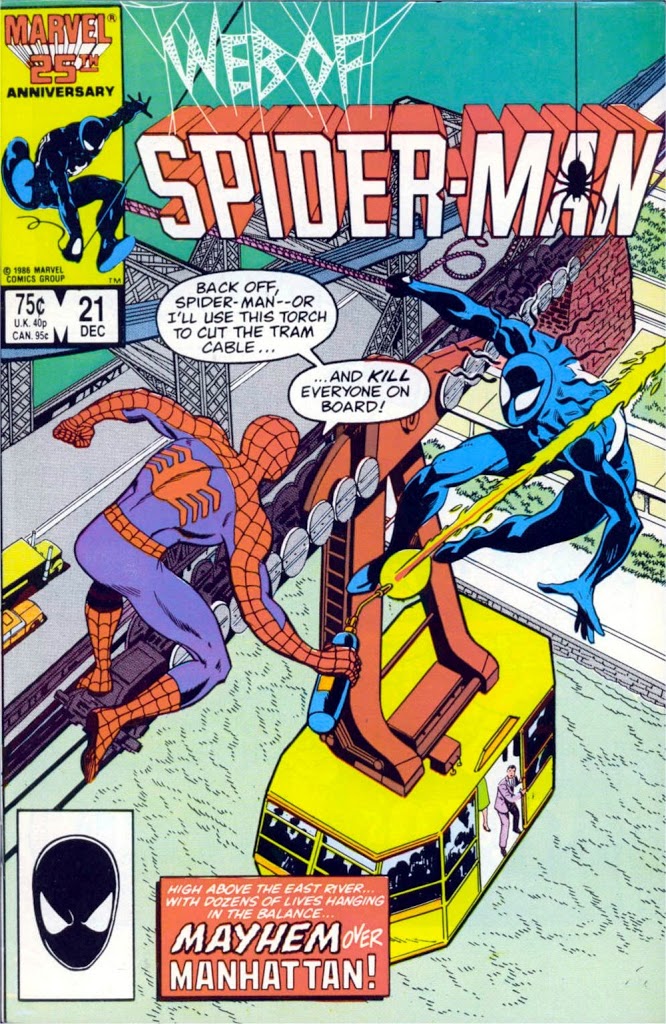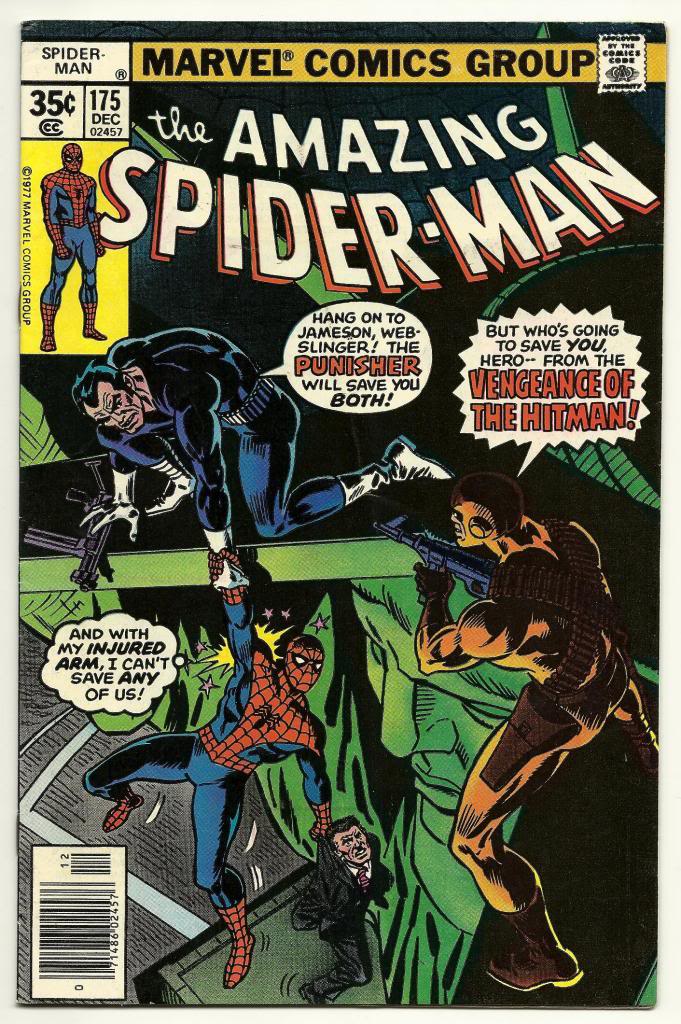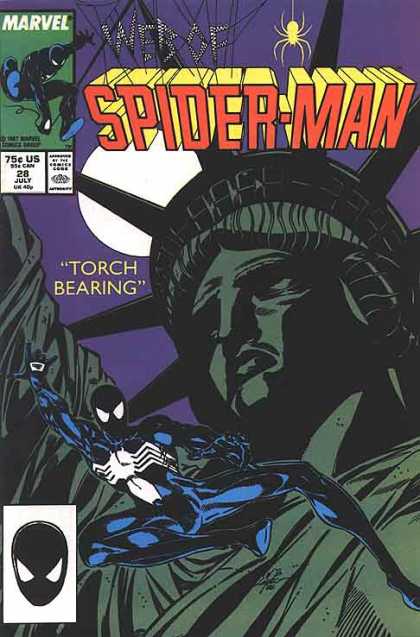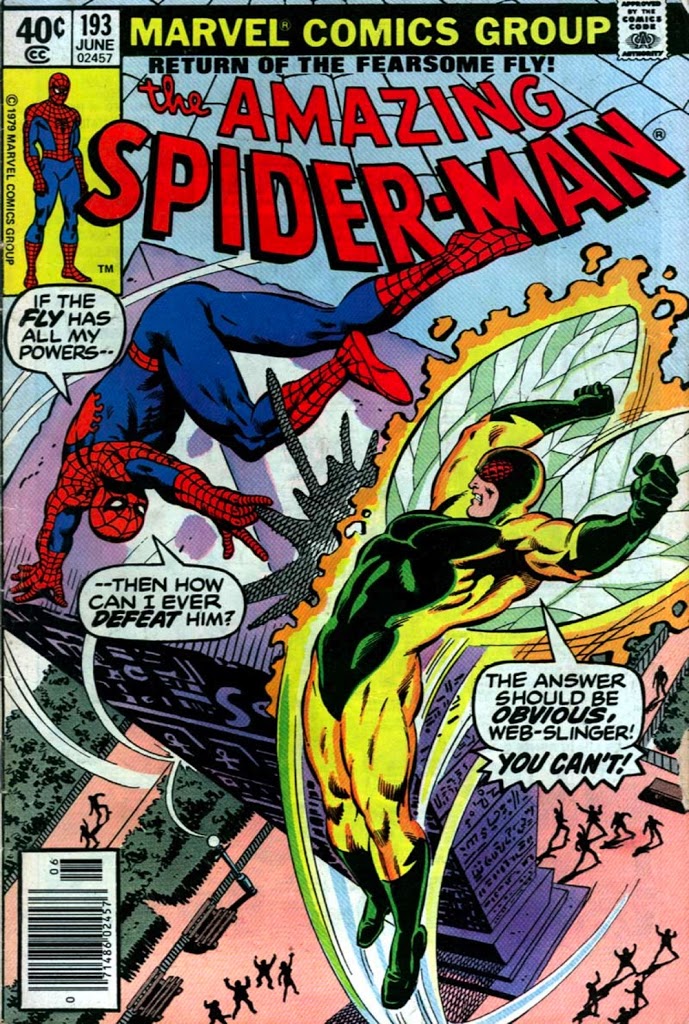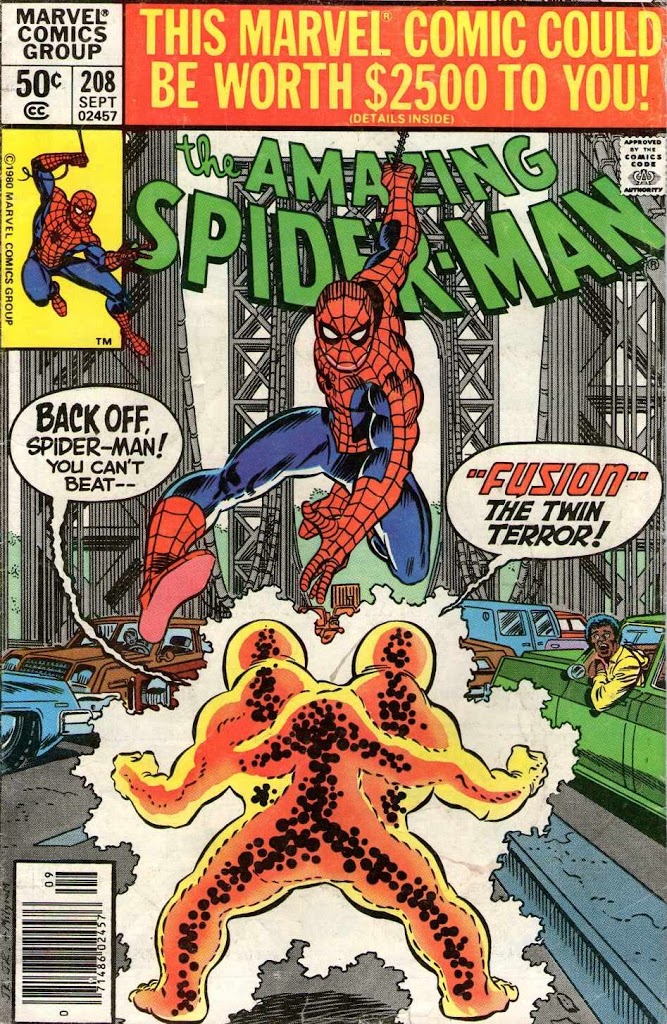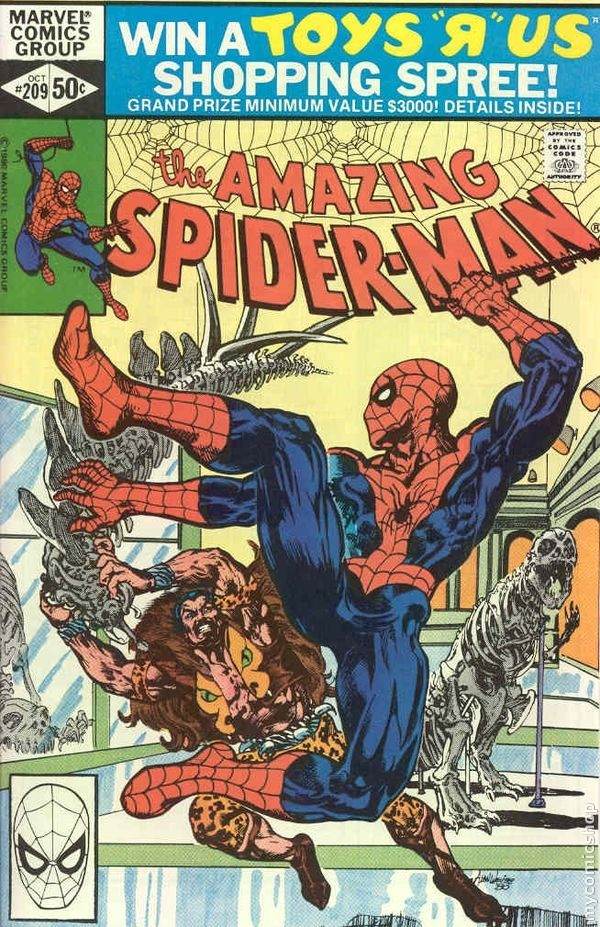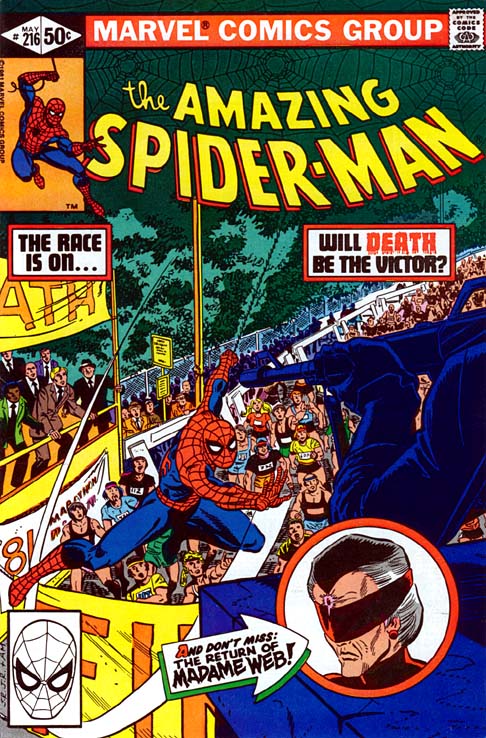 Â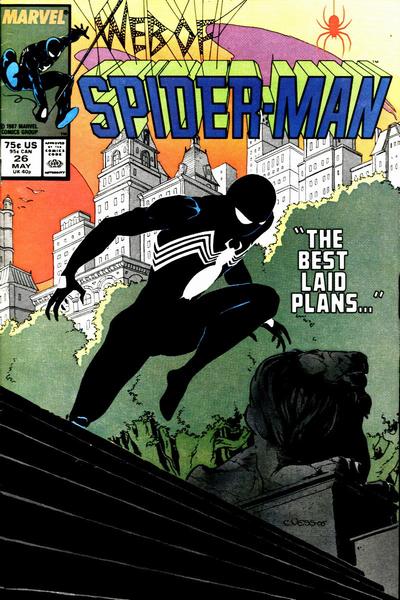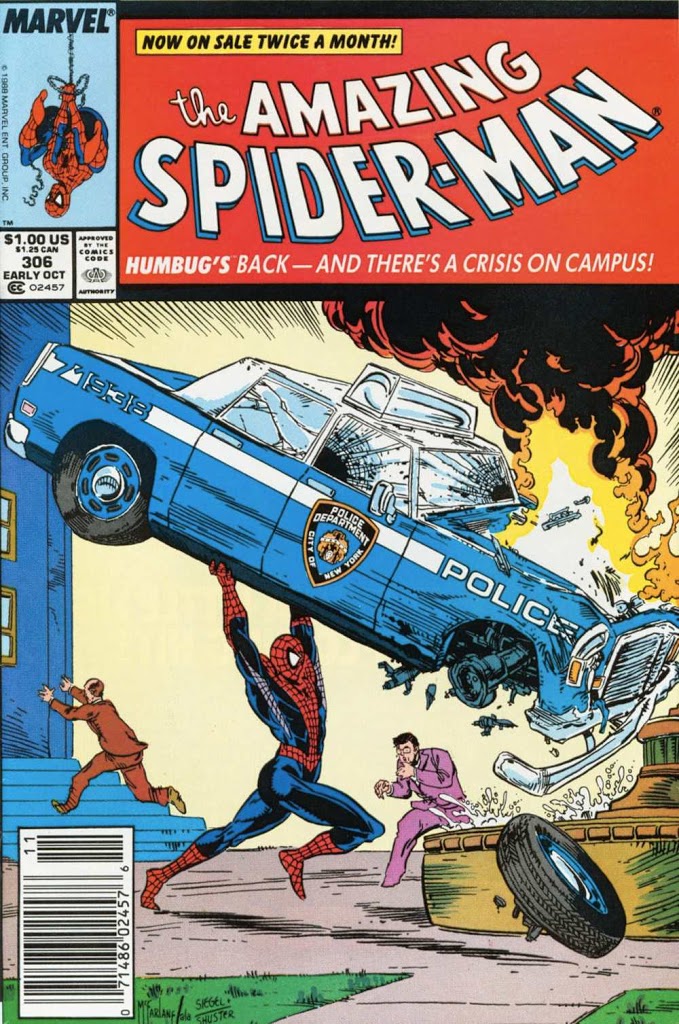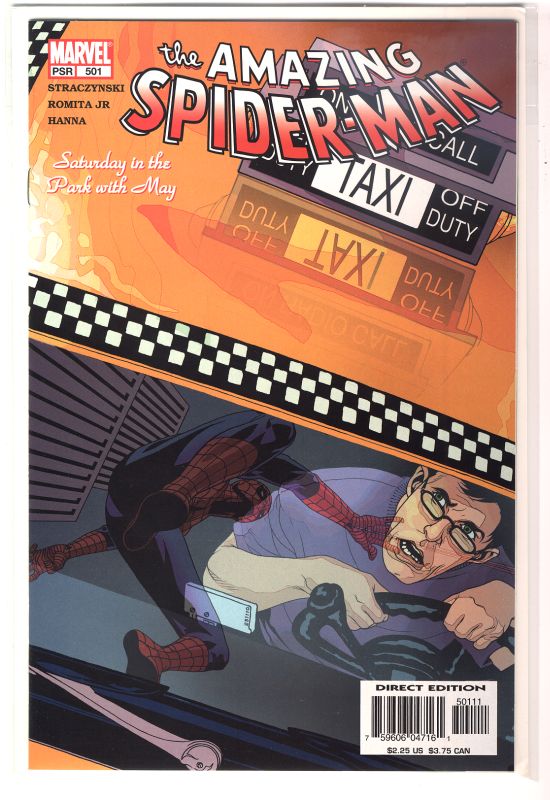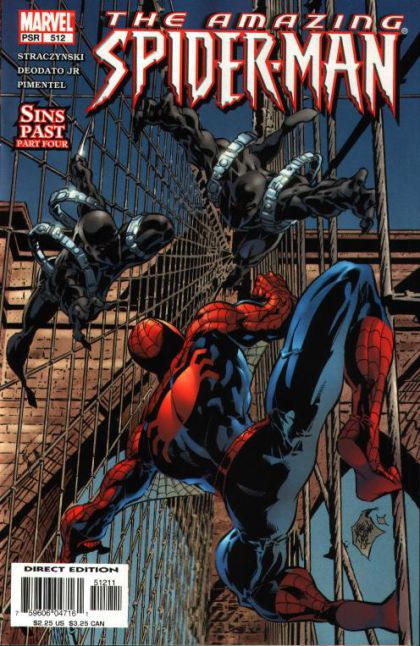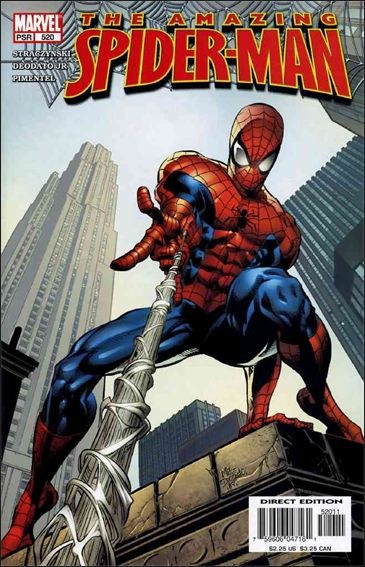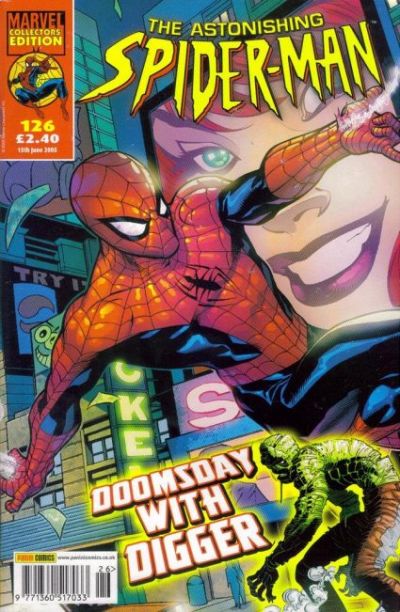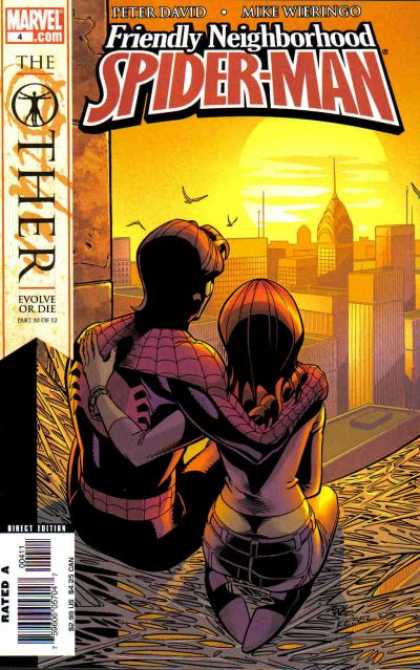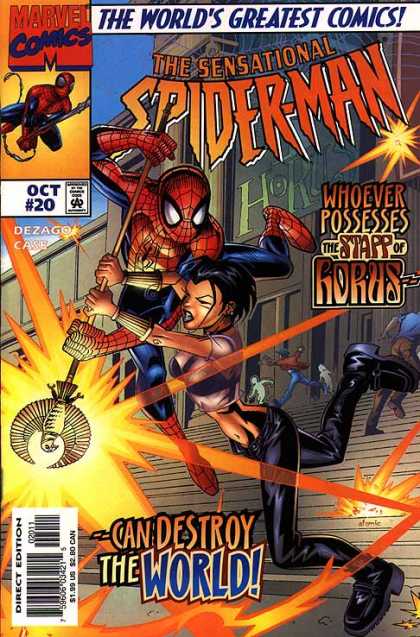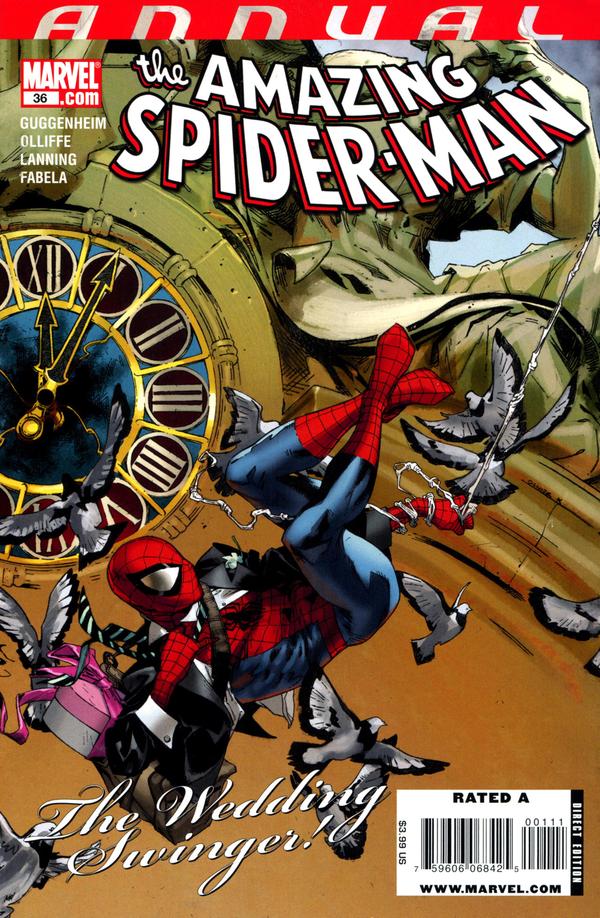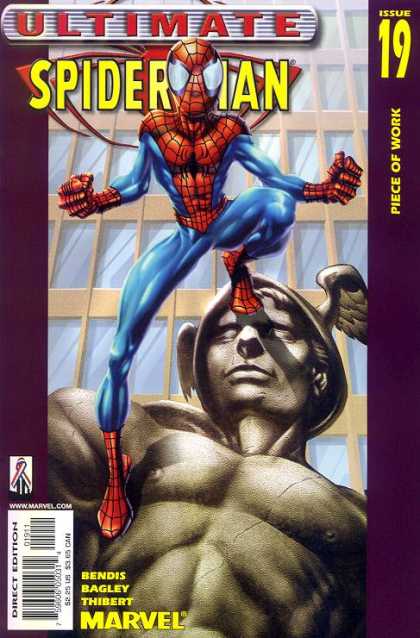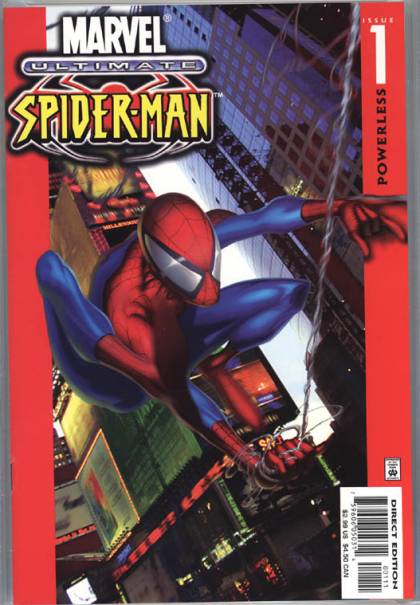 And finally, Marvel and the creators of Spider-Man did pay tribute to the attack on the World Trade Center on September 11, 2001. Appropriately, for a comic book that often wantonly celebrates the crumbling of random structures in high-flying battles with super villains, the creators chose to use no image: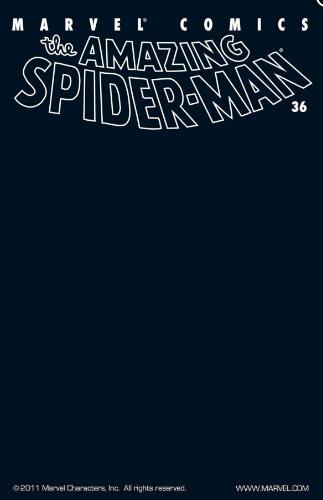 Top image courtesy IGN. A couple of these are from Sam Ruby, a couple of them are my own scan! You can see the complete collection of Spider-Man covers over at Cover Browser where I borrowed a couple of these as well.
All art, images and characters on this page are courtesy Marvel Comics.