Sixty years ago today — on August 2, 1962 — the Action Group for Better Architecture in New York (AGBANY), a group of young architects and activists, held a most curious protest outside of Pennsylvania Station, the old train station designed by McKim, Mead and White.
"The best dressed picket line in New York City marched yesterday in front of Pennsylvania Station" wrote The Daily News the following day. "Some 250 architects, many right out the professions top drawer, carrie d placards protesting plans to demolish the cavernous old station to make way for an office building."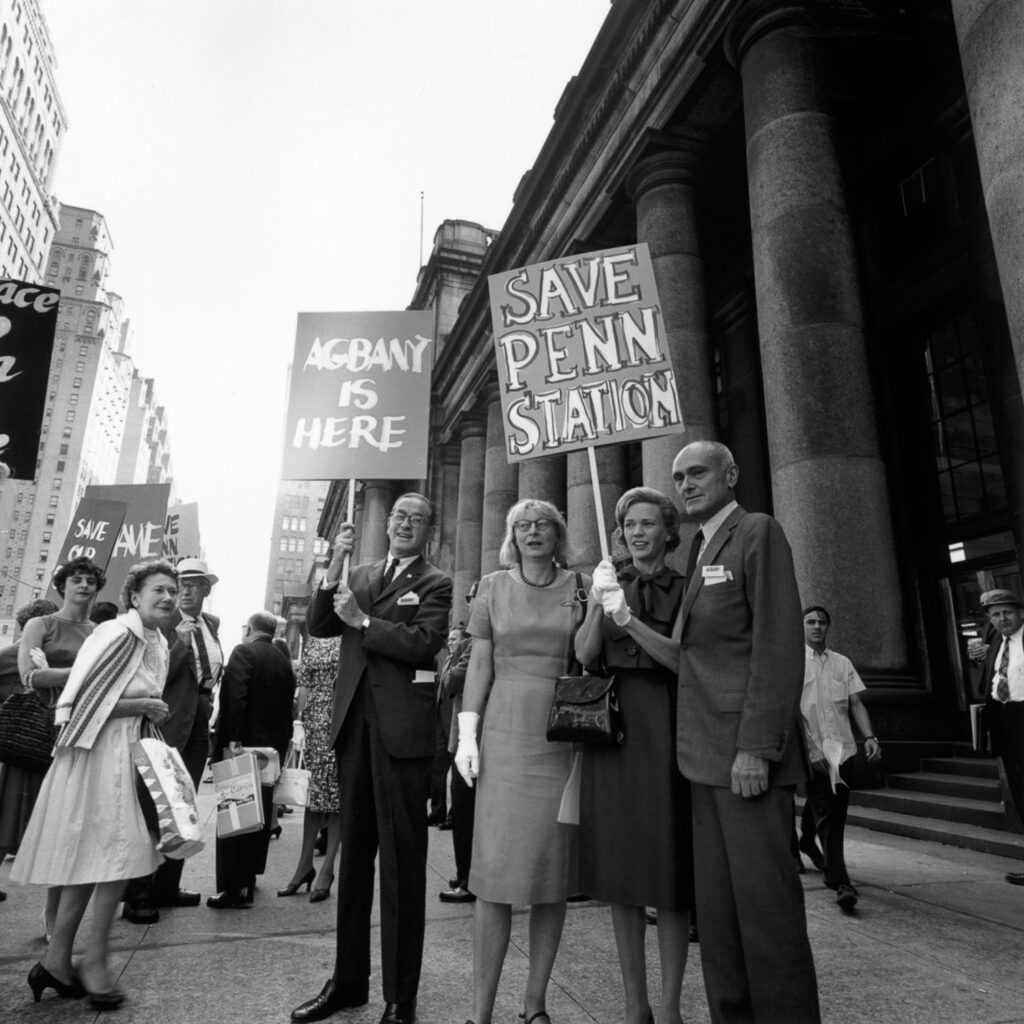 The New York Preservation Archive Project has an excellent write-up of the event. "That same day, AGBANY held a press conference at the Statler-Hilton Hotel [aka the Hotel Pennsylvania] across the street from the station. Between 150 and 500 marchers were reported to have attended the protest. Notably among them were Ray Rubinow, Jane Jacobs, and architect Philip Johnson."
One year later, the demolition of old Pennsylvania Station began. While the group was not successful in saving the architectural masterpiece, their activism did significantly raise the profile of landmark preservation in New York City overall.
Flash forward sixty years.
A new $7 billion Penn Station rehabilitation project, endorsed by Governor Kathy Hochul, will bring several new towers to the area, eliminating historic — but non-landmarked — structures in the area, many dating to the era of the first Pennsylvania Station.
To quote from Matthew Haag and Patrick McGeehan in the New York Times:
"The new towers would be among the tallest in New York City, exceeding 1,000 feet in height, though the final dimensions would be decided later. The project requires the demolition of many existing buildings, potentially including a 150-year-old Roman Catholic church, and would reshape the skyline of Manhattan between the Hudson Yards neighborhood to the west and the Empire State Building to the east."
While few would advocate for completely sparing the fully subterranean station, many opposition groups believe there are much better ways of revitalizing the neighborhood than another group of glass office towers (which, it should be said, primarily benefits one developer).
Among the structures in peril include the Gimbels skybridge, an Art Deco treasure built in 1925 to link the old Gimbels department store.
And, whatever happens with the new plan, one historic structure has already succumbed to these plans — Hotel Pennsylvania, being slowly demolished, making way for supertall 15 Penn Plaza or PENN15 (which they should definitely not call it).
To catch up on the complete saga of Pennsylvania Station, listen to this trilogy of shows. Part Two (The Destruction of Penn Station) features more information on AGBANY's protest: