It has become a name so associated with American sports and entertainment that you barely think about it.
In New York City, when you say you are going to The Garden, you aren't going to see flowers. Most likely, you're going to see the Knicks. Or possibly Billy Joel.
New York City's many actual gardens — the ones with plants, not millionaire performers — are so diverse and numerous that they offer sensual and educational pleasures for people of all ages.
But none can be called THE Garden.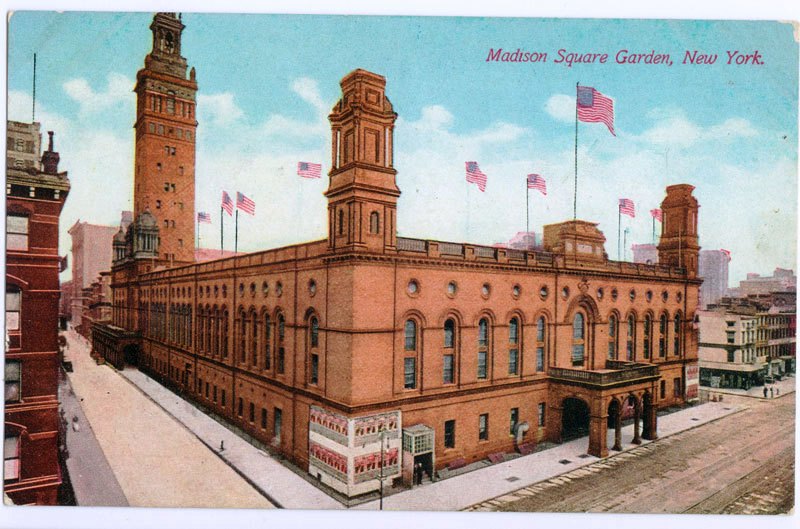 Madison Square Garden (MSG) traces its history back to almost 150 years ago to a vacated New York and Harlem Railroad train depot which once sat on the northeast corner of Madison Square. It was here that P.T. Barnum briefly set up a circus arena called the Great Roman Hippodrome.
But it was the site's second impresario — bandleader Patrick Gilmore — who gave the site for his concerts a more fragrant sounding name in the Spring of 1875 — Gilmore's Garden.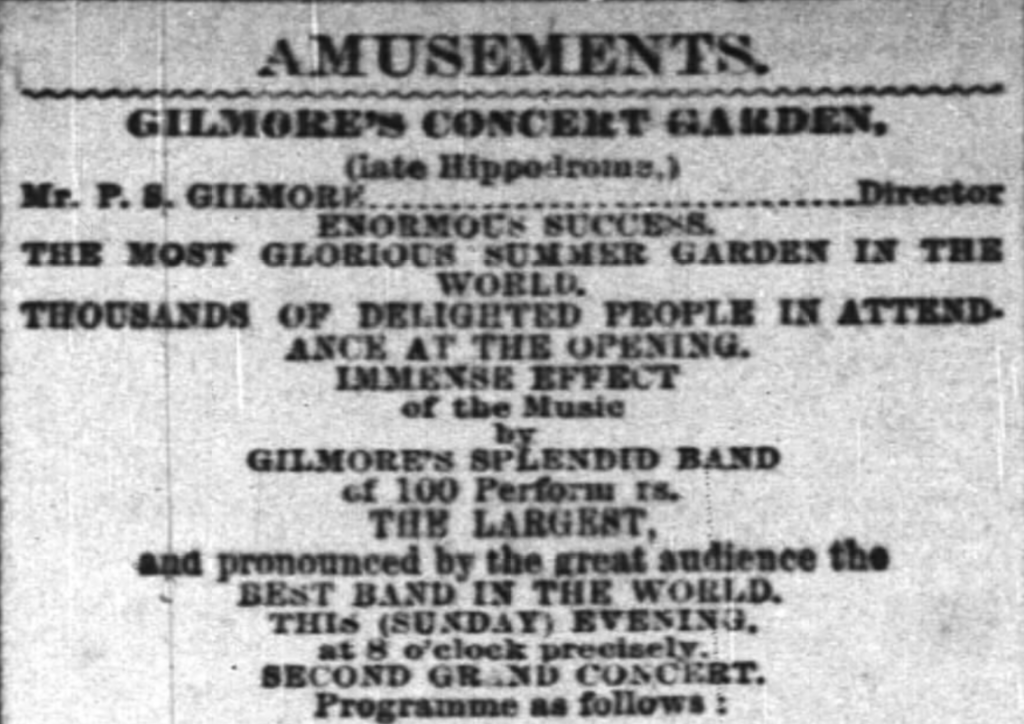 Four years later, the popular venue was renamed Madison Square Garden — "to please Mr. Vanderbilt," according to the Brooklyn Union clip below. (That would be William Kissam Vanderbilt, the grandson of Cornelius Vanderbilt.)

For more information on the history of Madison Square Garden, listen to our back catalog show on the many locations of this storied venue:
---
But even Gilmore's was a rather late entry in New York City's many well-known pleasure gardens, the name for an all-in-one entertainment space which traces back to the ancient Romans.
The pleasure garden become a key ingredient in the social world of New York City because of its popularity with the British during the Colonial period.
Here are a few of New York's more notable 'gardens', taking root in the city even before the appearance of Madison Square Garden: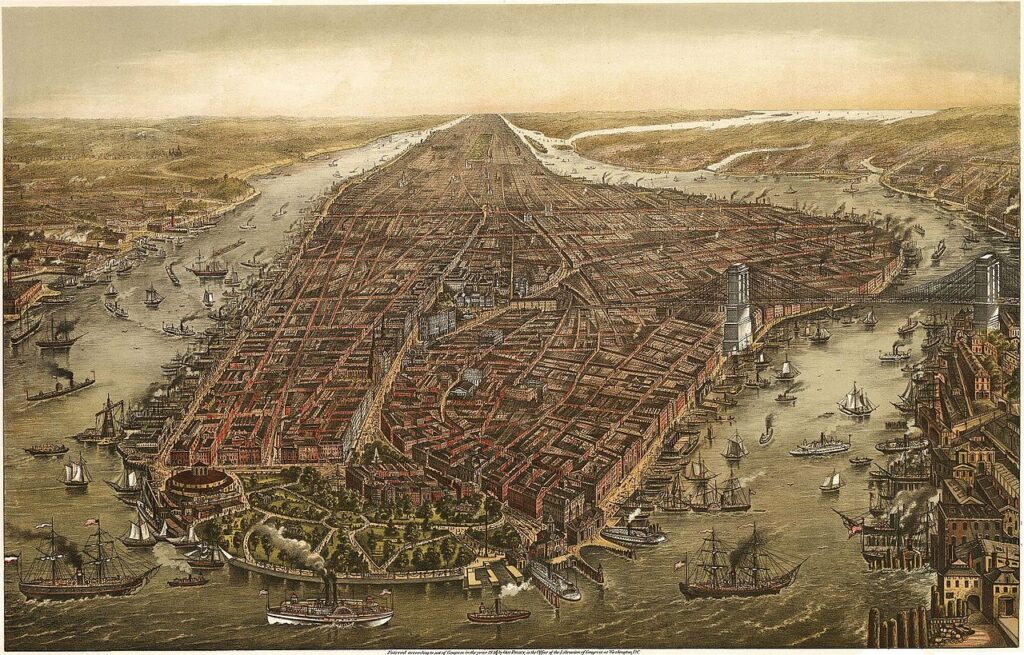 Spring Garden and Catiemuts Gardens
The first Colonial-era pleasure gardens in New York leaned upon the popularity of well-known gardens in England. For instance, the 1740 Spring Garden — located just south of today's City Hall Park — was a nod to 17th century English pleasure gardens by that name.
According to author Hallie Alexander: "The Spring Garden tavern hosted balls, magic shows, tumbling acts, feats of strength (including a Female Samson), and musical concerts."
Catiemuts Gardens was north of Spring Garden (at Park Row and Chambers Street). Like many early pleasure-garden proprietors, Catiemuts' owner made sure to center his venue around a tavern, and entertainments were thusly invented to inspire the purchase of alcohol.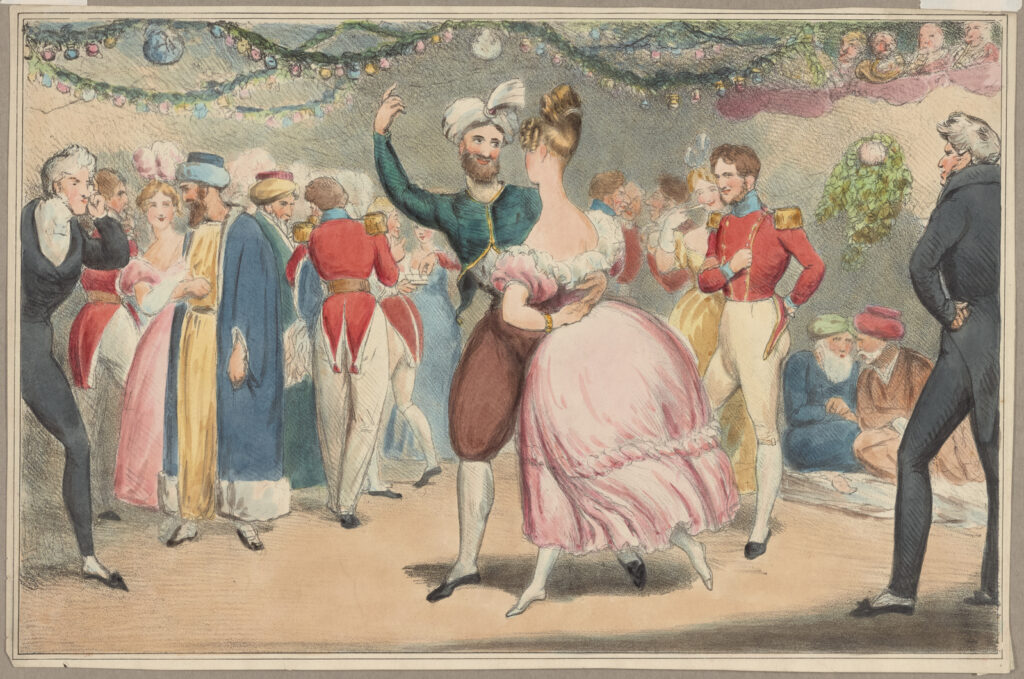 Ranelagh Gardens
Londoners could enjoy the first Ranelagh Gardens in 1741, built on the site of the home of the 1st Earl of Ranelah in the neighborhood of Chelsea. In 1765, New Yorkers got their own Ranelagh.
According to William Harrison Bayles's 1918 Old Taverns of New York: "It was said that the grounds had been laid out at great expense and that it was by far the most rural retreat near the city. Music by a complete band was promised for every Monday and Thursday evening during the summer season."
And according to author Vaughn Scribner: "[The venue's proprietor John] Jones took to the New-York Mercury to announce that, in addition to all the leisurely pleasures already available at Ranelagh, Jones would offer any customer who could pay the two shillings and three pence entrance fee a 'Concert of Musick' followed by a grand firework show."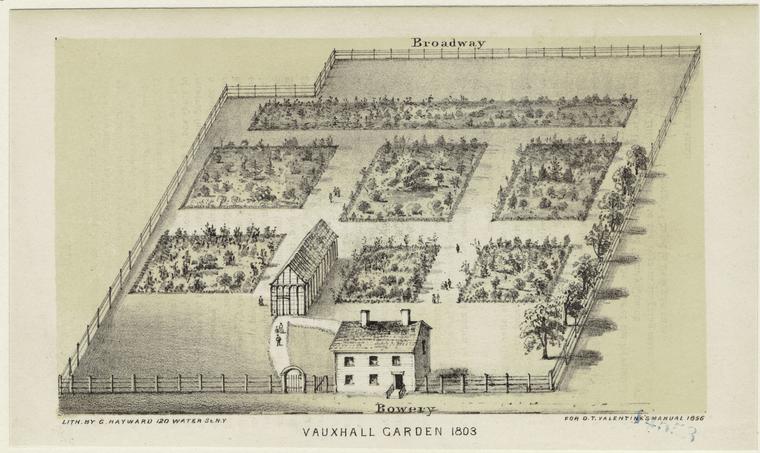 Vauxhall Gardens
Vauxhall Gardens is one of London's most historic public spaces and it was so renown back in the 18th century that it inspired several New York knockoffs, including one owned in 1767 by tavern owner Samuel Fraunces (before operating the more famous tavern which bears his name today.)
But the most famous, from 1771, was first owned by Jacob Sperry, a charming garden space around the area of today's Astor Place. (In fact John Jacob Astor would eventually purchase the property for speculative development.)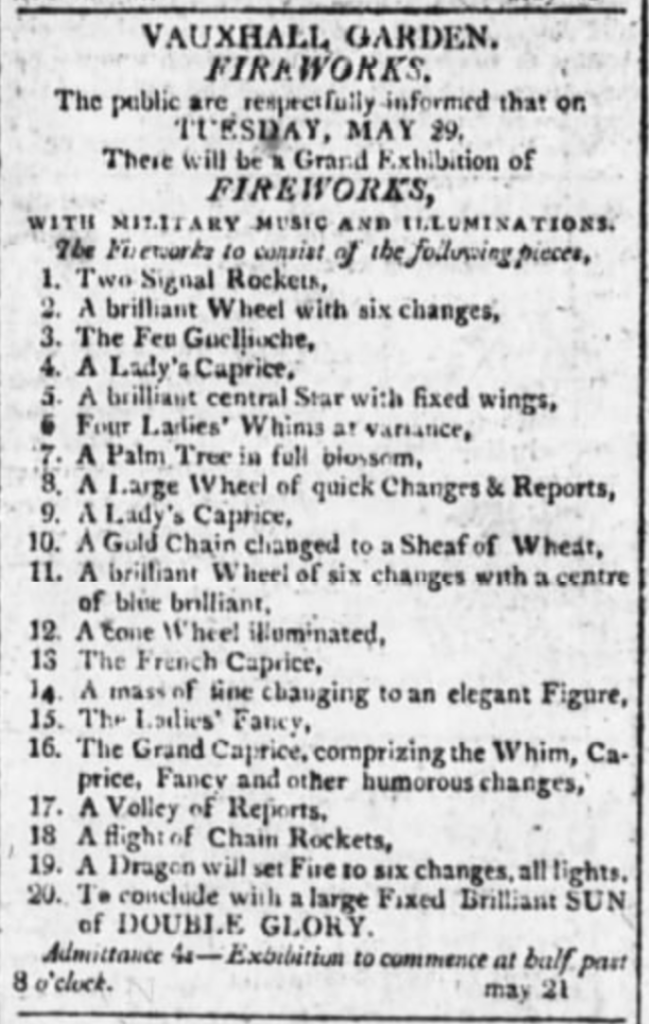 For the first two decades of the 19th century, it was one of the most popular attractions in New York City. Under the management of French proprietor Joseph Delacroix, the cultivated garden pathways were adorned with magical lanterns, accompanied by musicians nestled throughout the flora.
Bayles later wrote in 1918: "Vauxhall Garden was an inclosure said to contain three acres of ground, handsomely laid out with gravel walks and grass plots, and adorned with shrubs, trees, flowers, busts, statues, and arbors. In the center was a large equestrian statue of General Washington.
"All the town flocked to [Vauxhall]. It was to the New York of that day something like what Coney island is to the New York of today. The people of New York considered it to be about as gay a place of recreation as could be found anywhere."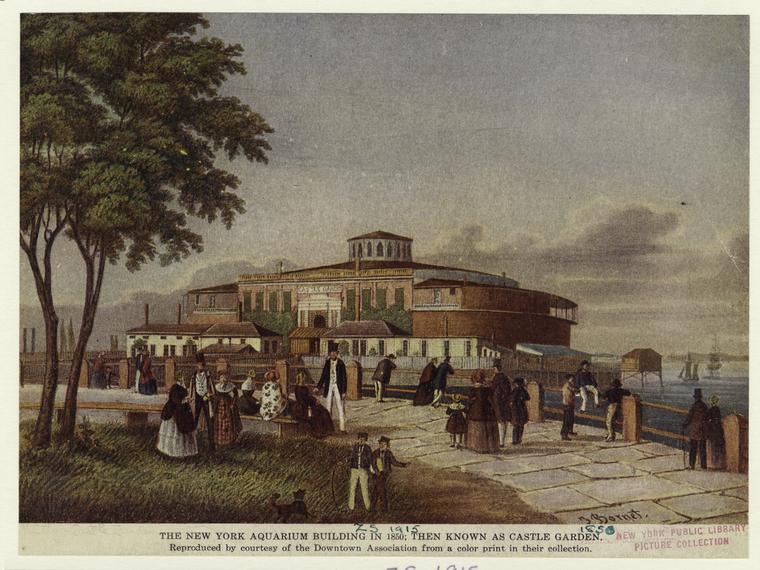 Castle Garden
In 1824, the old Castle Clinton in the Battery was transformed into New York's largest exhibition hall — Castle Garden.
While the Battery did provide the strolling pleasures of an actual garden — a visitors could enjoy refreshments at the beer garden — it was the performances within the building (which was later fitted with a roof) that really drew the crowds.
In 1850 Barnum would bring the Swedish songstress Jenny Lind to Castle Garden to universal acclaim.
(Castle Garden is also featured in the film The Greatest Showman.)
For more information, check out our podcast from last year on this iconic moment in New York City entertainment.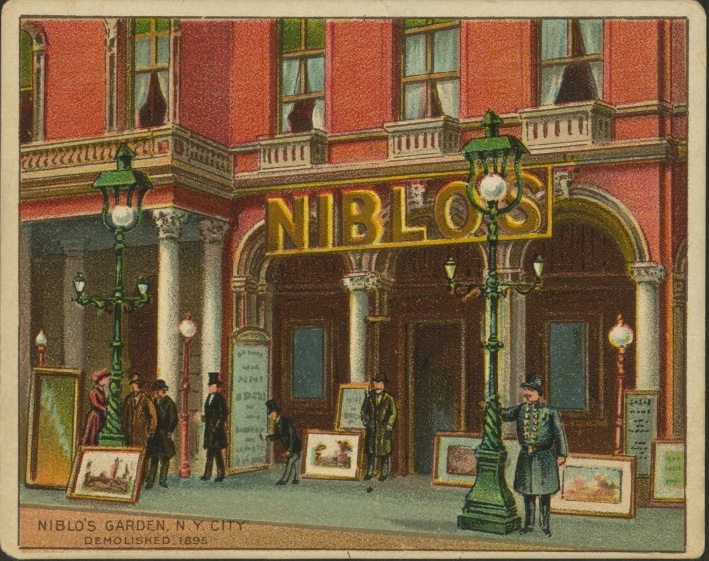 Niblo's Garden
The pleasure garden at the corner of Broadway and Prince Street changed theater history.
The site evolved from a simple garden in 1828 to a lavish destination for entertainment and delight thanks to Irish impresario and coffee house owner William Niblo.
From Bayles' description: "The interior of the garden was spacious and adorned with shrubs and flowers; cages with singing birds were here and there suspended from the branches of trees, beneath which were placed seats with small tables where were served ice cream, wine negus and cooling lemonade; it was lighted in the evening by numerous clusters of many-colored glass lamps."
Niblo greatly expanded his romantically lit garden (originally named San Souci) by taking over several surrounding lots and installing a theater and saloon. The venue was large enough that it hosted both large fairs and orchestral productions.
After a fire destroyed the stage in 1846, Niblo built bigger, becoming one of New York's central performance spaces by the Civil War era with over 3,000 seats.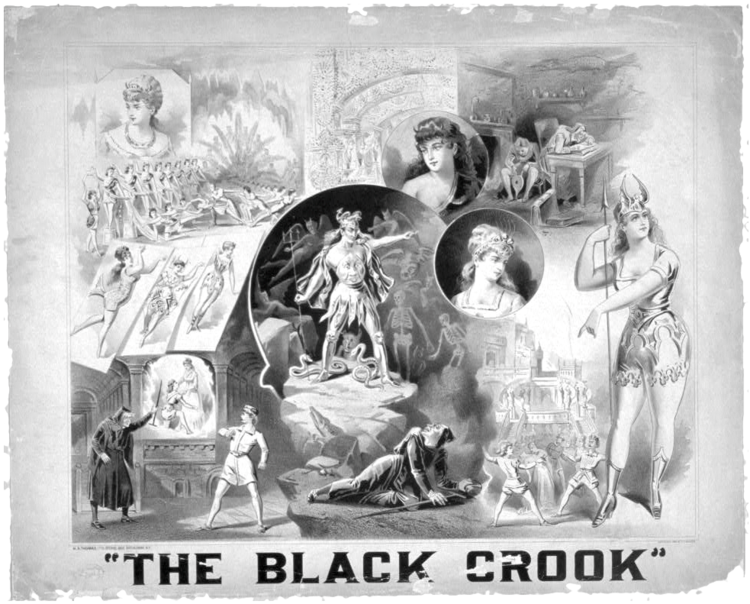 And in 1866 it debuted a show equally as ambitious — The Black Crook, running five-and-a-half hours long and considered by many to be the first Broadway musical.
But by this time, the 'garden' of Niblo's Garden had been greatly reduced, replaced by a luxury hotel — the Metropolitan.
For more information on the history of Niblo's Garden, listen to this back catalog show on the history of this long-gone theatrical icon:
Palace Garden
Throughout the decades, New York society moved north up the island and so too did the pleasure gardens. The Palace Garden, at Sixth Avenue and 14th Street, situated its attractions nearby bustling Union Square.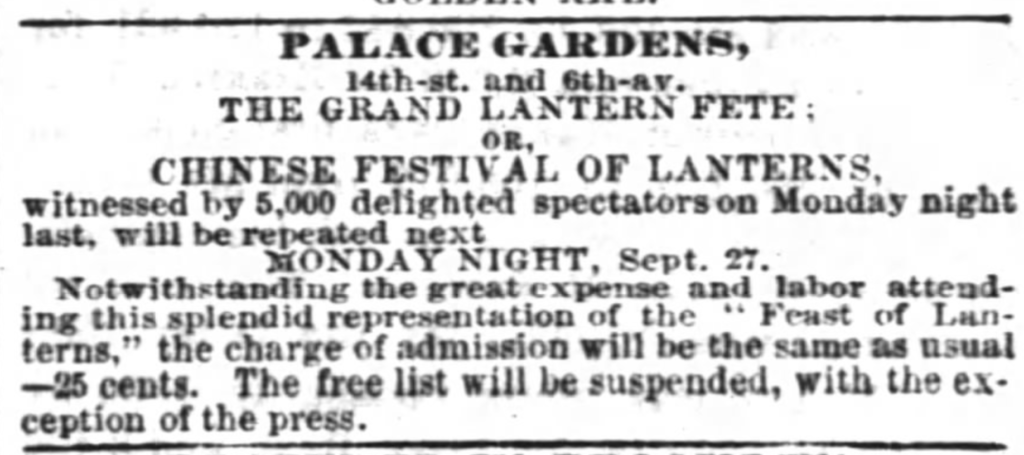 It might be hard to imagine a 'festival of lanterns' at that particular street corner today. Just a couple decades the avenue would be transformed by massive department stores, becoming the fashionable shopping district Ladies Mile.
In fact, the entire idea of a pleasure garden was evolving into something that was very much not a garden at all. With the arrival of Central Park in the late 1860s and the rising prices of real estate in high trafficked areas of Manhattan, the simple pleasures of the urban pleasure garden faded away.
But not the name! Pleasure gardens were associated with music and performance and so the 'garden' stuck around.
So despite hundreds of beautiful parks, botanical gardens and community gardens in the city, this is the location that is called THE GARDEN: