Looking up to the Gimbels traverse overhead on 32nd Street (Flickr/Docking Bay 93)
One of our podcast listeners Alexander Rea sent over the following photographs of a tucked-away place in one of the busiest areas of New York City — the Gimbels traverse on W. 32nd Street, in the Herald Square shopping district.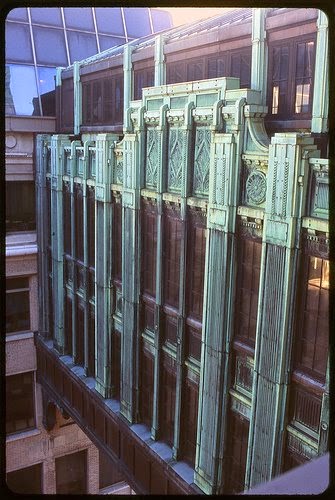 No doubt you've walked around the city and seen other sorts of traverses, those overhead bridges that link two buildings together, several stories up. But the Gimbels traverse is perhaps the most interesting and the most beautiful in New York. Today, this ornate treasure amusingly hangs right over Jack's 99 Cent Store. Here's a bit of its history, revised from something I wrote a few years ago:
Macy's kicked off the Herald Square department store district when it transferred here from its original 14th Street home in 1902. [Listen to our Ladies' Mile podcast for more information.] Soon other department-store competitors of Macy's flocked to the neighborhood in the early part of the 20th century. One strange vestige of this retail nostalgia still exists, in the form of a fabulous green copper traverse above W. 32nd Street.
Gimbels arrived in the Herald Square area in 1910 with a building designed by no less than Daniel Burnham (of Flatiron Building fame). Gimbels was a more than worthy adversary of nearby Macy's. The early catchphrase 'Well, would Macy's tell Gimbels?' exemplified the top-secret, competitive tactics of the two retail giants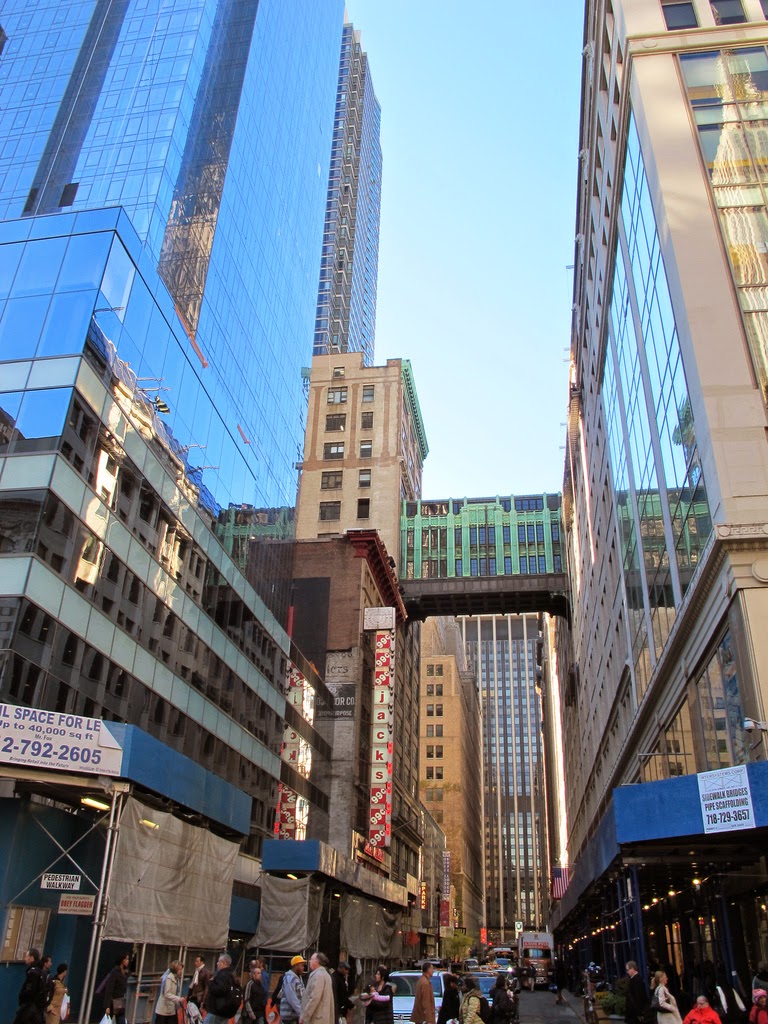 Gimbels vied for attention with such wacky publicity stunts as sponsorship of a daredevil airplane race that sailed over the department store in 1911. But despite (or perhaps, because of) other innovations such as the first 'bargain basement', Gimbels never reached the same hallmarks of class and reputation that Macy's did.
In 1925, Gimbels decided to link its Herald Square store to a recently acquired annex across the street, via a custom traverse, a beautiful copper bridge, three stories tall, created by Richmond H. Shreve and William F. Lamb, a teeth-cutting project for two young architects who would go on to help design the Empire State Building.
Both the original Gimbels store and its annex have been radically modified over the years. Thankfully, the copper bridge (now, like the Statue of Liberty, in bright verdigris) has been left virtually intact. Despite some fears that it might be getting ripped down, the musty but still beautiful sky bridge still hangs high above shopper's heads, a reminder of a universe of cut-throat department-store wars. (Inset pictures courtesy Flickr/moufle, Docking Bay 93)

Below: A sketch, dated 1927, by Gerald K Geerlings, showing the construction of the Gimbels traverse. Courtesy the Museum of the City of New York


Rea, who works in the old Gimbels building (today the Manhattan Mall), was recently granted brief access into the traverse, which spends most its existence sealed off and empty. Here are some of the images he was able to capture in his brief time inside, revealing some old signage and the world outside from this rare vantage. Thanks for sharing, Alexander!