The opening of Siegel-Cooper department store, 1896, created one of the great mob scenes of the Gilded Age. Today, TJ Maxx and Bed Bath and Beyond occupy this once-great commercial palace.

PODCAST Ladies' Mile — the most famous New York shopping district in the 19th century and the "heart of the Gilded Age," a district of spectacular commercial palaces of cast-iron. They are some of the city's greatest buildings, designed by premier architects.
Unlike so many stories about New York City, this is a tale of survival, how behemoths of retail went out of business, but their structures remained to house new stores. This is truly a rare tale of history, where so many of the buildings in question are still around, still active in the purpose in which they were built.
We start this story near City Hall, with the original retail mecca of A.T. Stewart — the Marble Palace and later his cast-iron masterpiece in Astor Place. Stewart set a standard that many held dear, even as his competitors traveled uptown to the blocks between Union Square and Madison Square.
Join us on this glamorous journey through the city's retail history, including a walking tour circa 1890 (with some role play involved!) of some of the district's best known buildings.
PLUS: Why is Chelsea's Bed Bath and Beyond so particularly special in this episode? You'll never buy towels there the same way again!
---
America's first department store — A.T. Stewart's Marble Palace, near City Hall. The building is actually still there today! The address is 280 Broadway. (Courtesy NYPL)
Stewart's even more celebrated department store at Astor Place, nicknamed the Iron Palace with its cast-iron construction. Unlike Stewart's first store, this one is no longer there. (NYPL)
1903: Ladies on a freezing day, surrounding the 23rd Street entrance to the Sixth Avenue Elevated Railroad, placing them just a few blocks from the biggest department stores in the world. (Courtesy Museum of the City of New York)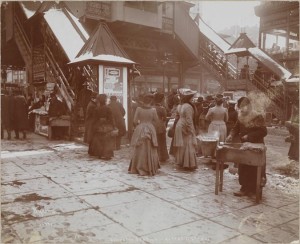 The entrance to Stein Brothers on 23rd Street. There's a Home Depot in this building today, but you can still see the SB insignia over the door. And below, the street scene in 1908.(Photo: Edmond V Gillon, MCNY)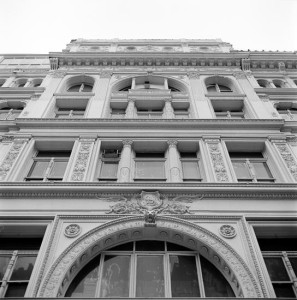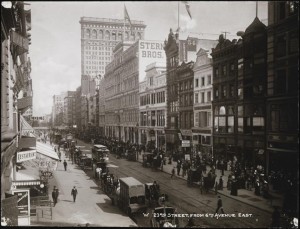 Adams Dry Goods, decades after the shop at closed. In later years, it was a Hershey's plants and a military storage space. Today, on the ground floor, there's a Trader Joe's grocery store. (Photo: Edmond V Gillon, MCNY)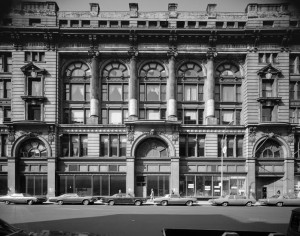 1901: Women in front of the Church of the Holy Communion, the elevated train in back of them. (MCNY)
The windows at Simpson Crawford Co. at Sixth Avenue and 20th Street, 1904. (MCNY)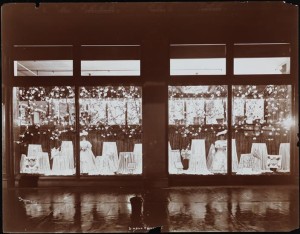 The Siegel-Cooper department store fountain, with a statue of Republic (by Daniel Chester French) and electric lights in a kaleidoscope of colors. And, below it, another view of Siegel Cooper from the opposite side of the tracks. (MCNY)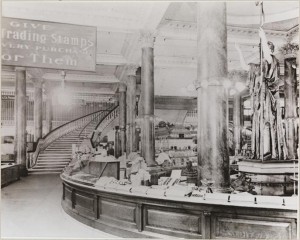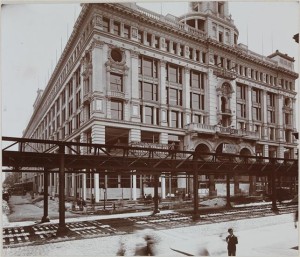 Ladies in the Siegel Cooper canned goods department. The store canned its own food. Very organic! (MCNY)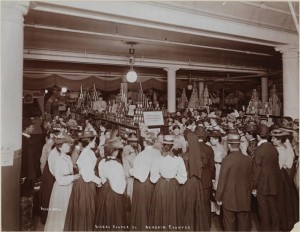 An overhead shot of Macy's at 14th Street and the Sixth Avenue elevated railroad station. (MCNY)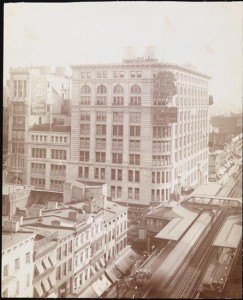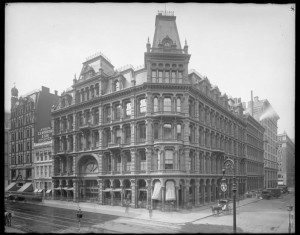 Lord & Taylor's, at Broadway and 20th Street, 1904. (Wurts Brothers, MCNY)

Inside WJ Sloane, Carpets Rugs and Furniture, at Broadway and 19th Street (MCNY)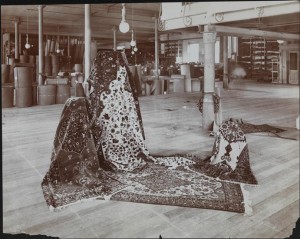 The Flatiron Building, completed in 1902, is considered part of the Ladies Mile Historic District, even though it was never a department store.