It's ancient mysteries week on the Bowery Boys! What, you ask, I thought you only did New York City history? In fact, at least two great Manhattan landmarks evoke the great mysteries of ancient times, meant to bring mystical energy and revelation to one of the world's greatest cities.
Here's a replay of a podcast we recorded back in October 2008 on the history of the Guggenheim Museum, a space-age upside-down ziggurat originally designed to hold only the most unfathomable non-objective art in the world.
The spiral-ramped wonder that is the Guggenheim began as the dream of three colorful characters — a weathy art collector, a severe German artist and her rich patron art-lover. So how did they convince the most famous architect in the world to sign on to their dream for a modern art "museum temple"? Come meander with us through the Guggenheim's quirky history. Co-starring Robert Moses!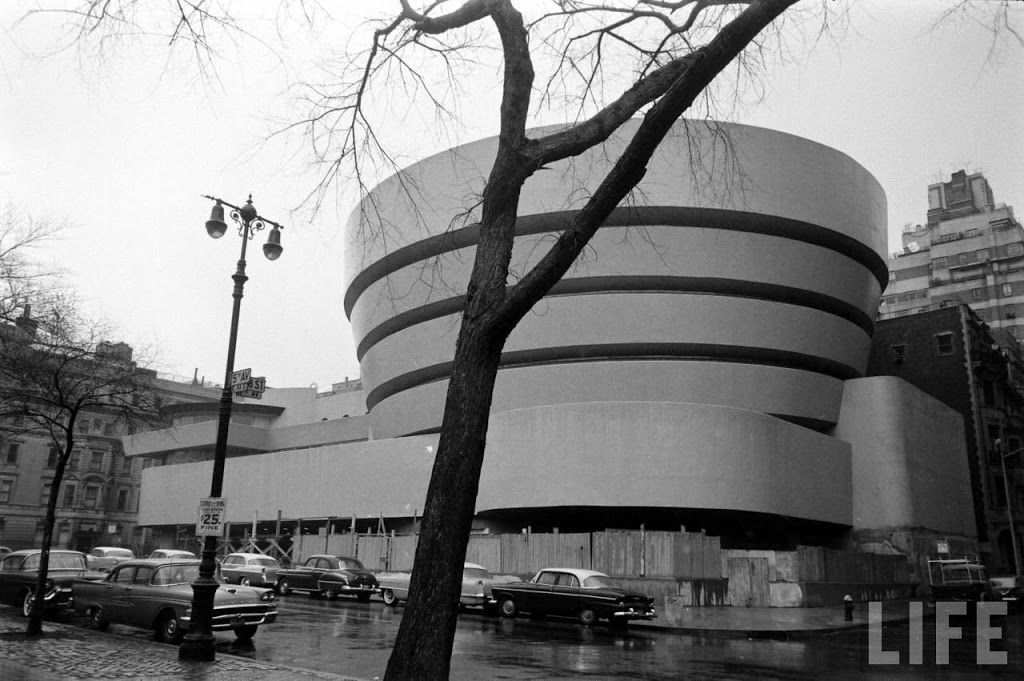 Photographed by Walter Sanders, Life Magazine

PODCAST REWIND A special illustrated version of the podcast on the Guggenheim Museum (Episode #67) is now available on our NYC History Archive feed. Chapter headings with images have been embedded in this show, so if your listening device is compatible, just hit play and a variety of pictures should pop up. The audio is superior than the original as well. So dive into this weird, wild history of one of New York's great museums!
When we recorded this, George W. Bush was still president of the United States, and the Guggenheim was just reopening after a major renovation. So even this podcast is a bit of history in itself!
Download it here or just subscribe to our archive feed — on iTunes or directly here. You can also stream it on Stitcher, although due to file incapability, it won't be illustrated.