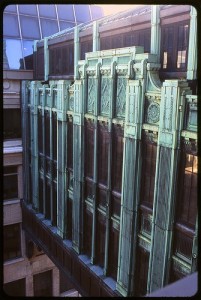 The blocks just south of Herald Square are pretty grim. Malls full of chain stores, bland electronic store fronts and fast food restaurants disguise a once vibrant shopping outpost, as department-store competitors of Macy's flocked to the neighborhood in the early part of the 20th century. One strange vestige of this retail nostalgia still exists, in the form of a fabulous green copper traverse above 32nd Street.
Gimbels was a more than worthy adversary of nearby Macy's. The two were Coke and Pepsi of early American shopping, with an early, antiquated catchphrase 'Well, would Macy's tell Gimbels?' exemplifying the top-secret, competitive tactics of the business world.
Yet Macy's was always the more respectable brand. Gimbels arrived in the Herald Square area in 1910 with a lackluster building by no less than Daniel Burnham (of Flatiron Building fame) who was clearly having an off-day. Despite (or perhaps, because of) innovations such as the first 'bargain basement', Gimbels never reached the same hallmarks of class and reputation that Macy's did.
One way in which the Gimbel family did one-up its competitor was branching to a more fashionable street — Fifth Avenue. It did that by merging with its neighbor, Saks Thirty-Fourth Street, in 1922. Two years later, Saks Fifth Avenue, a joint venture of the Gimbels and the Saks, opened uptown and one block over.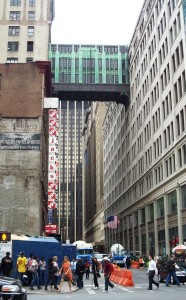 Symbolically bridged to more desirable Fifth Avenue, Gimbels decided to link its Herald Square store more literally with a recently acquired annex across the street, building a custom traverse in 1925, a beautiful copper bridge, three story tall, created by the Richmond Shreve and William Lamb, a teeth-cutting project for two young architects who would go on to help design the Empire State Building.
Both the original Gimbels store and its annex have been horribly modified over the years, becoming Manhattan's saddest mall. Yet, for some amazing reason, the copper bridge has been left virtually intact. Until the 1990s, both ends of the bridge were completely walled off and were only reopened to replace the bridge windows. Despite some fears that it might be getting ripped down, the musty but still beautiful sky bridge still hangs high above shopper's heads, a reminder of a universe of cut-throat department-store wars.
Picture courtesy Flickr/moufle