A podcast that's "very Saks Fifth Avenue," we get to the origins of the famous upscale retailer, follow its path from Washington D.C. to Heralds Square and then to "the most expensive street in the world," and tell you a little about a glamorous milliner.
Listen to it for free on iTunes or other podcasting services. Or you can download or listen to it HERE
A slight clarification on this week's episode: I describe one style used in the creation of Saks Fifth Avenue as Art Moderne, which is a variation of Art Deco using curved, streamlined surfaces. This clearly describes the inside of Saks, not the outside, which is a bit more formal.
A few historical pictures of old Fifth Avenue — back when it was primarily residential, on the cusp of becoming New York's center for retail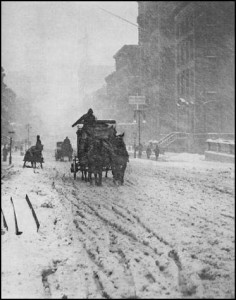 Alfred Stieglitz's 1893 classic photo 'Winter on Fifth Avenue'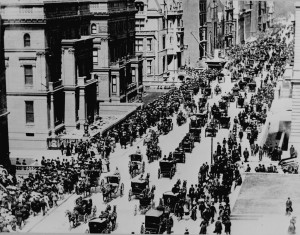 Glorious Fifth Avenue in 1901, Easter morning. The streets are filled with people on their way to church, passing block after amazing block of private homes. Although there is not a retailer in sight, the sidewalks look pretty much the same as they do today though!

Fifth Avenue in 1906 — this is on the west side of the street to the lot that would soon hold Saks Fifth Avenue. (You can see St. Patricks Cathedral in the background.) Photos are from the National Archives.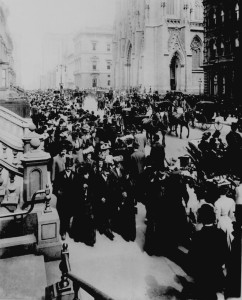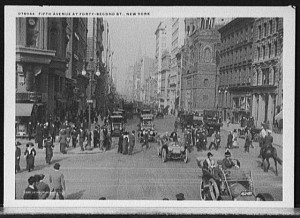 This is definitely the corner of Fifth Avenue and 42st Street, although I'm not to sure of the date, most likely around 1910.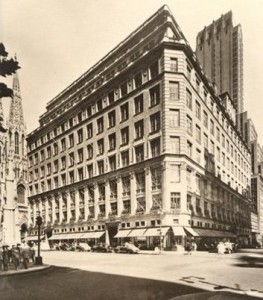 The Fifth Avenue store, circa the 1940s, designed by Starrett and Van Vleck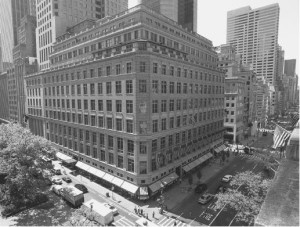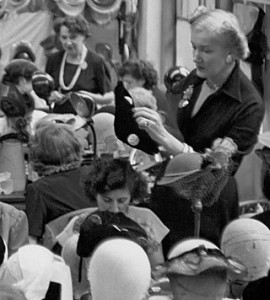 The glamorous workaholic Tatiana Du Plessix, who almost singlehandedly outfitted New York's society ladies with hats. (Tatiana wasn't glamorous to everyone, as a recent biography by her daughter takes pains to note.)

The following shots are from the Google Life archive of interiors of Saks from 1960 by photgrapher Alfred Eisenstaedt.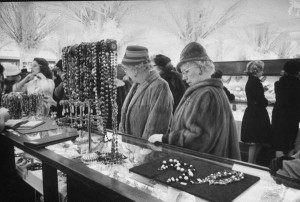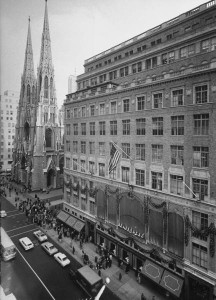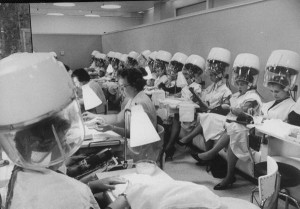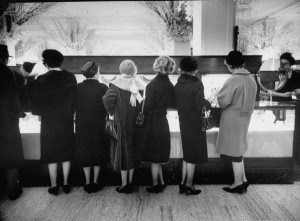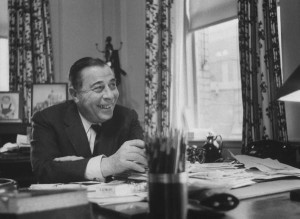 Adam Gimbel in 1962. He took over the company after the deaths of Horace Saks and Bernard Gimbel and helped create its mid-century upscale image. (Photographer Yale Joel)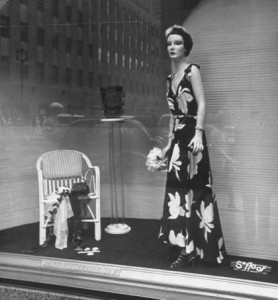 A Saks window in 1937, employing subtlety and grace instead of cramming the window with items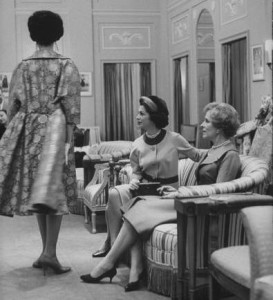 "Sophie of Saks," Adam's wife and the in-house designer for Saks Five Avenue, sits far right as a model displays a design to a customer. (1960/Peter Stackpole)