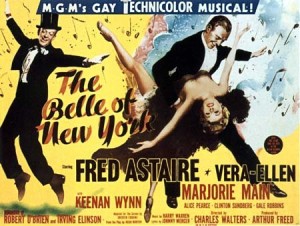 BOWERY BOYS RECOMMEND is an occasional feature where we find an unusual movie or TV show that — whether by accident or design — uniquely captures an era of New York City better than any reference or history book. Other entrants in this particular film festival can be found HERE.
Sometimes a movie can tell you all about an era in New York City history just by what it willfully avoids.
With the exception of one truly remarkable scene (which I'll describe below), turn-of-the-century 'The Belle of New York' could be set in any city, or rather, no real city. It exists in a poor neighborhood with no poor people, in the cleanest version of the Bowery ever devised for cinema. This place looks too spotless, even for a backlot.
Musicals shouldn't be realistic, and 'Belle' certainly isn't. Fred Astaire stars as Charlie Hill, an uptown playboy literally awash in beautiful girls, most of him he's broken off engagements with. In real life, a person of this nature would be reviled, thrown on the cover of the New York Post and labeled a loathsome cad. But because he's Astaire — and because this is bubbly, champagne New York — he's allowed to dance down a boulevard of broken hearts.
One day he ends up in Washington Square Park and overhears the singing voice of Angela (played by Vera-Ellen), a beautiful volunteer from the Bowery Mission. Angela rejects Charlie's advances until he can prove to have a charitable heart. In the next scene, Astaire begins dutifully cleaning the Bowery in a crisp white uniform, dancing past pushcart sellers and card games. In real life, he would be beaten to a pulp and left for dead within five minutes. (Or maybe not. The opening title number features dozens of Bowery dandies singing up to Angela in the mission window.)
In the next scene, Charlie's driving a streetcar. "Up the Bowery, across Cherry, into Grand, down Rivington and through Mulberry," is how he describes his impossible route.
The hilarity comes in knowing your history and observing everything that 'Belle' cheerfully avoids. Overall, it's not Astaire's greatest moment. However, I'm recommending this for one single scene, using a New York landmark in one of the most surreal ways I've ever seen. In a fit of love-struck delirium, Astaire suddenly floats to the top of the Washington Square Arch to perform an elaborate solo dance number.
The McKim, Mead and White-designed arch would have been less ten years old in 1900, remade in marble after an earlier version was met with community approval. Certainly nobody would have approved of a drunken playboy hopping upon its delicate marble carvings. Although I have to say it looks awfully fun.
ABOVE: The Washington Square arch as it would have looked in 1900