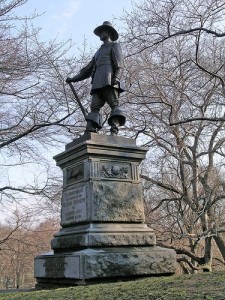 For one Pilgrim, Thanksgiving never ends. Standing near the Bethesda Fountain in Central Park is Manhattan's tribute to the original European settlers, a solitary pilgrim upon a hill (Pilgrim's Hill, to be exact) looking as though he's made a wrong turn.
The Pilgrim made its debut in Central Park in 1885, long after Frederick Law Olmstead's original vision of a monument-free park had gone unheeded. (The statue of Shakepeare was the first violator, in 1875.) The Pilgrim was a gift of the New England Society of New York, a charity organization that formed in 1805 to honor the events of Plymouth Rock and whose members are all directly related to Mayflower passengers.
As it seems with any type of unveiling in the late 19th century, the new addition was greeted with great fanfare, an ostentatious procession that marched up Madison Avenue, stopped to salute ex-president General Ulysses S. Grant at his residence on 66th Street, before turning into the park and greeting a group of 2,500 spectators and officiators, including Brooklyn mayor Seth Low and another ex-president Chester A. Arthur.
A choir sang a pilgrim-related hymn before the statue's designer John Quincy Adams Ward, the 'hottest' monument maker in town, pulled the cord and unveiled his masterpiece for all to see. Now forgotten orator George William Curtis then mounted the stage to talk about the virtues of Puritanism, a meandering speech that the New York Times felt the need to reprint in its entirety.
Today, the statue holds a special place in the park, being the first monument to receive restoration, in 1979, at the beginning of Central Park's dramatic transformation. It also shares a very lofty distinction; like the Statue of Liberty, it stands on a pedestal designed by Richard Morris Hunt.
If you're in the least bit adventurous this winter, you'll have plenty of times to see this charming fellow. The hill named after him is the go-to place for sledding in Central Park.
Picture courtesy of www.museumplanet.com.