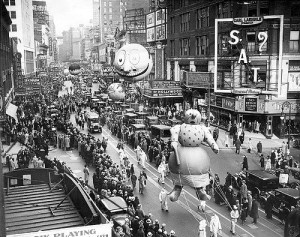 Above: The parade in the 1930s was a veritable freakshow of oddball balloon creatures
Not every balloon in the Macy's Thanksgiving Day Parade latches on to your memories like Underdog, Charlie Brown and Snoopy do. Below are a few examples of Macy's stranger offerings over the years: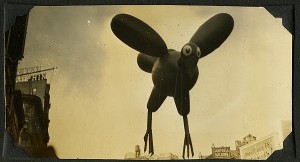 This Thing (Turkey?) 1932
I swear, if I saw that coming at me and I was eight years old, I would never celebrate Thanksgiving again. Clearly, the art of massive balloon making was still being perfected. Balloons had only been in the parade at this time for only five years and were still being released into the air at the end of the parade, for people to capture and return for reward money. This dangerous practice was stopped in 1933.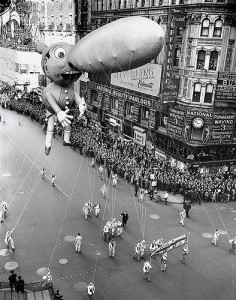 Pinocchio 1935
This depiction of the wooden puppet, with his 44-foot nose, is just illconceived on many levels.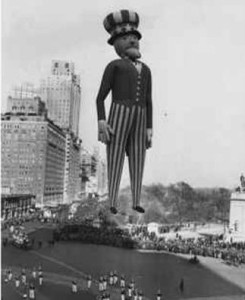 Uncle Sam 1939
Today's Uncle Sam balloon is made of sterner material to fly upright, so I applaud their efforts to keep this older one standing along the parade route. This version of Sam flew from 1938-40.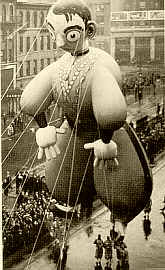 Eddie Cantor 1940
Few living human beings are immortalized in balloonery — the Marx Brothers also come to mind, but the balloon celebrating Broadway and radio star Cantor is distinctive for being completely misshapen and almost horrifying.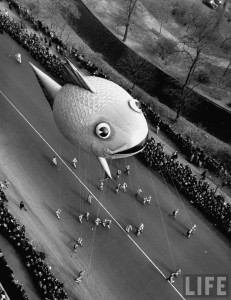 Fish Balloon 1941
This is actually one of the most beautiful pictures I've ever seen of a Thanksgiving Day balloon. The balloon was artistic and graceful, and for 1941, that definitely makes it strange. (Courtesy of Google Life stock photos)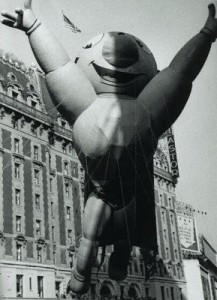 Mighty Mouse 1954
Do kids know Mighty Mouse anymore? Anyway, the flexing pose of the balloon always made the strangest images on television. From the picture above, he looks to be on steroids
Rex the Dinosaur 1993
It wasn't that Rex was a bad balloon. It was the fact that, halfway through, his head popped off and they kept the behemoth floating down the street, the camera uncomfortably cutting away.
By this way, the above picture is from this website, which relays every excrusiating detail of the 1993 parade, apparently one of the worst in Macy's history (thanks to crazy winds and bad Katie Couric fashions). The descriptions are hilarious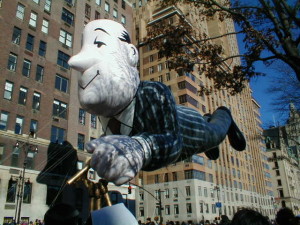 Ask Jeeves 2001
What could be more sad than seeing a discarded mascot for a dot.com floating down the street? A mascot that happens to be in the shape of a middle-age butler.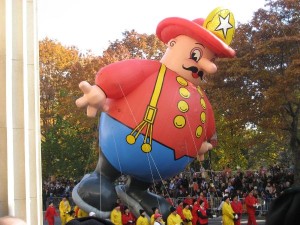 Harold the Fireman 2007
Way before Joe the Plumber, Harold's been with the parade since 1958, an old perennial. He makes the list because after all these years, you'd think a man in his profession would have lost some weight. Believe it or not, Harold has been in the parade in different garb — as a clown in 1945, baseball player in 1946 and a cop in 1947 — before finally settling on a job he liked.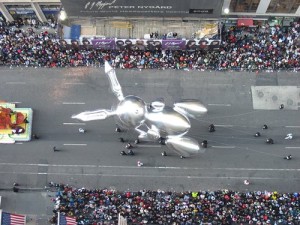 Rabbit 2007
Pop artist Jeff Koons took a 1986 work — a table-top stainless-steel bunny — and literally blew it up for the parade last year, perhaps the only floating object that could conceivably be displayed at the Museum of Modern Art (if they had room for it.
And just for fun, some Macy's excitement from 1984: Tom Turkey and Dionne Warwick!
And finally — last year we did a podcast on the history of Macy's and the Thanksgiving Day Parade. You can listen to it on this page, download it for free on iTunes or other podcasting services, or directly download it from here.
I also wrote a specific history last year on the Underdog balloon.