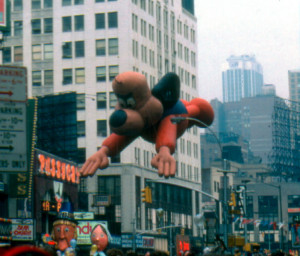 This year's Macy's Thanksgiving Day Parade will feature balloon representations of Mr. Potato Head, Kermit, Ronald McDonald, Scooby Doo, Flying Ace Snoopy, Shrek and Hello Kitty. And if you see a balloon that looks like Dolly Parton, don't flinch — that's actually Dolly Parton.
What will not be flying by is Underdog.
Ask any person of a certain age — say, late 20s to early 30s — and they'll tell you that the most famous Macy's Thanksgiving Day balloon without a question is Underdog, the superhero canine from the 1960s cartoon series often paired during his cartoon half hour with the likes of Tennessee Tuxedo, Commander McBragg and Klondike Kat.
Many will tell you that Underdog is still in the parade. In fact, he made his last appearance as an elder participant in the parade in 1984. However, despite the fact that I have corroborated this fact in about four different places, I refuse to believe that is true. No. Underdog has been in every Macy's parade since I can remember, hasn't it? Hasn't it?
Underdog was on a few kids' minds this summer in a blasphemous theatrical remake turning Underdog into a real-ish looking dog. The cartoon itself debuted on NBC in October 1963, the first superhero to appear in a Saturday morning cartoon lineup. By the 1965 parade, Underdog was ready to make his debut among the other floating giants.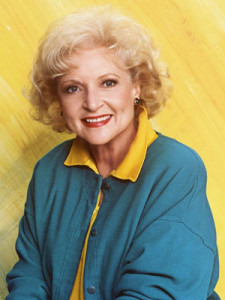 Parade emcees Lorne Greene and Betty White (pictured) presented actors dressed as Underdog girlfriend Polly Purebread and villain Simon Barsinister to mimic their ways through a few canned lines. Then all of a sudden, the voice of Underdog bellowed through a speaker just as the camera cut for the first time to the gigantic Underdog balloon — "There's no need to fear, Underdog is here!"
To delight children further, a special Thanksgiving episode of Underdog was broadcast immediately after the parade that year — "Simon Says…No Thanksgiving!"
The balloon was so popular that it outlasted the series (last broadcast on NBC in 1973) although reruns would keep Underdog well on the minds of a new generation.
According to Robert M. Grippo, author of a history of the Macy's parade: I have been a fan of the parade since the age of 4. The year was 1965 and it was Underdog's first flight in balloon form. Underdog was, and still is, my favorite cartoon character.â
In 1975, Underdog made an unscheduled landing at 43rd and Broadway, when a sudden gust knocked him into a building and sent him crashing to the ground, not to be revived that year.
He's no longer in the parade now, but that hasn't stopped people from thinking he is. An entire episode of 'Friends' is based on Underdog's inclusion, literally titled "The One Where Underdog Gets Away." (It happens to be the ninth episode of the first season, for those who care.) As Monica torches her home-cooked Thanksgiving meal, the Underdog balloon escapes the parade and above the streets of New York.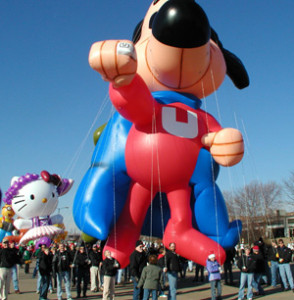 The balloon makes one other significant pop-culture appearance — in the Woody Allen film 'Broadway Danny Rose."
A video of his last appearance can be found here.
He may no longer be in Macy's parade, but Underdog occasionally makes appearances in other parades. The picture to the left is from a parade in Davenport, Iowa!
The Bowery Boys hope you have a great Thanksgiving! You can find our podcast on the history of Macy's here. There WILL be a new podcast this week so be on the lookout for it.