One of the great narratives of American history — immigration — through the experiences of the Irish.
We just reedited and reworked our 2017 show on Irish immigration in time for St. Patrick's Day and a celebration of all things Irish! So much has changed in our world since 2017 and this history feels more relevant and impactful than ever before.
You don't have a New York City without the Irish. In fact, you don't have a United States of America as we know it today.
This diverse and misunderstood immigrant group began coming over from Ireland in significant numbers starting in the Colonial era, mostly as indentured servants. In the early 19th century, these Irish arrivals, both Protestants and Catholics, were already consolidating — via organizations like the Ancient Order of the Hibernians and in places like St. Patrick's Cathedral.
But starting in the 1830s, with a terrible blight wiping out Ireland's potato crops, a mass wave of Irish immigration would dwarf all that came before, hundreds of thousands of weary, sometimes desperate newcomers who entered New York to live in its most squalid neighborhoods.
The Irish were among the laborers who built the Croton Aqueduct, the New York grid plan and Central Park. Irish women comprised most of the hired domestic help by the mid 19th century.
The arrival of the Irish and their assimilation into American life is a story repeated in many cities. Here in New York City, it is essential in our understanding of the importance of modern immigrant communities to the life of the Big Apple.
PLUS: The origins of New York's St. Patrick's Day Parade!
LISTEN HERE: When The Irish Came To New York
---
The Bowery Boys: New York City History podcast is brought to you …. by you!
We are creators on Patreon, a patronage platform where you can support your favorite content creators.
Please visit our page on Patreon and watch a short video of us recording the show and talking about our expansion plans. If you'd like to help out, there are several different pledge levels. Check them out and consider being a sponsor.
Patrons receive the extra bonus podcast Side Streets featuring conversation about all sorts of New York City related subjects.
We greatly appreciate our listeners and readers and thank you for joining us on this journey so far.
---
St. Patrick's Old Cathedral, the embodiment of early Irish pride in New York. Below: A photograph by Edmund Gillon from 1975.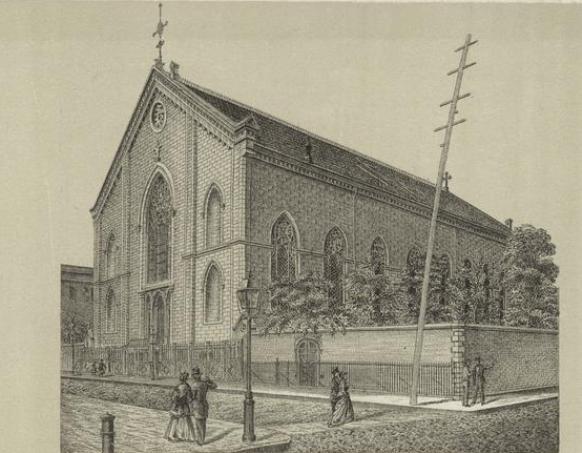 Irish Emigrants Leaving Home — The Priest's Blessing (dated 1851)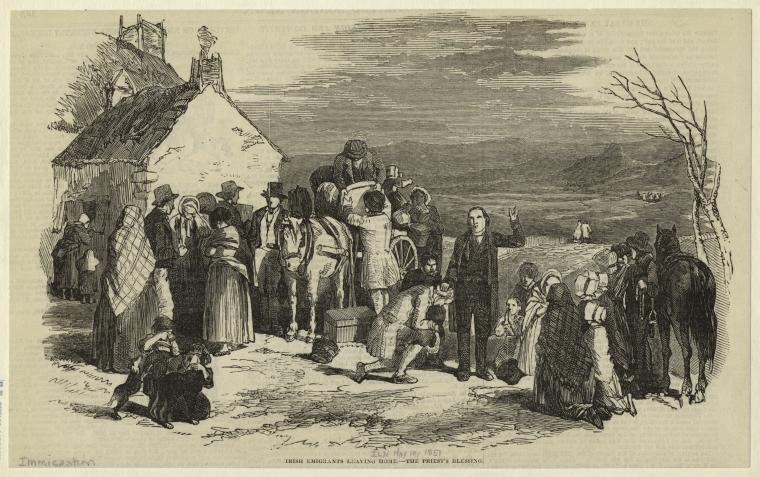 A lithograph by Maurer and Currier (of Currier and Ives) illustrating a rather stereotypical scene of Irish life.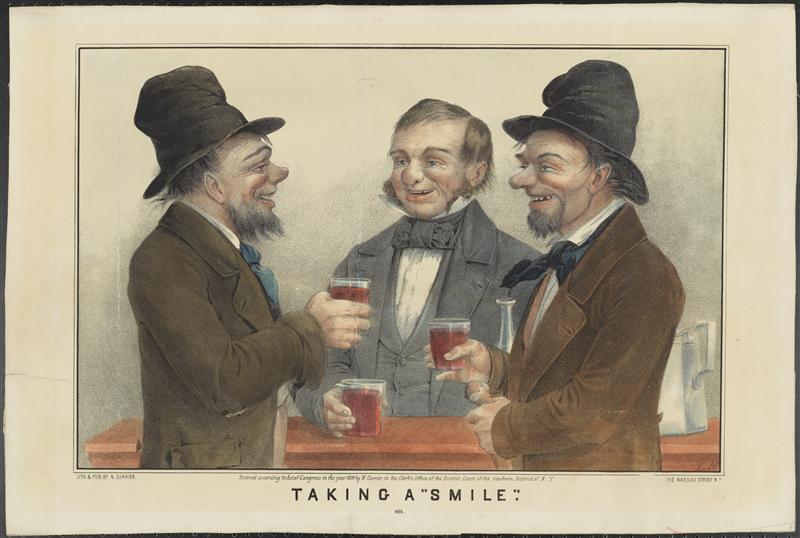 An anti-Catholic illustration from 1855.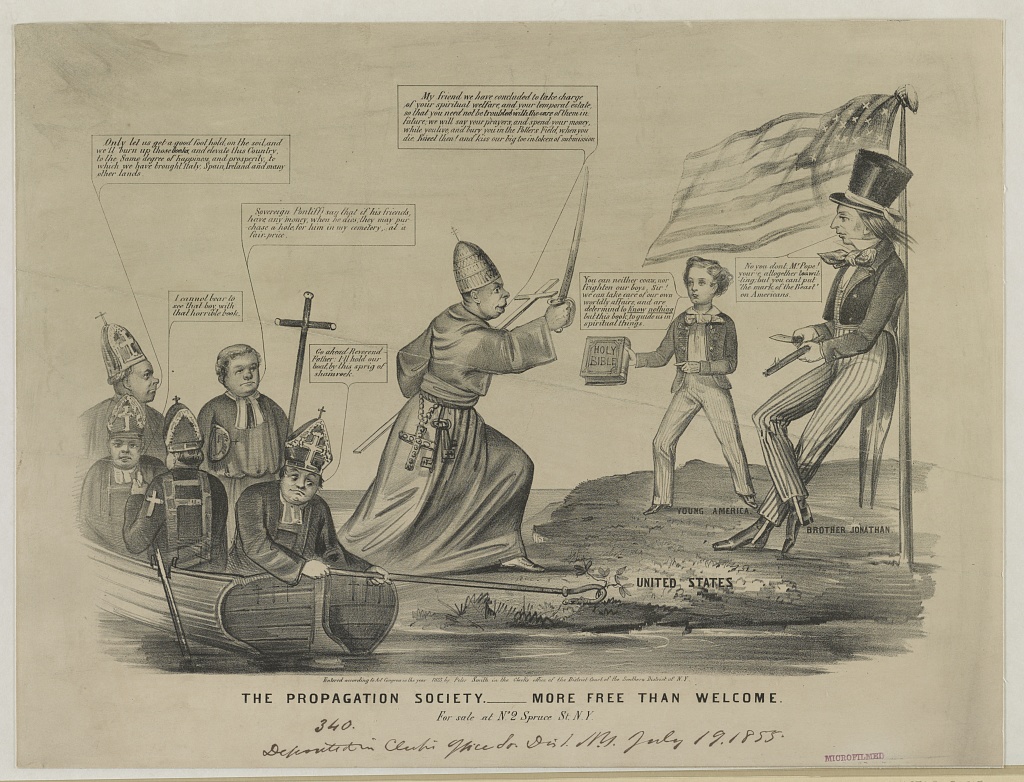 In 1860, fear of foreigners inspired a San Francisco cartoonist to draw this image, imagining laborers from Ireland and China (responsible for building the railroads) 'swallowing' up the country. A mixed Irish/Chinese caricature completes the job.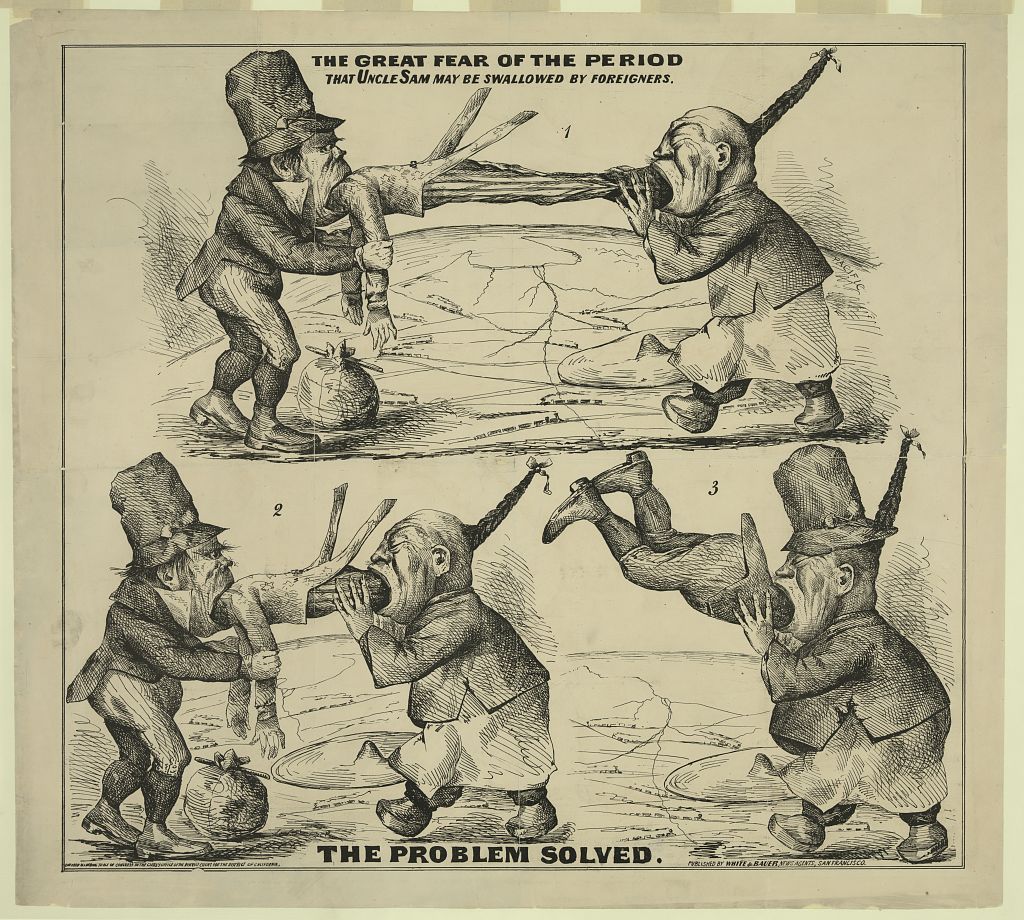 St. Patrick's Cathedral on Fifth Avenue, a new signpost for the acceptance of the Catholic religion in America, sits alongside acres of hot real estate in 1905. Its neighbors would slowly transition from luxury manors to upscale shops and department stores.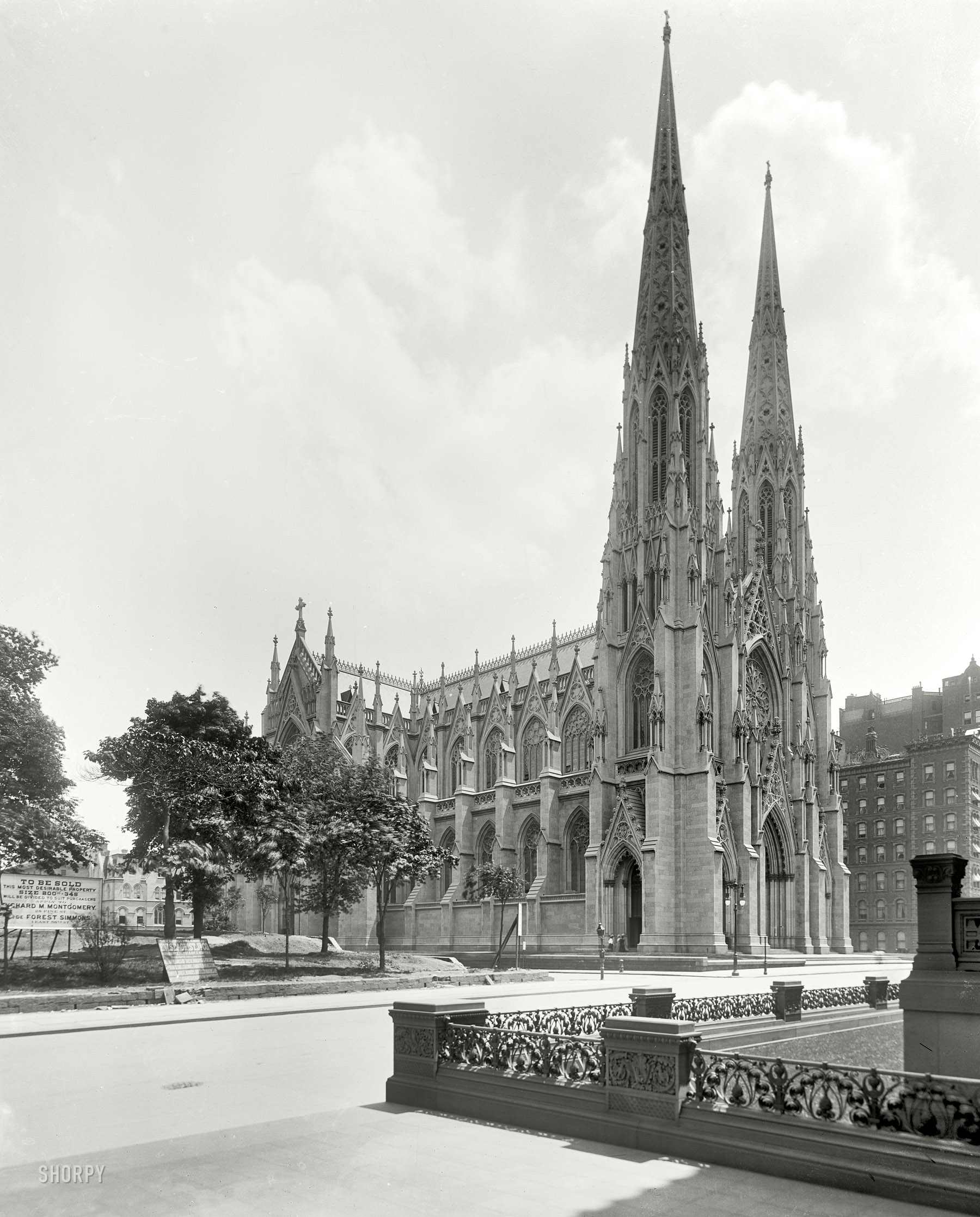 By 1872, you were seeing much more thoughtful depictions of Irish Americans such as this one  by Duval and Hunter. "Print shows a mother pinning clover on her son's suit lapel, on the right is a young girl standing at an open window waving a banner "God save Ireland." A domestic scene in a palor with a sewing machine on the left."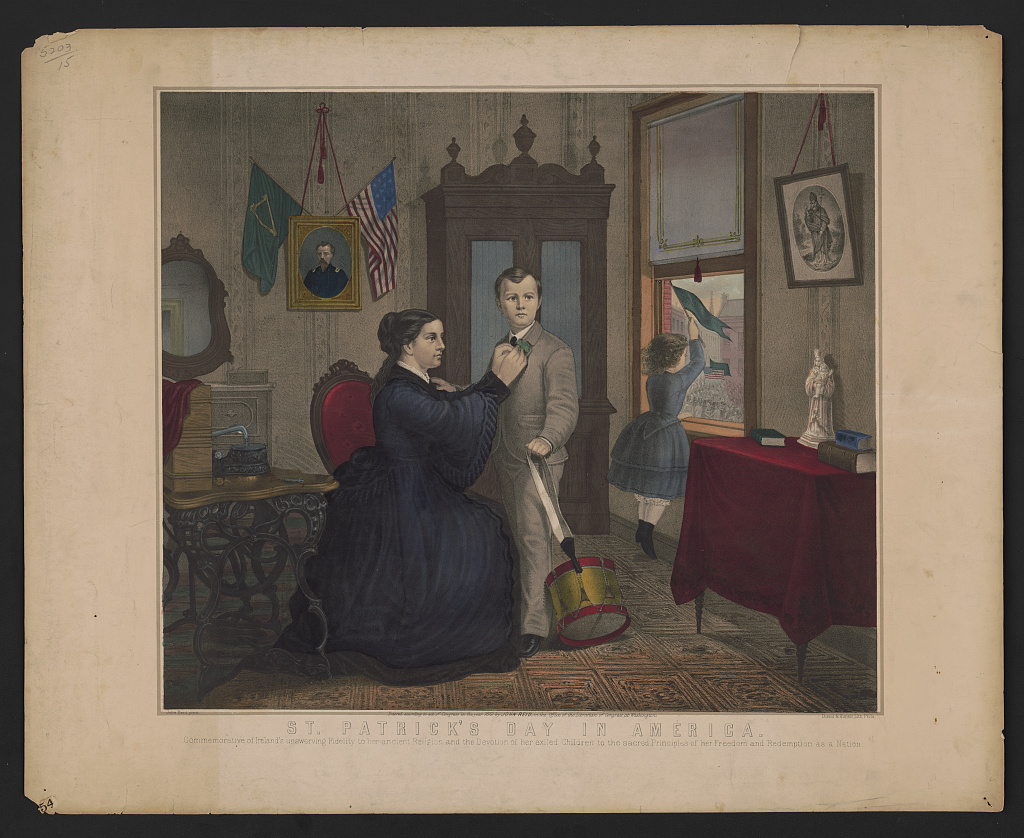 The departure of the 69th Infantry Regiment, the 'Fightin' Irish' brigade headed to the battlefields of the Civil War. Lithograph dated 1862.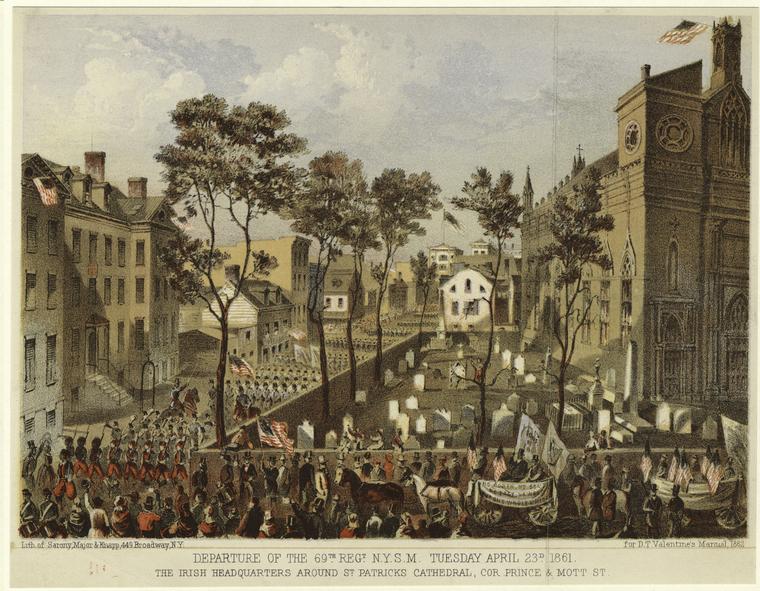 The caption, dated 1866 — "Irish Emigrants Leaving Their Home For America — The Mail Coach From Cahirciveen, County Kerry, Ireland."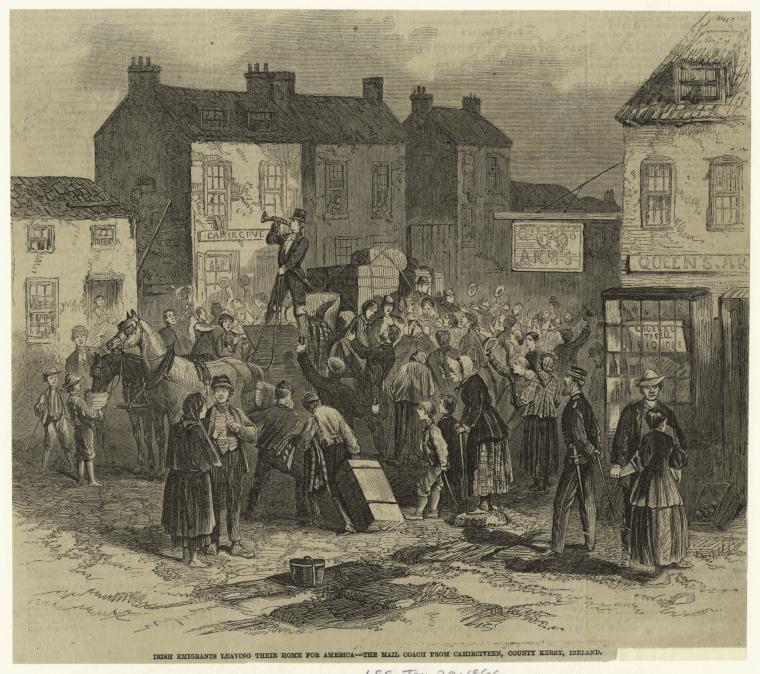 From a Harpers Weekly article from 1874 — leaving Queenstown (today's town of Cobh) for New York.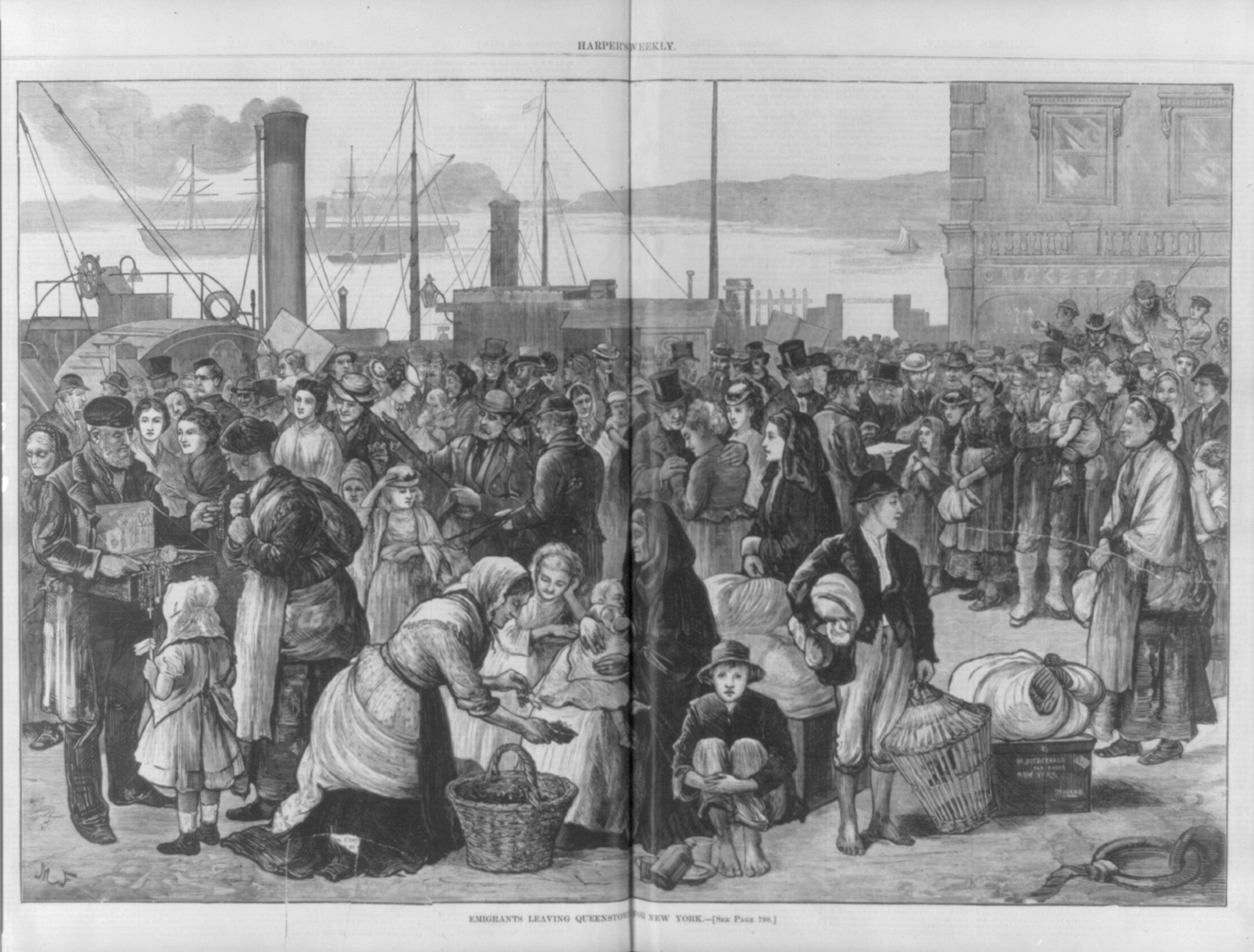 The insanity of Castle Garden, the prime immigration station in New York in 1880, before the construction of Ellis Island. Below that, registering names at Castle Garden in 1871.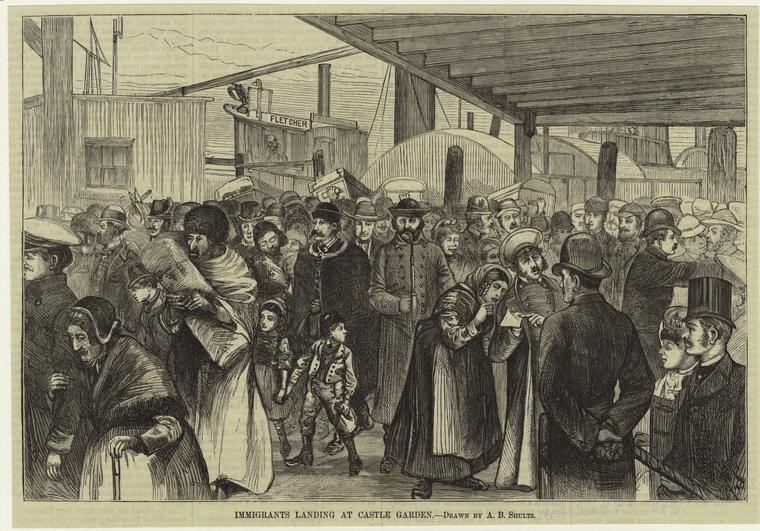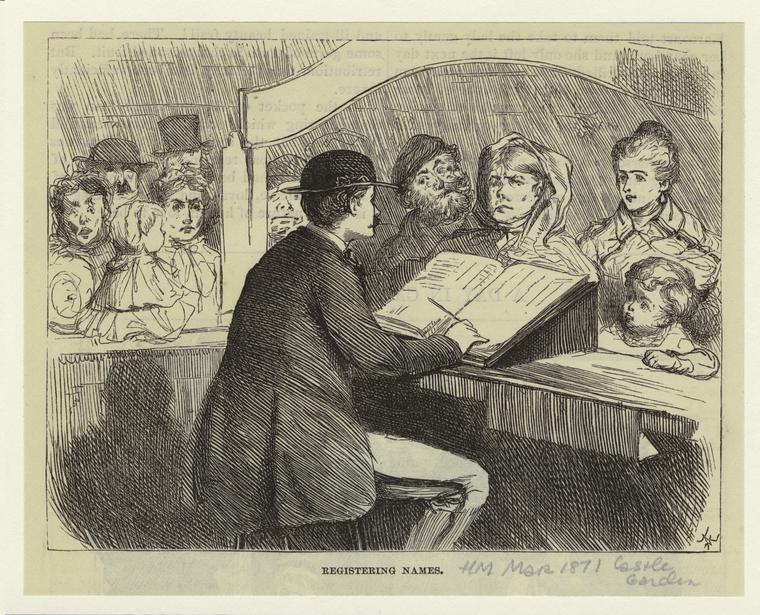 The hazards of immigrants leaving Castle Garden, as vividly illustrated by Puck Magazine.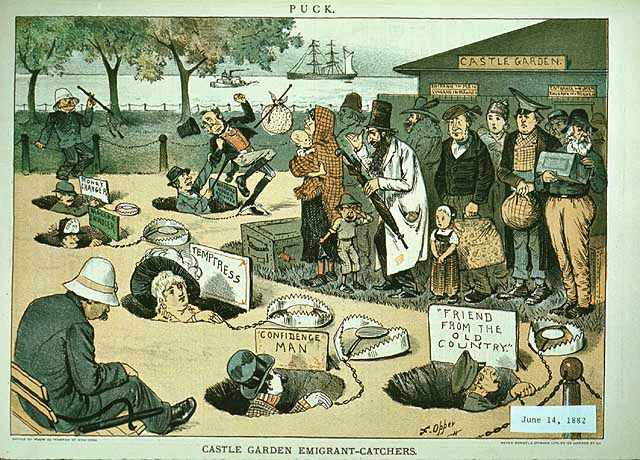 The flow of immigrants were better accommodated by Ellis Island, pictured here in 1907.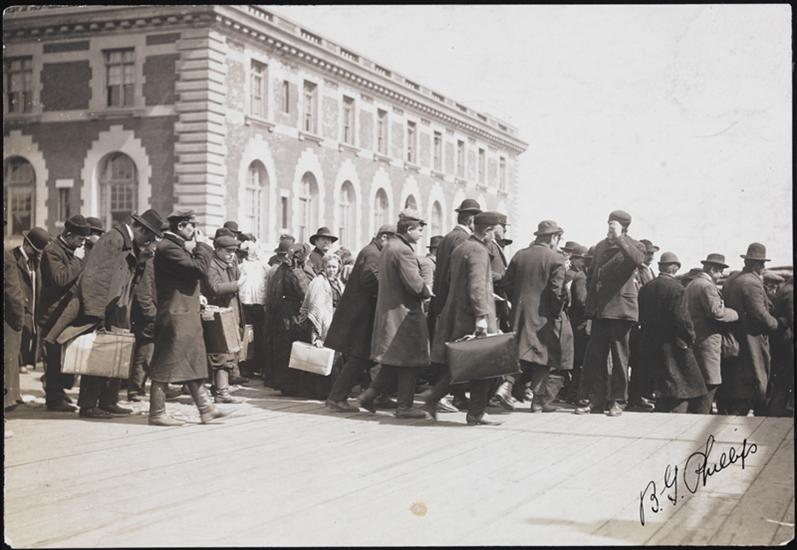 Irish women line up at the Emigrant Savings Bank, withdrawing money to send back to relatives in Ireland. (1880)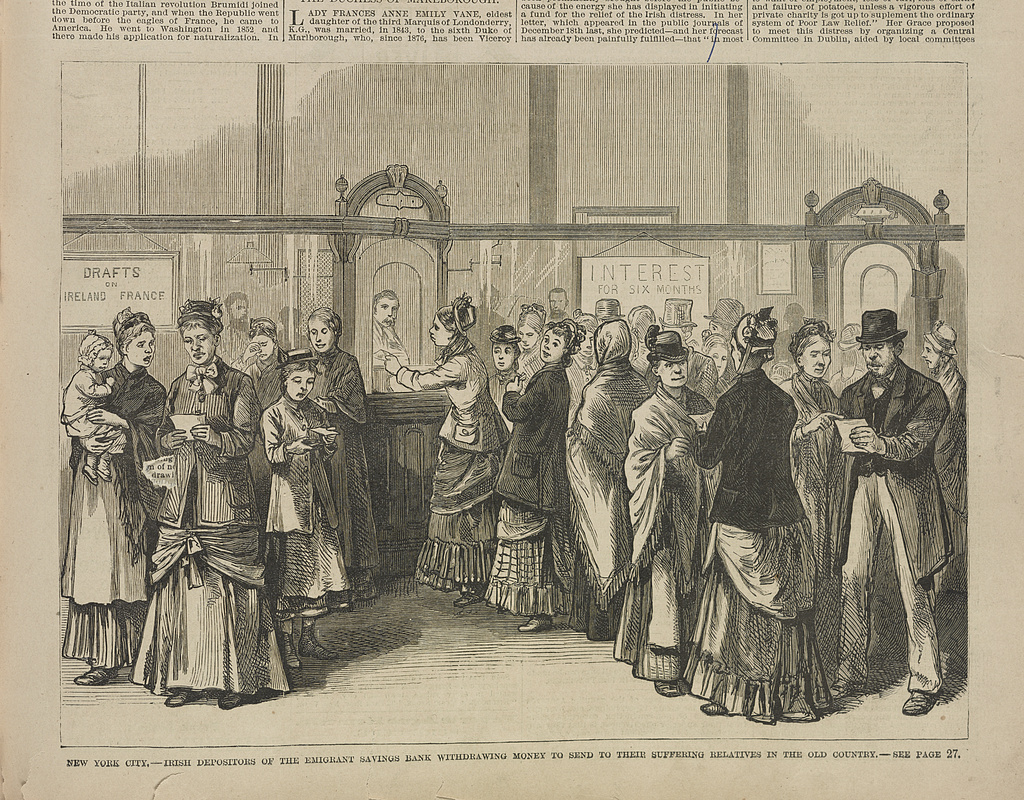 Irish vaudeville often poked fun at their own stereotypes — and promoted many others. This 1880 Harrigan and Hart sketch was called 'Ireland vs Italy.'
An 1886 cartoon by Bernard Gillam, illustrating the Tammany Hall tiger with Irish accoutrement.
'Professor' Mike Donovan, an Irish-American boxer who performed out west then became a boxing instructor in New York up until his death in the Bronx in 1918.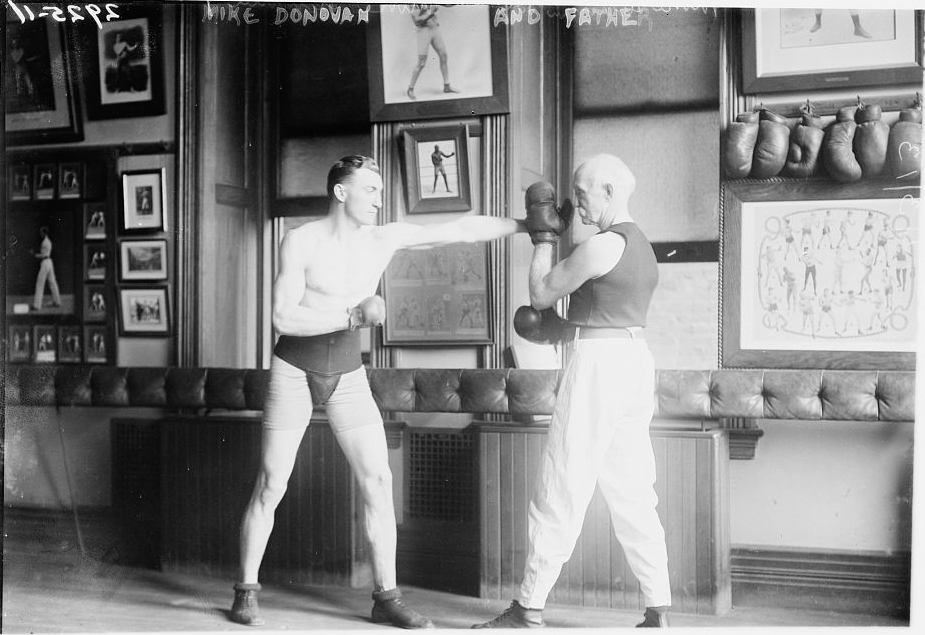 A typical example of an Irish-themed song from the Gilded Age, of the type which is obviously playing with some stereotypes of Irish people.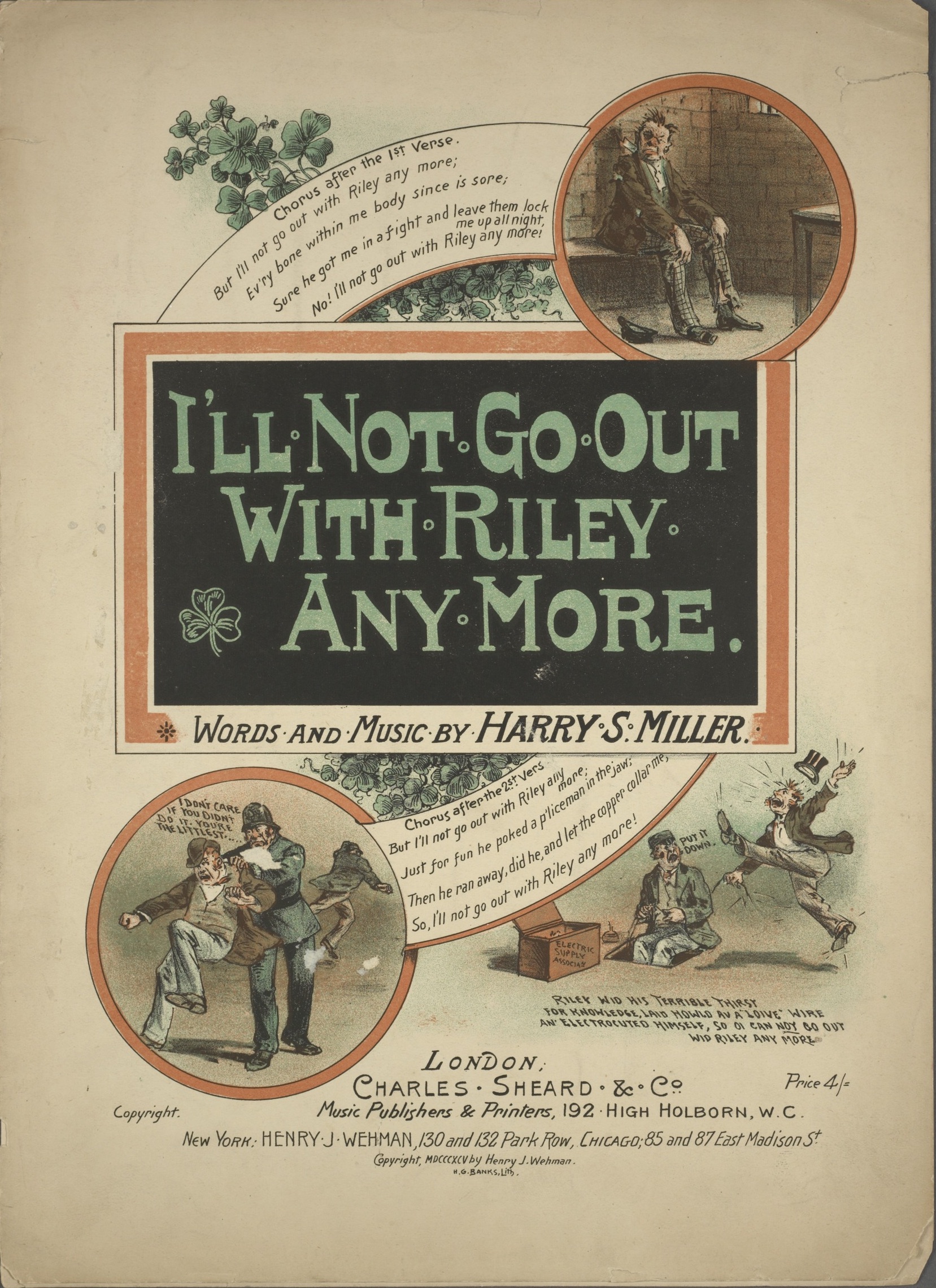 By 1895 the St. Patrick's Day Parade is a genuine event, drawing New Yorkers of all kinds. These pictures are along 57th Street.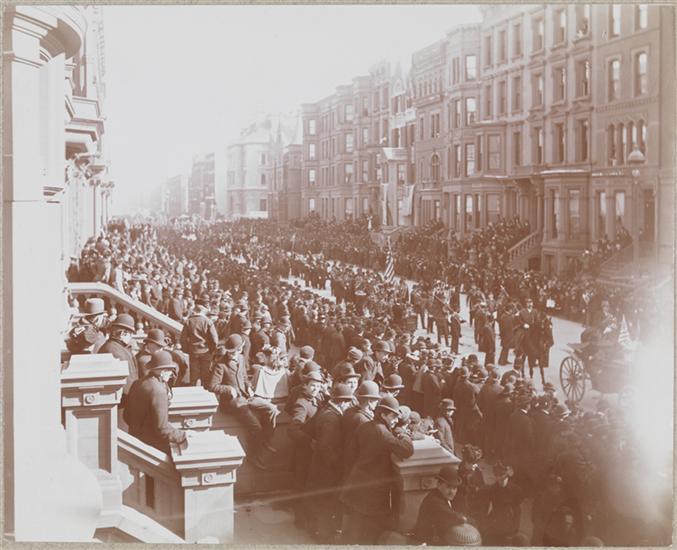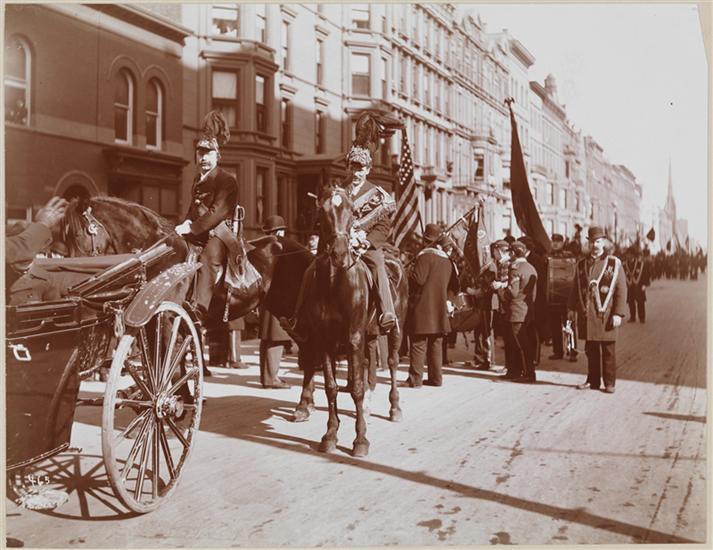 The parade in 1909, featuring a banner for the Kerrymen's Patriotic and Benevolent Association.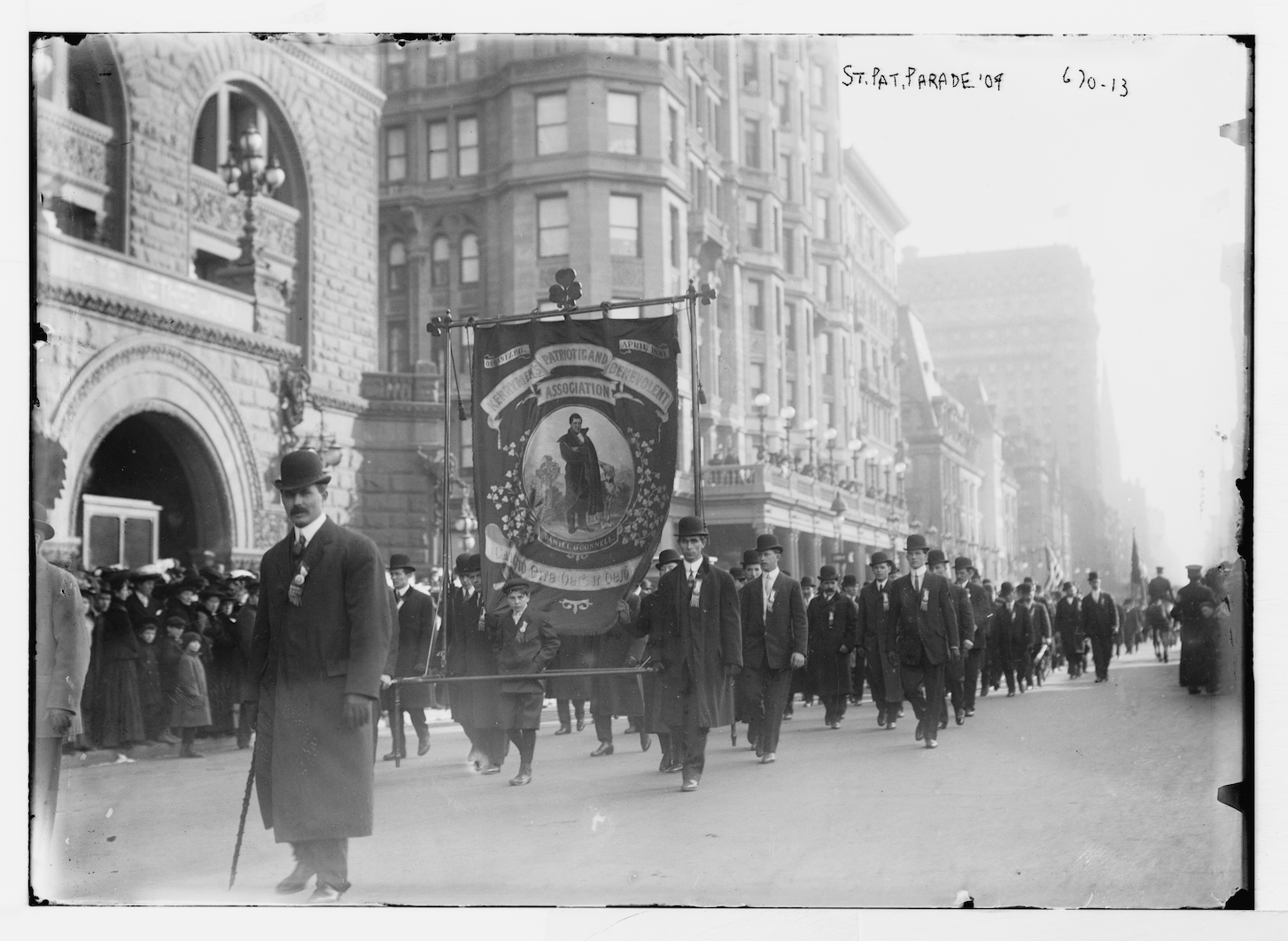 The St. Patrick's Day Parade, between 1910-15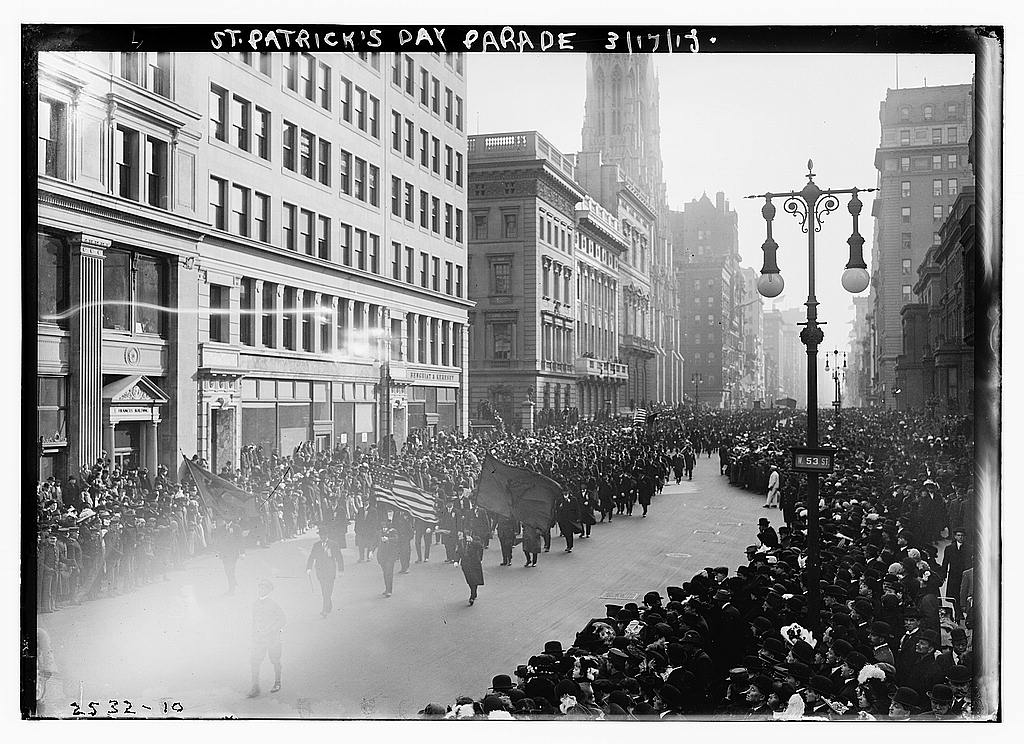 A version of this podcast and page was originally released in March 2017.