There's a small pocket of the East Village still referred to today as "Little Ukraine" (or Ukrainian Village), located at 6th and 7th Streets between First and Third Avenues.
Once populated in the late 19th century with thousands of newly arrived Ukrainian immigrants, this area has grown notably smaller in recent years, more distinguished today by its many legacy institutions dedicated to Ukrainian culture and cuisine.
You're probably most familiar with Veselka, the Second Avenue staple of delicious Ukrainian food which has served the East Village since 1954 — or rather, it's served the Lower East Side as that newer neighborhood name wasn't introduced when pierogi and blintzes were first served from their kitchen.
Less glamorous but equally as delicious is the restaurant at National Ukrainian Home next door. Of course the space has a valuable place in music history; in 1981 the British group New Order made their first American appearance here. (New Order with a side of potato pancakes sound like heaven to me.)
This article was first published on March 30, 2022
---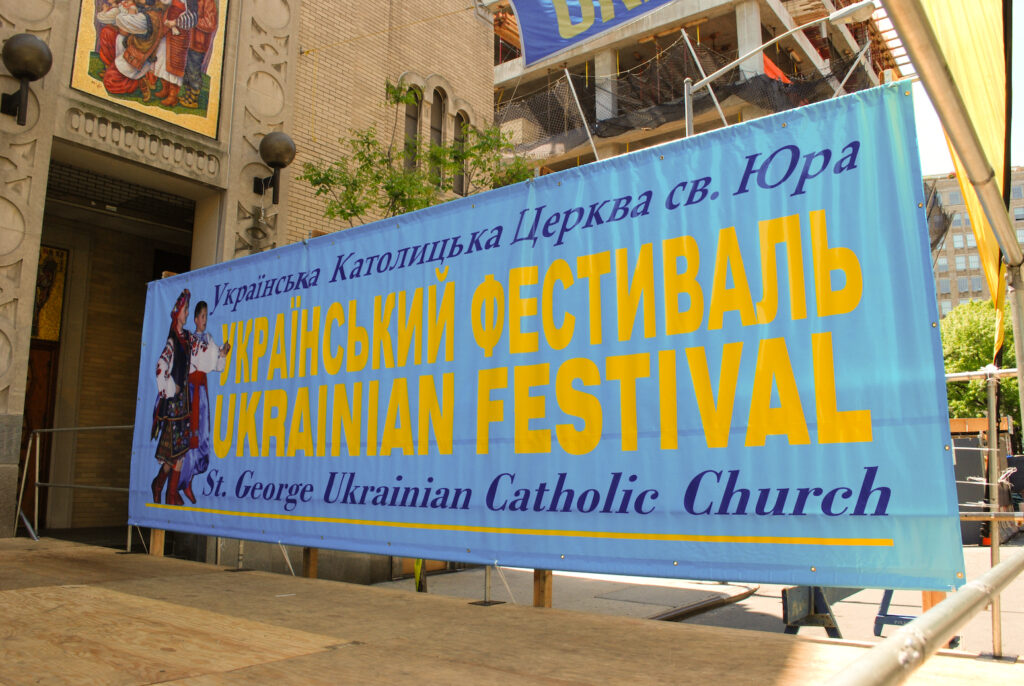 As you stroll these streets, you'll find other evidence of the neighborhood's Ukrainian past including houses of worship like St. George Ukrainian Catholic Church. Although St. George was built in the mid-1970s, the congregation itself traces itself back to the first Ukrainian services in the late 19th century (in the basement of St. Brigid Roman Catholic Church, which is also still around).
But for a true appreciation of New York's "Little Ukraine," pay a visit to the Ukrainian Museum (222 East 6th Street between Second and Third Avenues), one of the city's perfect small museum experiences, where works of folk art and costumes are displayed near striking examples of early 20th century modern art.
The museum has been on East 6th Street since 1976, founded by Ukrainian National Women's League of America. Its first home was on "two floors of an imaginatively remodeled tenement at 203 Second Avenue (at 13th Street)."
The current home opened in 2005 with a retrospective of the avant-garde sculptor Alexander Archipenko, a splashy and provocative direction for an museum better known then for its festive displays of pysanky (or Easter eggs).
The eggs are still there though! As are other colorful spherical objects — the fanciful installation Finding Sanctuary During the Pandemic featuring brilliantly colored record albums.
For more information on the Ukrainian Museum , visit their website or just pop by Wednesday through Sunday, 11:30am to 5pm.