The residents of the Lower East Side one century ago would probably have never have said to themselves, "What a grand place to plant flowers!"
But it would be their very tenement lots that would later lead to the sprouting of so many East Village neighborhood gardens, some of the most wonderful community gardens in the city.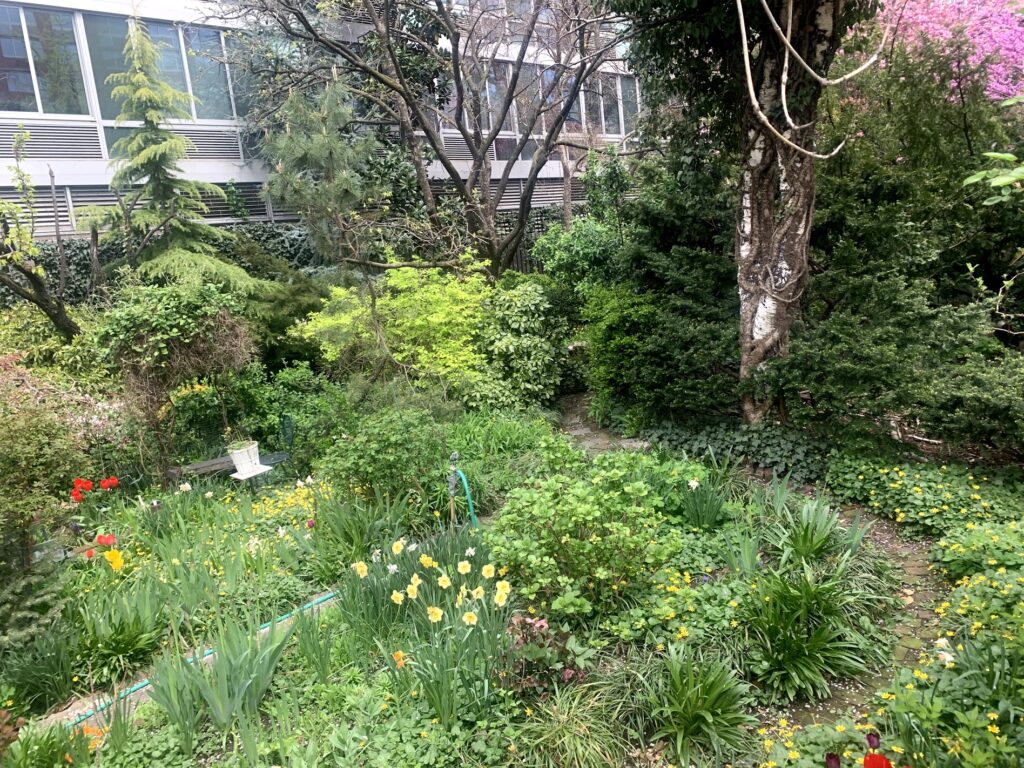 New York's hundreds of community gardens grew out of efforts which begun in the 1970s to beautify and rehabilitate neighborhoods suffering from urban blight.
In the early 1970s, a young artist named Liz Christy, an avid gardener inspired by national green efforts (such as Earth Day, first celebrated three years previous), became inspired to fill abused and abandoned places in her neighborhood with small gardens.
In 1973 she organized the Green Guerillas, a group of activist gardeners — "horticulturists, landscape gardeners, botantists, agronomists, architects, planners, biologists and other greening experts" — who saw plants and flowers as the solution to their increasingly dreary landscape.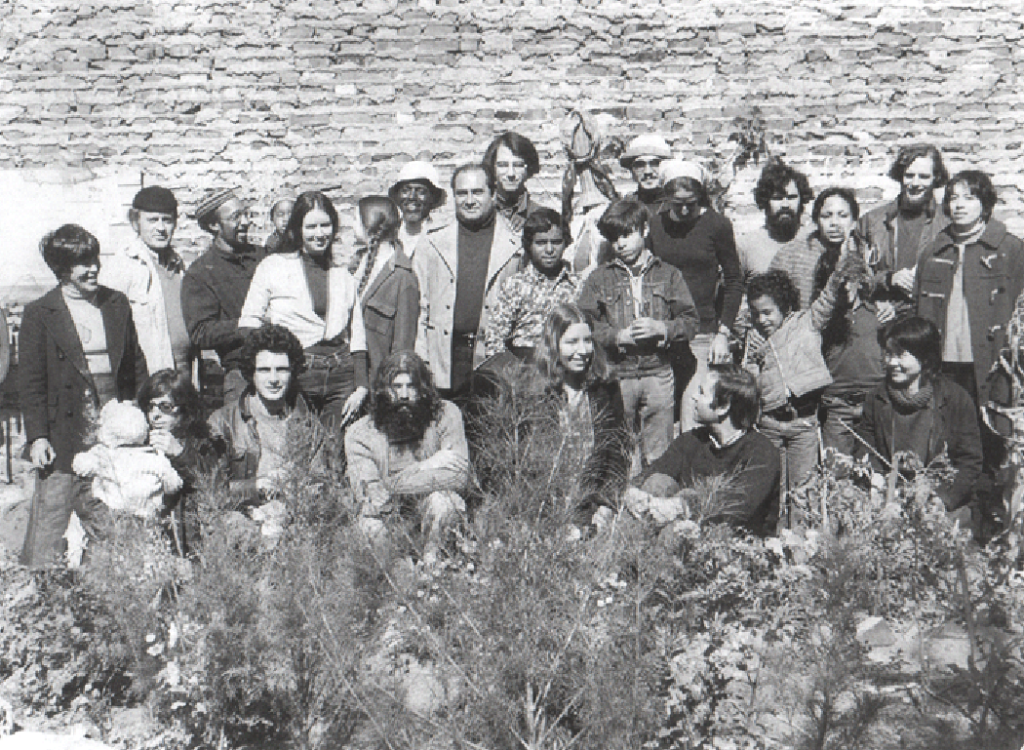 To quote from the organization website: "They threw 'seed green-aids' over the fences of vacant lots. They planted sun flower seeds in the center meridians of busy New York City streets. They put flower boxes on the window ledges of abandoned buildings.
But Christy became concerned about one lot in particular — at Bowery and Houston Street.
As she told the New York Daily News in 1974: "That lot was so depressing. In the past few years I've seen three different men carried out of their dead…. And children played in there with all that glass and filth."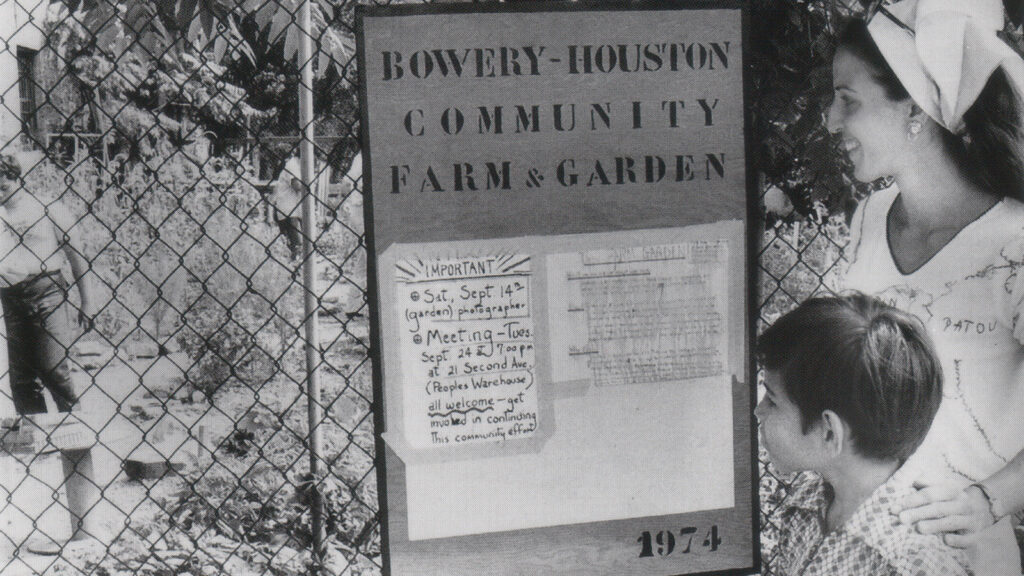 And so in 1973, Christy and her band of green heroes formed the Bowery Houston Farm and Garden, transforming the lot into a verdant stretch of beauty.
In just a single quote in that Daily News article, Christy articulates not only the salvation of a city lot, but lays out a blueprint for how to inspire any community to take a similar approach."
"The best thing about the garden has been the interest and involvement of families and especially children. So many children have been eager to take care of their own lots and besides keeping them out of trouble and teaching them something, it has also given them great pleasure to take home their crops."
To call their mission a labor of love is an understatement. In 1976, the New York Times wrote"
"In the three years of their existence, [The Green Guerillas] have received a total of $356 in donations. The expenses for which they actually have receipts come to $3,500, which has come out of their own pockets, and this does not include a lot of the money spent on gasoline. mailings, gardening equipment and transportation."
Thanks to the legacy of Liz Christy (who died in 1985) and the continuing work of the Green Guerillas, hundreds of spaces in New York City have been transformed into community-run gardens, supported by the city's GreenThumb initiatives which began in 1978.
For more information on the history of New York City community gardens, visit NYC Parks.
---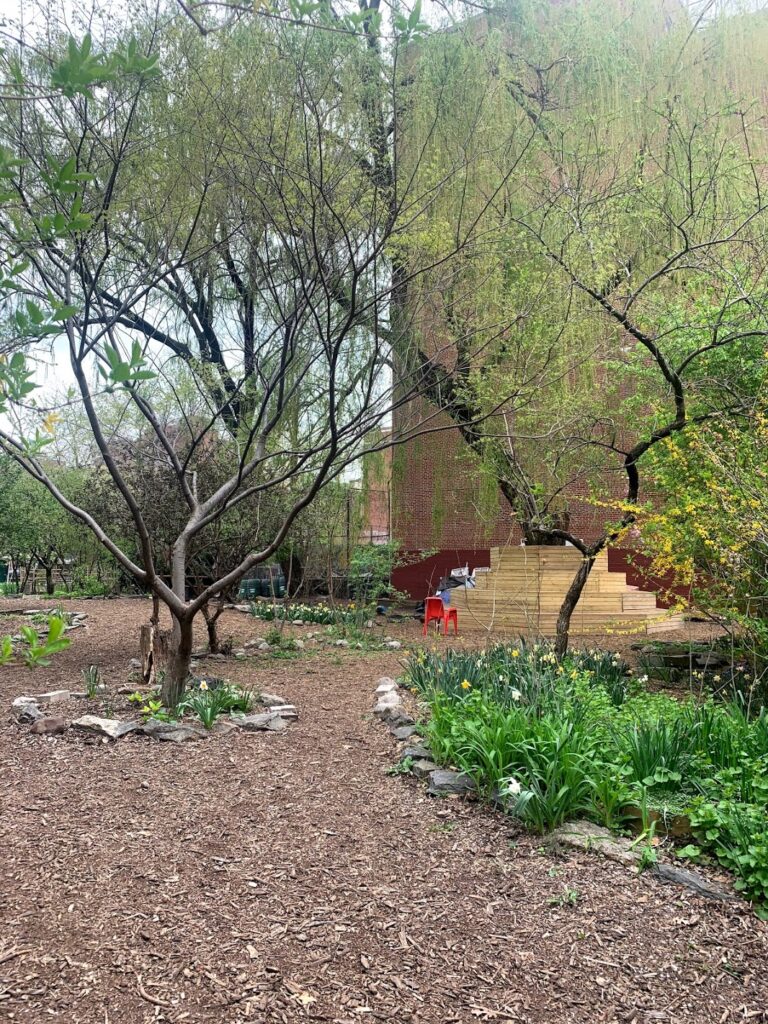 While you can find these types of community gardens all over New York City, the ones in the East Village still hold a certain kind of magic.
At the bleakest moments of the 1980s, when burned- out buildings and empty lots defined the neighborhood, community leaders took beautification efforts into their own hands, clearing abandoned lots and planting leafy, magical, and art-filled oases.
Once a mere curiosity of the East Village, the gardens have now become one of its defining features.
There are about 40 gardens today in the neighborhood. One could spend an afternoon with a good book, tiptoeing from garden to garden, each with its own flora and fecundity.
My three personal favorites are below — but there are dozens! Celebrate the season by following this map of gardens (via Earth Celebrations) through the neighborhood:
El Jardin del Paraiso Most of the East Village was once high salt marshes and tidal meadows (called Stuyvesant's Meadow), which gradually mixed with trees and plants at the shore.
It's not a stretch to imagine those verdant old days at this garden, created in 1981, which also includes a fabulously imaginative willow treehouse. (Spans 4th and 5th Streets, between Avenues C and D)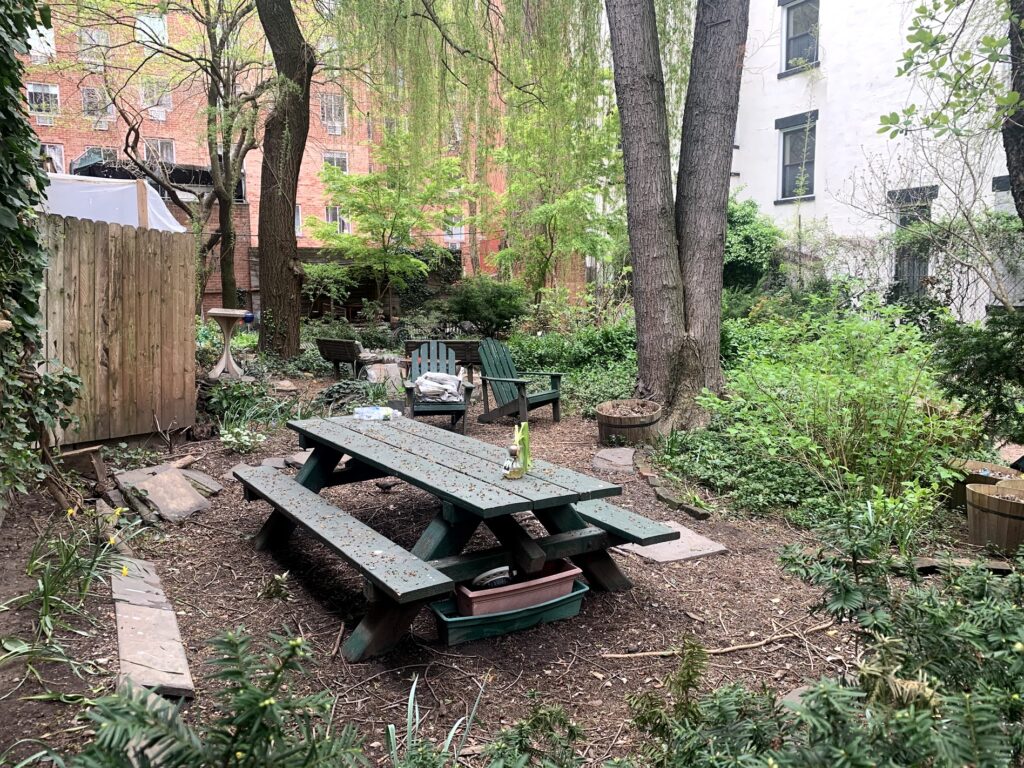 Miracle Garden The name of this peaceful respite recalls the garden's opening in 1983, when a batch of toxic soil killed off all of the first plantings. It might have spelled doom for the entire lot if not for the diligence of neighborhood gardener Penny Evans.
But the name may also hint at the fact that this flourishing spot sits on the site of a former crack house. (194–296 East 3rd Street)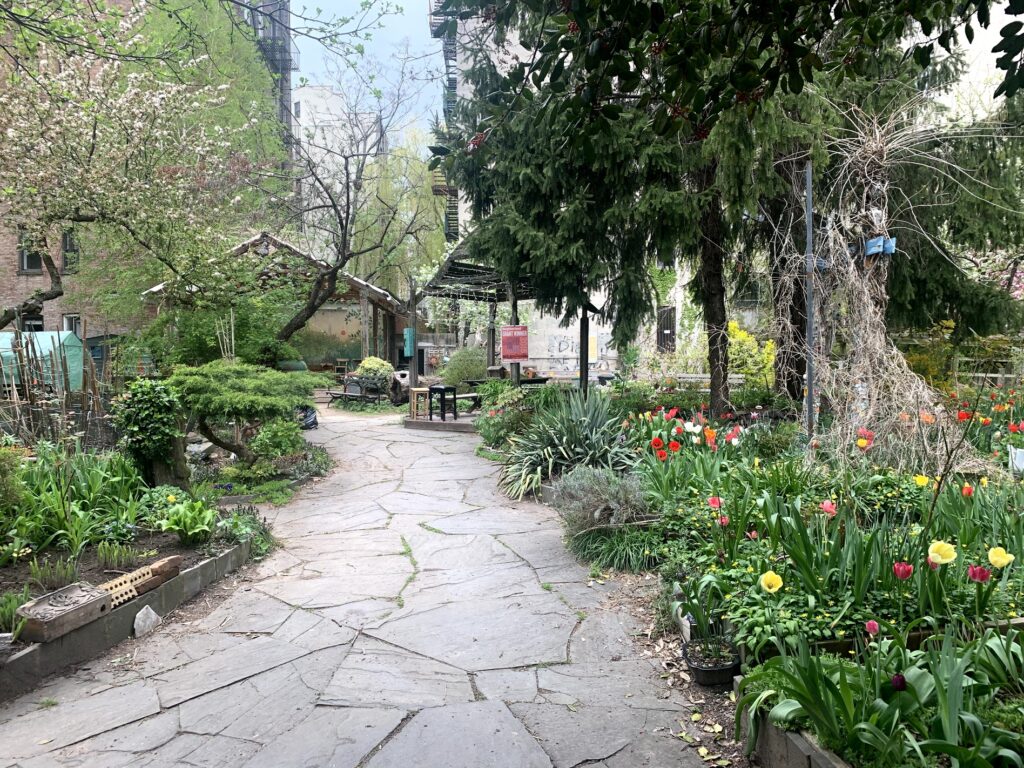 6th and B Garden While there might be fuller and lusher gardens in the East Village, this corner spot, which frequently hosts musical events on its central stage, was famous for its astonishing 65-foot tower of toys. (The garden is also immortalized in the musical Rent.)
Artist Eddie Boros constructed the playful structure in 1988 out of found toys. Sadly, the structure was torn down by the city in 2008, a year after Boros died. (6th Street and Avenue B)