This episode on the history of Tompkins Square Park ties right into an all-new two-part episode coming in September, the first part coming at you next week.
Central Park has frequently been called 'the people's park," but we think Tompkins Square Park may have a better claim to that title. From its inception, this East Village recreational spot — named for Vice President Daniel D Tompkins — has catered to those who might not have felt welcome in other New York parks.
Carved from the marshy area of Peter Stuyvesant's old farm, Tompkins Square immediately reflected the personality of German immigrants who moved here, calling it Der Weisse Garten. With large immigrants groups came rallies and demands for improved working conditions, leading to more than a number of altercations with the police in the 19th century.
Progressives introduced playgrounds here, and Robert Moses changed the very shape of Tompkins Square.  But the most radical transformation here took place starting in the late 1950s, with the introduction of beatnik and 'hippie' culture and infusion of youth and music.
By the 1980s, the park became known not only for embodying the spirit of the East Village through punk music and drag shows (above: Lady Bunny), but also as a haven for the homeless. Clashes with police echoed the clashes that happened here one century before. The park still maintains a curfew left over from the strife of the late 1980s.
FEATURING: Lillian Wald, the Grateful Dead, Charlie Parker, Samuel S. Cox, Lady Bunny … and Chevy Chase?
LISTEN NOW: TOMPKINS SQUARE PARK
A version of this show was originally released in 2014 (episode #160)

---
Images from the park this week (August 2023)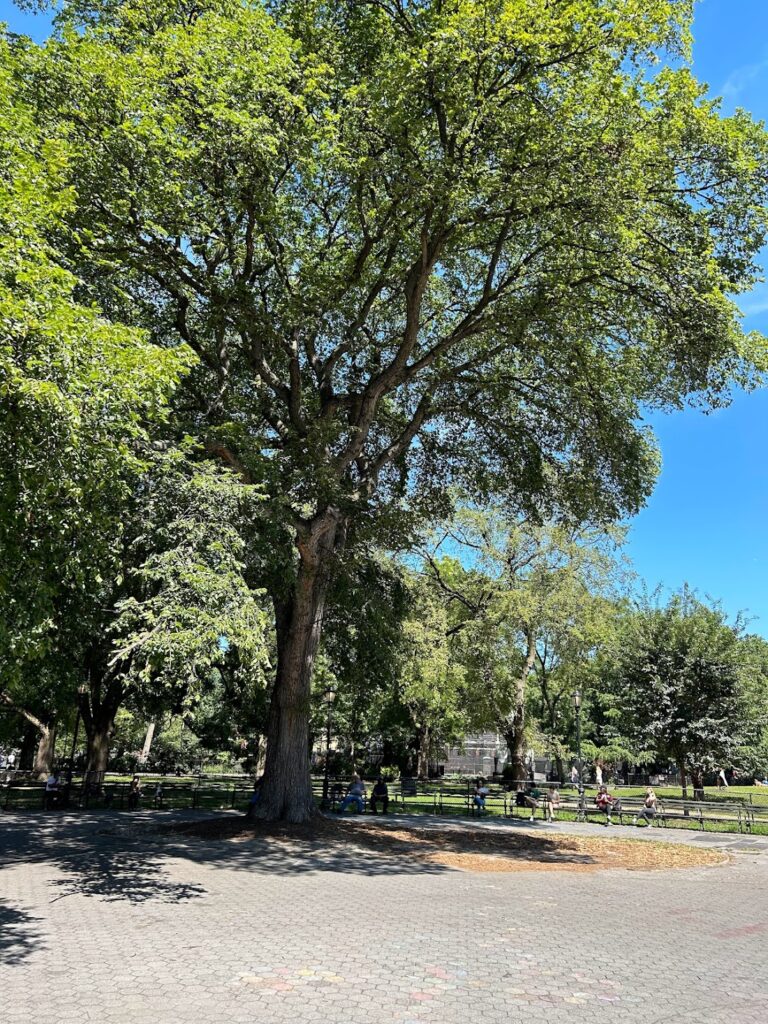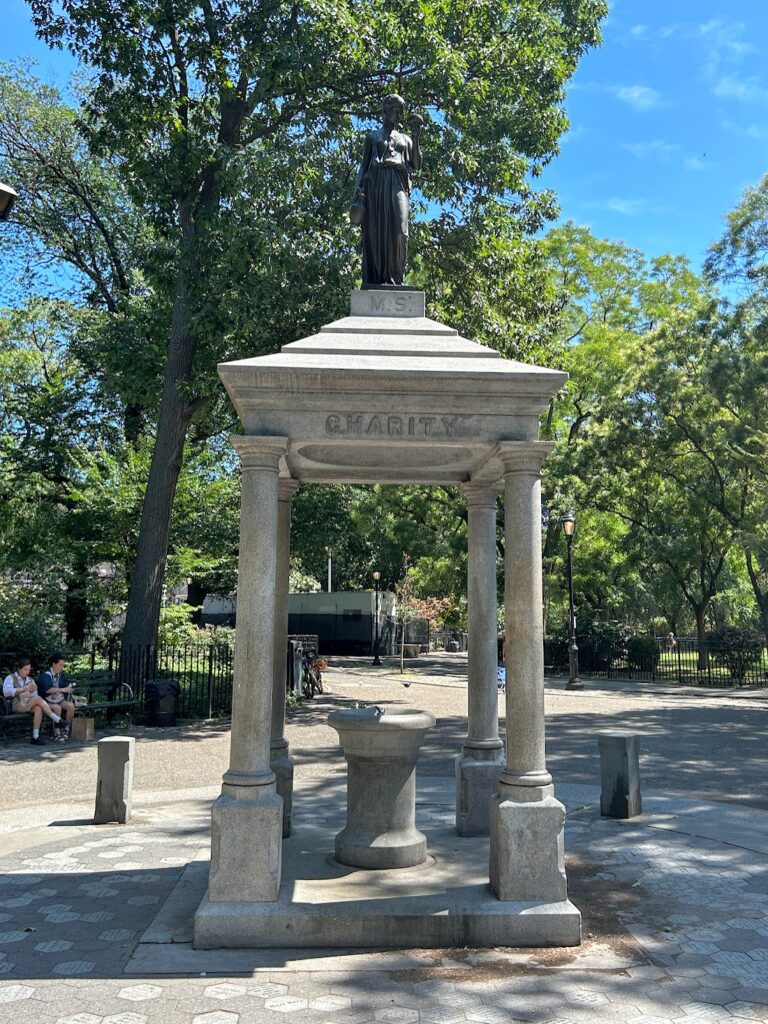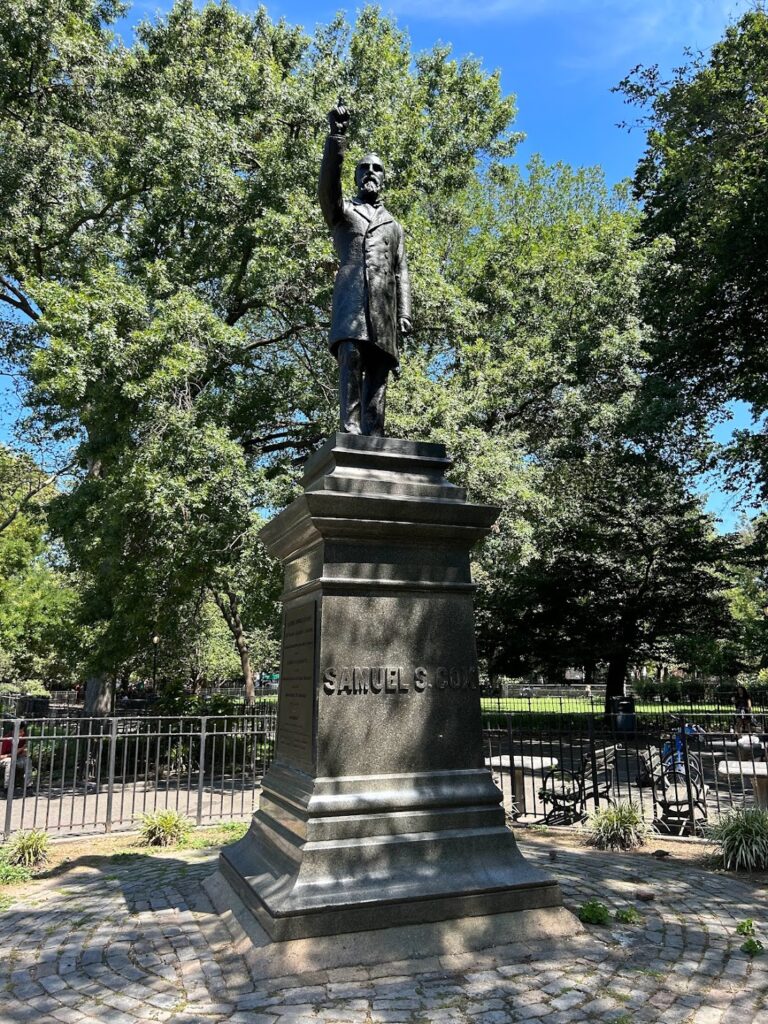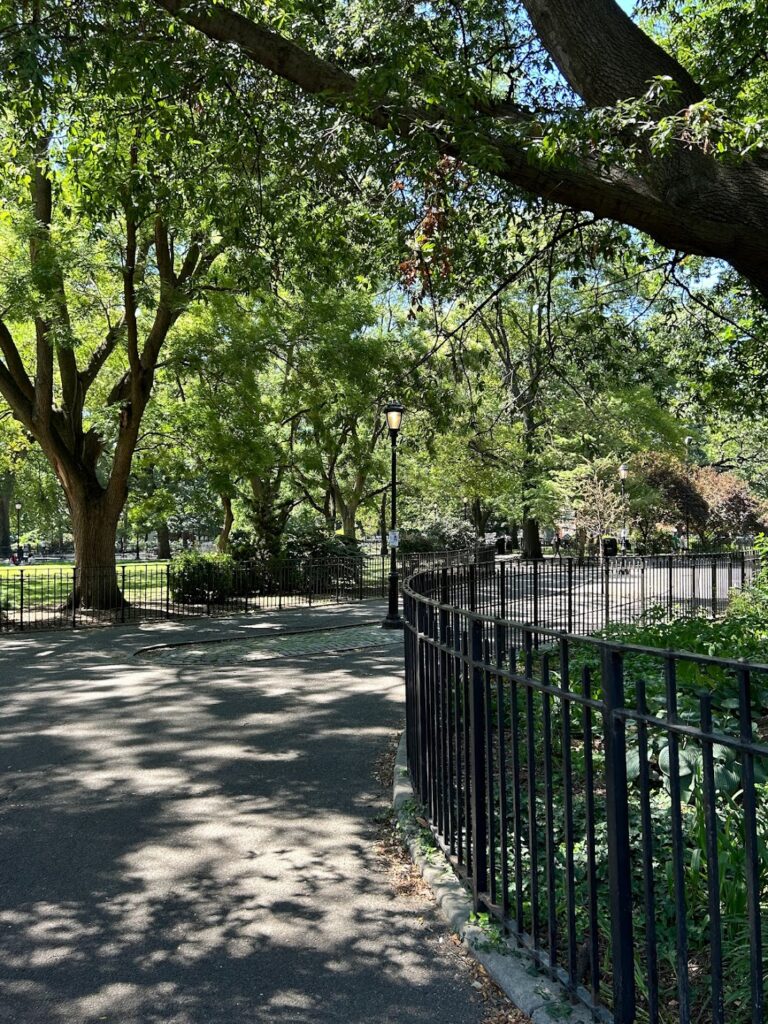 ---
It's doubtful that the image below is accurately depicted by the caption which accompanied it in Frank Leslie's Illustrated Newspaper in 1874: "The red flag in New York – riotous Communist workingmen driven from Tompkins Square by the mounted police, Tuesday, January 13th." [Courtesy LOC]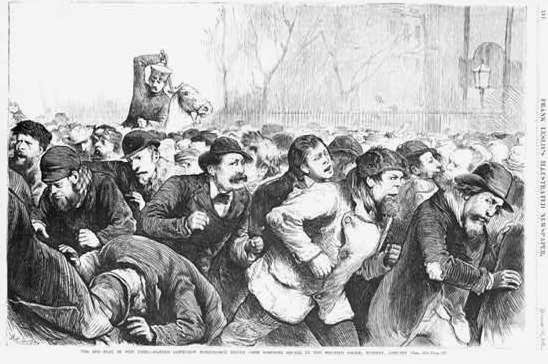 Another illustration of the 1874 protests, notably featuring a German establishment in the background. (More information on the Tenement Museum blog.)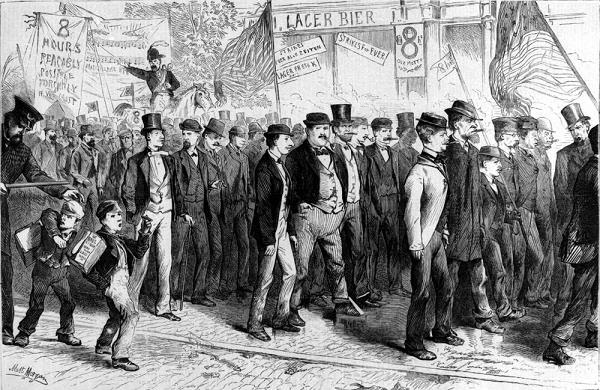 People enjoying (most likely) German music and entertainment in Tompkins Square Park, 1891. An image from Harper's Weekly by Thure de Thulstrup. (NYPL)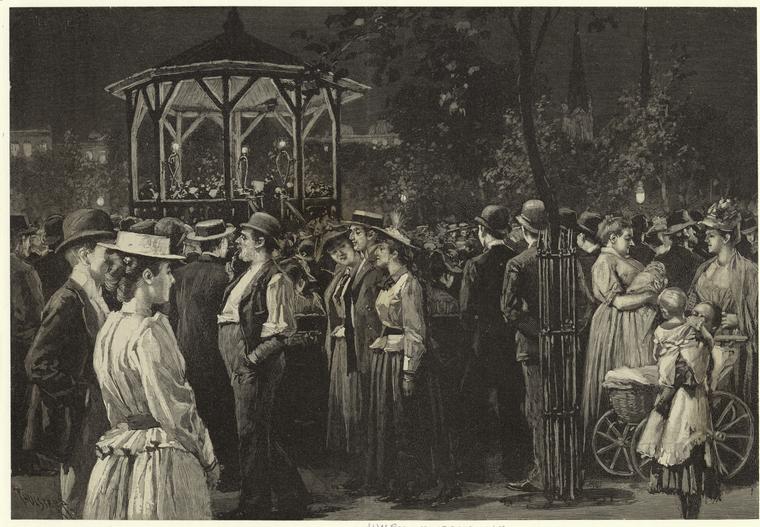 Women and children enjoying themselves in Tompkins Square Park, Arbor Day, 1904, on the brand new playground for girls. (Photos courtesy Museum of the City of New York)
The Tompkins Square Milk House, which provided clean, healthy milk to families in the 1910s.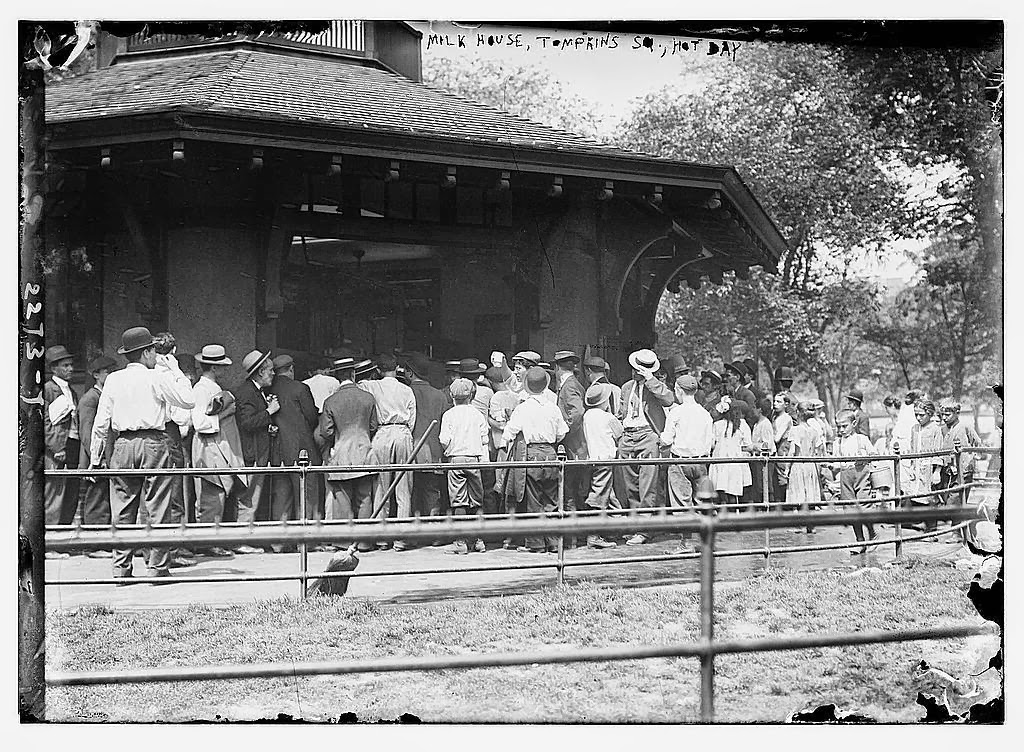 The statue of Samuel Cox, funded by New York postal workers. (1900, pic courtesy Museum of the City of New York
Children waiting in line to use the children's reading room at the Tompkins Square branch library. (NYPL)
An advertisement from 1920, urging residents of the Lower East Side to take English courses at the Tompkins Square branch library. There are several of these posters in different languages here. (NYPL)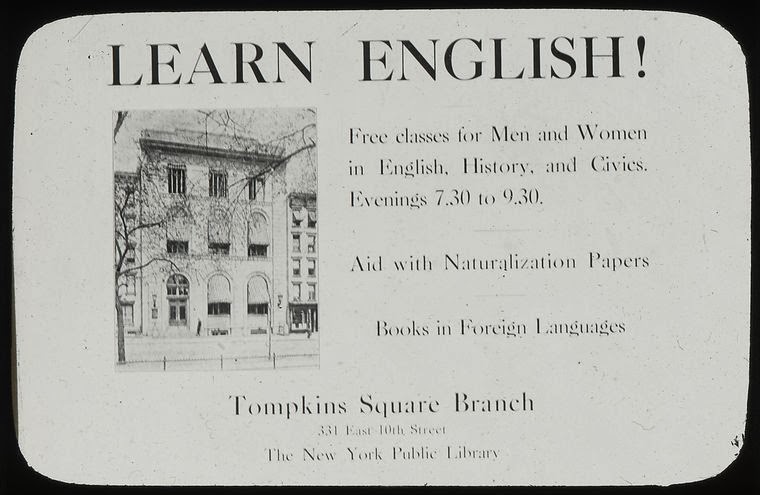 Lady Bunny and friends, performing at Wigstock 1988 (Picture courtesy aquaman6 on Flickr)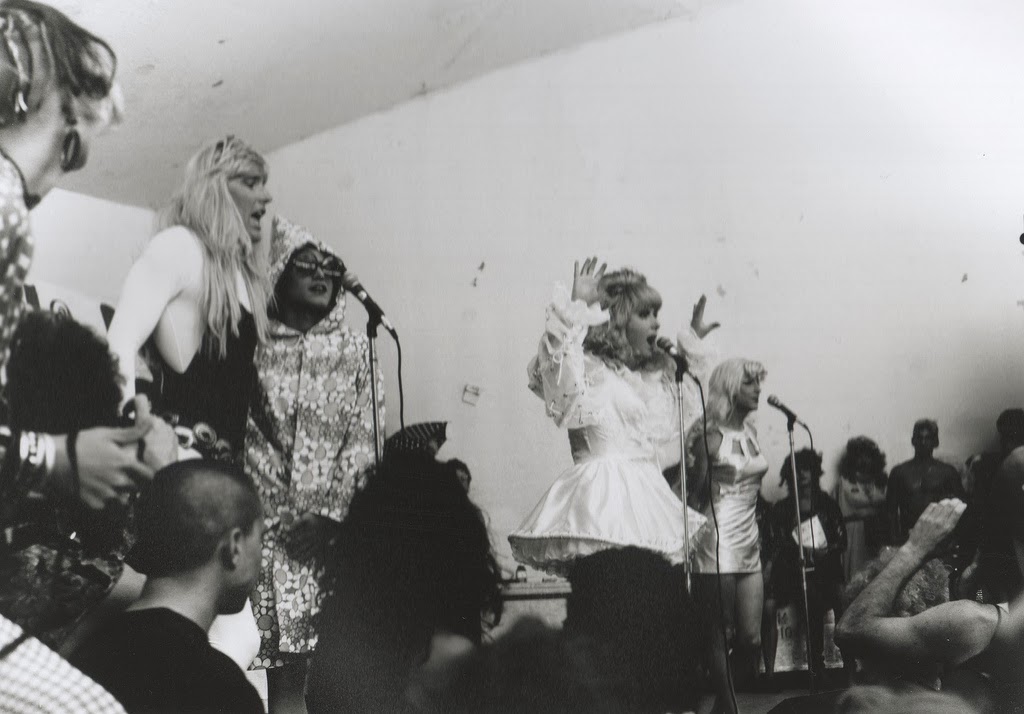 The Tompkins Square Police Riot from 1988 (courtesy Quilas)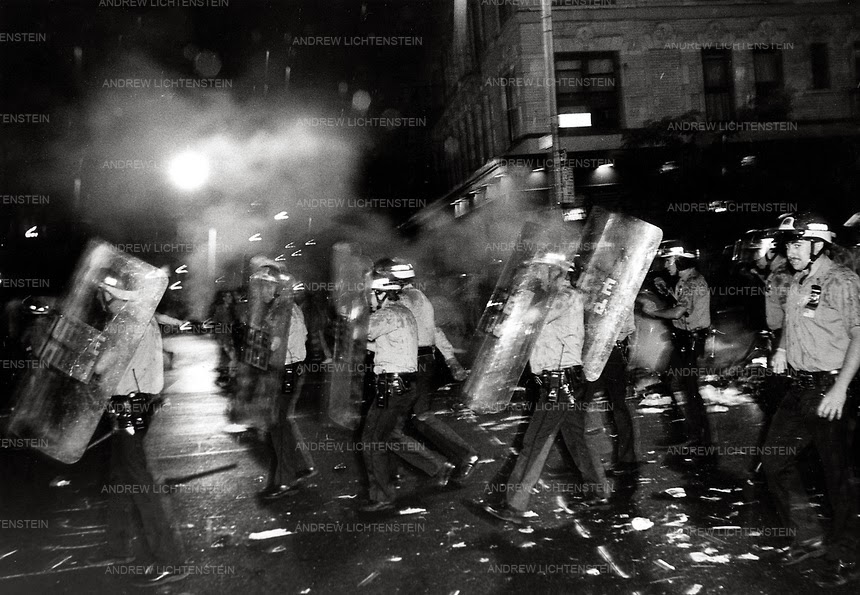 The Tompkins Square Park bandshell, which was torn down by the city in 1991. (Photo courtesy Flickr/Mike Evans)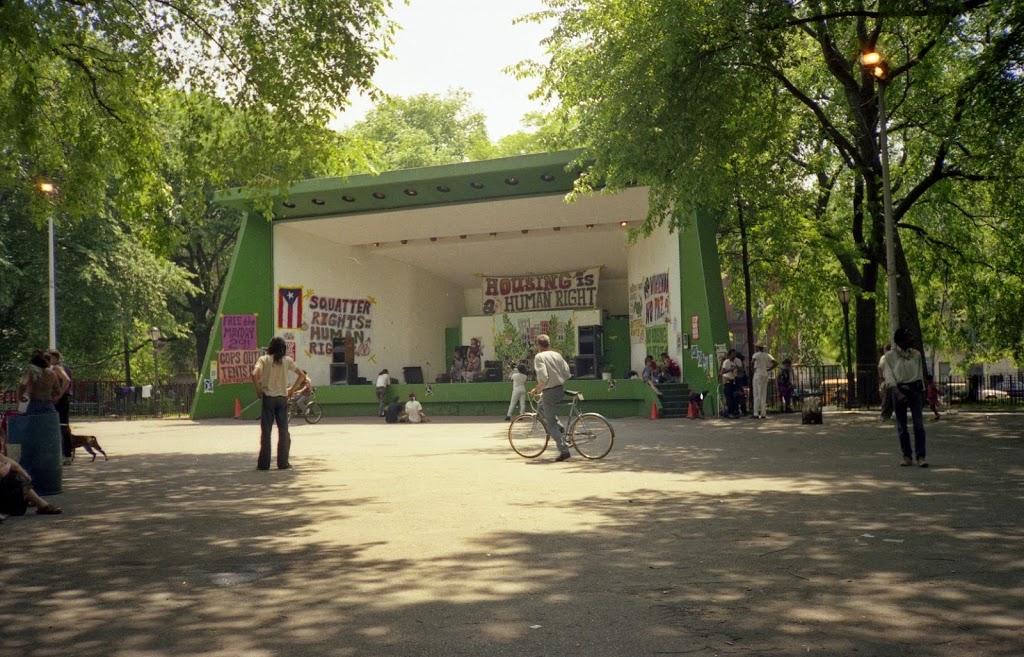 A performance by the hardcore band Breakdown at the bandshell in 1988
A Ghostbusters-themed entrant in the Halloween Dog Parade in 2013 (Courtesy USA Today)