The tale of the Cotton Club: "The Aristocrat of Harlem"
PODCAST

The musical story of the Cotton Club, the most famous (and infamous) nightclub of the Jazz Age.

The Cotton Club, Harlem's most prominent nightclub during the Prohibiton era, delivered some of the greatest music legends of the Jazz Age — Duke Ellington, Cab Calloway, Fletcher Henderson, Ethel Waters, the Nicolas Brothers. Some of the most iconic songs in the American songbook made their debut at the Cotton Club or were popularized in performances here.

But the story of gangster Owney Madden's notorious supper club is hardly one to be celebrated.

The Cotton Club was owned by Prohibition's most ruthless mob boss, and that's just the beginning. The club enshrined the segregationist policies of the day, placing black talent on the stage for the pleasure of white patrons alone. Even the club's flamboyant décor — by Ziegfeld's scenic designer, no less — made sure to remind people of these ugly admission practices.

This is the tale of Harlem late night, of hot jazz and illegal booze, of great music and very bad mobsters, featuring some of the greatest tunes of the day by Ellington, Calloway, King Oliver and more.

To get this week's episode, simply download it for FREE from iTunes or other podcasting services.

You can also listen to the show on Stitcher streaming radio and TuneIn streaming radio from your mobile devices.

Or listen to it straight from here:


___________________________________________________________________________

The Bowery Boys: New York City History podcast is brought to you …. by you!

We are now producing a new Bowery Boys podcast every two weeks. We're also looking to improve the show in other ways and expand in other ways as well — through publishing, social media, live events and other forms of media. But we can only do this with your help!

We are now a member of Patreon, a patronage platform where you can support your favorite content creators for as little as a $1 a month.

Please visit our page on Patreon and watch a short video of us recording the show and talking about our expansion plans. If you'd like to help out, there are five different pledge levels (and with clever names too — Mannahatta, New Amsterdam, Five Points, Gilded Age, Jazz Age and Empire State). Check them out and consider being a sponsor.

We greatly appreciate our listeners and readers and thank you for joining us on this journey so far. And the best is yet to come!

________________________________________________________________________

The Cotton Club spawned from an earlier nightspot called Club Deluxe, owned by boxer Jack Johnson. (Below: Johnson in 1910)
Club Deluxe was renamed The Cotton Club in 1923 by Owney Madden, the mob boss and supplier of illegal booze.
The original Cotton Club at 142nd Street and Lenox Avenue. The Douglas Theater, on the ground floor, is doing much better here, photo taken sometime in 1927:
The entrance to the Harlem Cotton Club. Note the log decoration to make it appear like some old rugged shack.
A map from 1932 of the Harlem nightclub scene, featuring the Cotton Club, Small's Paradise, Connie's Inn, the Savoy Ballroom and more….
The Broadway Cotton Club as it looked one evening in 1938.
A look at the interior of the Broadway Cotton Club circa, during an New Year's celebration, 1937, with Cab Calloway conducting.
An advertisement or program for The Cotton Club. The year 1925 is penciled in at the top, but it has to be from a later date. Calloway had just graduated from high school in 1925!
Maude Russel and her Ebony Steppers, performing in the 1929 Cotton Club show called 'Just A Minute'.
A shot of Jimmy Lunceford and His Orchestra in 1934.
An advertisement for the Nicolas Brothers, for a performance in 1938 at the Broadway Cotton Club.
Lena Horne started out in the Cotton Club chorus line, but she eventually became a headlining star in her own right.
The Dandridge Sisters were notable performers in the final years of the Cotton Club.
The young and dashing Duke Ellington became a superstar in the years following his Cotton Club residency.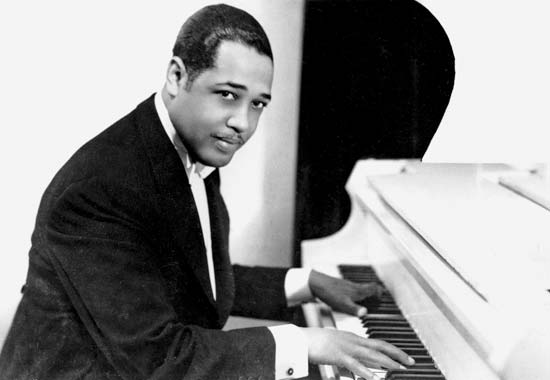 Duke Ellington and his Cotton Club Band in a 1930 film appearance:
In 1934, Cab Calloway made this short film featuring his music:
Cab Calloway's here too, in this clip from the film Stormy Weather, but the real stars are the Nicholas Brothers in a breathtaking dance number:
THIS PODCAST FEATURED MUSICAL SNIPPETS FROM THE FOLLOWING SONGS:
Black and Tan Fantasy – Duke Ellington
Drop Me Off In Harlem – Duke Ellington
Speak Easy Blues – King Oliver Jazz Band
Charleston – Paul Whiteman
Mood Indigo – Duke Ellington
Swing Session – Duke Ellington
If You Were In My Place – Duke Ellington
Minnie the Moocher – Cab Calloway
I've Got The World On A String – Duke Ellington
Stormy Weather – Ethel Waters
On The Sunny Side of the Street – Duke Ellington
NOTES ON THIS SHOW:
— I made two amusing flubs in this show 1) Duke Ellington's nickname is probably inspired by the Duke of Wellington, not (obviously) the Duke of Ellington, 2) the name of the movie with Lena Horne and the Nicholas Brothers is obviously named Stormy Weather, not Stormy Weathers (which must be the name of a drag queen somewhere)
— Jack Johnson's story is so much more complex and I wish I had more time to talk about him. For more information, check out the incredible documentary (and the book it's based on by Geoffrey C Ward) called Unforgivable Blackness: The Rise and Fall of Jack Johnson.