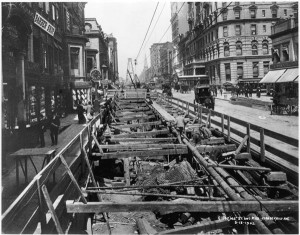 Wednesday's steam explosion disaster at 41st Street and Lexington Avenue, which at 'press time' had killed one person and injured 44, gave many people that sinister feeling of déjà  vu they felt on Sept. 11. It reminded us almost as much of the New York blackout of 2003, with hundreds of people filling the streets with busy cellphones and sweaty backs, some annoyed, some good humored.
Believe it or not, however, over a hundred years ago, the Grand Central Station environs bore witness to an even more horrifying explosion … just one block away.
William Barkley Parsons was given the arduous task of installing the first New York City subway system in 1894. After visiting the London Underground, he determined that the best way to drill holes through the varied and sometimes delicate surface of the island was with a method called 'cut and cover' –- essentially digging a gigantic, deep trench and sealing it up at street level. This was chosen over the trickier 'deep tunneling' which required greater blasting and elaborate subterranean passageways.
One of the subcontractors in Parson's employ was the unfortunate Ira Shaler, who was in charge of the tunneling of 34th through 42nd Street. This being before the days of union and worker's protection, Shaler was soon stamped with the mortibund nickname 'the voodoo contractor' for a nasty string of deadly accidents along the line.
And so, 105 years after Wednesday's steam explosion, the greatest of Shaler's accidents happened a block away at 41st and Park Avenue, on Jan 27, 1902. A wooden shed filled with 200 pounds of dynamite ignited and blew, sending billowing flames high into the sky and glass shards flying for blocks. The nearby Murray Hill Hotel was severely damaged as was the great façade of the Grand Central terminal. Five people were killed and many others seriously injured. The tunnels below, strangely, were barely disturbed.
Shaler continued on, and with him, smaller calamities occured up and down the newly constructed tunnel shaft.
In the end, Shaler's final unlucky victim was Shaler himself. He died five months later, four blocks down, on 37th and Park, crushed by tumbling rocks while he was demonstating the tunnel's safety to his boss.
Or to quote professor Clifton Hood, a professor of history at Hobart and William Smith Colleges: "Parsons pointed to a rock and said it looked rotten. Shaler disagreed, stepped out from under a protective cover and tapped the rock with his cane. It all came down on top of him. He died a few days later. It was not a good way of losing an argument."