New York City is a terrible place for horses, or for that matter, any animal bigger than a rat.
However, the animal has been instrumental to New York's history. Today you can see them trotting through Central Park, looking lobotomized, carting around tourists in frilly carts. Already a rather demeaning usage, the horses are also subjected to a wide variety of accidents and this site documents some of them in an effort to ban them from recreational usages.
The luckier creatures are those used by the New York City police Mounted Unit. At its peak in 1910, the Mounted Unit was 800 horses strong, mostly in service of traffic, which at the time would have been mostly horse-drawn carriages anyway.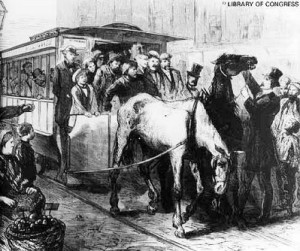 However 100 horses are still in the line of duty today, mostly patrolling city parks and neighborhoods. If you ask your officer about the name of his or her horse, you'll mostly get the name of an officer killed on the job, or a revered officer retired from duty. However, roaming the streets are a few horses with the curious name of Daily News. The city newspaper donates horses to the force every year.
New York City horses played an even greater role in history back in 1894 when some equine members of the Claremont Riding Academy, the city's oldest stable that just closed several months ago, were used as successful test subjects for a diptheria toxin. The animal's metabolism was better able to create the antitoxin in their bloodstream, and most survived with little more than a fever.
As a direct result of the tests, a usable antitoxin for humans was available within six months. (More details here.)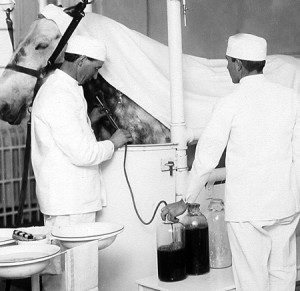 By the way, if you're interested in see the 'carraige horses' business banned from t he city, you can start by signing this petition to the mayor.