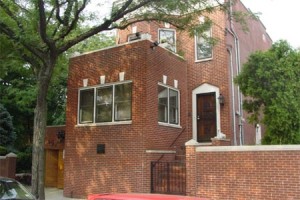 In the first part of our nth part series on unusual New York City museums, we turn your attention to Corona, Queens (several stations out on the 7 train) where lies a non-descript and not seemingly attractive red-brick house.
It was the home of Louis Armstrong and his wife Vivian and as of 2003 has opened to the public. But dont expect some extravagent tacky Graceland-like abode.
Armstrong actually preferred the calm and quiet of the neighborhood and the decor reflects his cool. His wife actually picked out the home and Armstrong, upon first seeing it in the at-the-time mostly white neighborhood, thought the cab driver had taken him to the wrong address.
You should definitely do as Satchmo did and sit on the stoop, where he would hang with the neighborhood kids and sign autographs, and then to the den, the scene of many jam sessions. The house also has an inordinate amount of wallpapers on the wall. Other cool things to check out: the Japanese style garden outback, the Louis portrait painted by no less than Tony Bennett, and a crucifix designed by Salvador Dali.
Two pieces of amusing trivia:
At the excellent museum gift shop, you can buy Armstrong's favorite laxative Swiss Kriss!
The Armstrong house was purchased by the couple for $3,500, but benefited years later with the the museum opened after a $1.3 million renovation. How's that for an price uptick?
Check out the official website for times and directions.
And if you're lucky, maybe you'll see the Satchmobile: