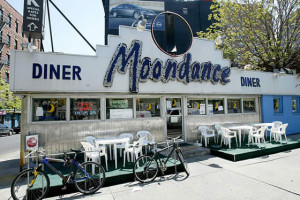 There are very few 'real' diners left in Manhattan. My personal favorites still in existance are the Pearl Street Diner in the financial district, the Square Diner in tribeca (order the onion rings, trust me on this), and the far less endangered Empire Diner up in Chelsea
But mention of the words 'Manhattan' and 'diner' in a sentence always used to conjure up one image to me: the Moondance diner, deep in Soho off 6th Ave, with its beat-up interior and spectacular, spectacular glittery, swivelling moon sign.
However, the sun now sets on the Moondance, at least for the New York eater. The restaurant, a scrappy fixture of the 30s, finally closed up this year and, in an unusual move, will be transported 2,100 miles to La Barge, Wyoming. Yes, that's right. Placed on a semi tractor-trailer, and driven across country, to the middle of the least populated state in the nation.
Like an abused hand-me-down at a thrift shop, the restaurant was sold for $7,500 to a La Barge couple who plan to reopen to feed the town's hungry 493 residents, who at the moment have NO restaurant at all in town.
They should be lucky the restaurant was around at all. *Surprise* the restaurant was closed to make way for luxury condos. But the Extell Development corporation, who bought the land, made a cursory gesture to history by donating the restaurant shell and ubiqitous signage to the American Diner Museum, based in Rhode Island.
It was the Diner Museum that found a new home for the Moondance. The Museum also has other classic East Coast diners for sale if you'd care to purchase one for your backyard.
The removal of the Moondance is a blow for theatre fans, as the restaurant once employed the late Jonathan Larsen, creator of 'Rent'. It was also the location for several films and TV sows, most recently "Sex and the City" and the first 'Spider-man'. The Moondance also played a jokey 50s diner in an episode of 'Friends' where Monica was employed wearing a blonde wig and fake breasts.
We'll leave it to the sardonic response of Brooks of Sheffield at Lost City to explain how we really feel about this.
So long, little doggie!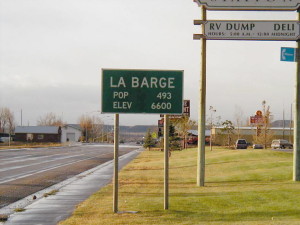 UPDATE: Eater reports that the city is inquiring a little further into just how exactly they plan to uproot the building from its foundation and transport it. Why do I get a weird feeling this thing's going to end up in the middle of the highway somewhere in Ohio?