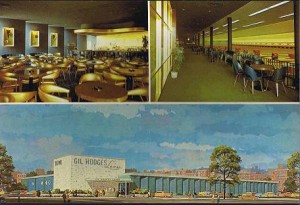 As often happens in the blogosphere, seemingly unimportant events get parceled about with declarations that don't really mean much. For instance, the announcement yesterday that a new bowling alley was opening in Brooklyn — the first to open there in nearly 50 years! — disguises the fact that there are already a few bowling alleys in Brooklyn already. There just aren't that many with a 'hipster' gloss — vintage equipment and furniture, lots of fancy booze, scrappy environment.
In Manhattan, there are four places to go bowling, each with its own 'perspective', if you will, on the sport:
300, flashy bowling alleys, biggest and most expensive in the city, are part of the Chelsea Piers complex. The Piers are far more familiar with ocean liners than bowling balls rolling in. It was a dock for the very first passenger ocean liners all the way back in 1907. The beautiful Pier complex that was constructed in 1910 served the city as a terminal for luxury liners and immigrant transport alike. Here's a pic of Chelsea Piers' original lanes: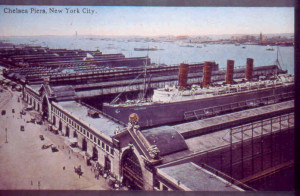 The Titanic was scheduled to dock there, but didn't quite make it. The Lusitania left from here in 1915 when it was sunk in Irish waters by a German U-boat, killing almost 1,200 people. A more hopeful docking occurred in 1936 when the vessel containing the victorious US Olympic team from Berlin, including Jesse Owens, landed to a breathtaking reception.
The Piers fell into great disrepair and were scheduled for demolition when they were allotted in 1992 as a sports and recreation hub for the city. The AMF Chelsea Piers Lanes were built in 1995 and have only recently been transformed into the 'fancier' 300 New York (think expensive martinis and fabulous bowling shoes). NOTE: It is named after the perfect score in bowling, not a comic book Greek epic.
Here's some pre-300 signage: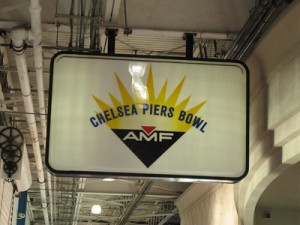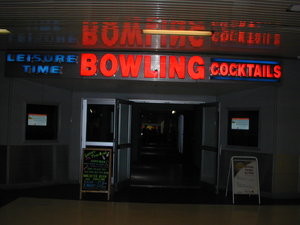 Leisure Time Bowling, at the Port Authority bus terminal, has gone through some enhancement since its opening back in 1991, but it still has that hard, greasy edge that goes well with a pitcher of beer. This is the place you go if you're serious about bowling, you have a birthday party of children, or you just want to entertain yourself while waiting for your bus.
But despite its 'self-aware', showy hipster-eque and often campy decor, Bowlmor Lanes still remains my favorite, and for good historical reasons. Opened in 1938, Bowlmor was host to the prime-time televised bowling of the 50s and helped form bowling's kitsch aesthetic.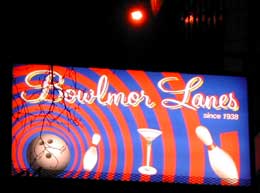 Bowlmor was saved — or ruined, depending on your viewpoint — in 1997 by owner Tom Shannon, who transformed it into a temple of bowling glamour, with walls of pins signed by celebrities, sparkling upholstery and a deejay spinning retro tunes. Virtually every celebrity known to man has worked out a lane, from Jodie Foster to Richard Nixon.
It seemed to have worked for him; the website claims that in 2001, Bowlmor was the highest grossing bowling alley in the world. Anybody trying to get a lane there on the weekend these days would not scoff at that factoid.
It was discovered in 2004 that one of Shannon's investors, through his company Strike Holdings LLC, was none other than Yassar Arafat. As Bowlmor has always been a popular location for bar mitzvah parties, naturally they returned the money.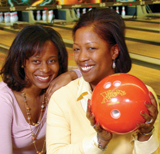 The recent addition to the Manhattan's bowling universe is Harlem Lanes, right off 125th Street, opened last year by Sharon Joseph and her aunt Gail Richards (pictured), the first African-American women to ever own a bowling alley in the United States! Who knew there was trailblazing to be done in the world of bowling? The lanes are supposedly the best in town. (Well, they are the newest.) Maybe they can offer some advice to Brooklyn's newest?
By the way, the picture at the top is of Gil Hodges Lane in Brooklyn, which is still operating and is named after a baseball player. (Hey if a tennis stadium can be named after a jazz musician, why not?)