From the podcast: David Belasco and some his feminine daliances. Belasco is still believed to haunt his theater on 44th St.
A city this size certainly has its share of ghosts, and the Bowery Boys spend the spooky season with some of the most famous — a suicide showgirl, a grumpy landowner, a womanizing theater owner and a rich spinster.
Listen to it for free on iTunes or other podcasting services. Or you can download or listen to it HERE
In today's podcast, we highlight some of New York City's most popular ghost stories. There was one more story that we left out that I wanted to put here. It isn't a ghost story; it's an actual historical event that just happens to be really creepy. I dont have many pictures of this event — being from the 1840s — so interspersed are some shots of 'haunted' places from this week's podcast.
Christmas 1843 — On the western side of Staten Island lay a small town called Graniteville, some townspeople awoke to see a fire in the house of sailor George Housman. Although he was frequently at sea, his wife and his daughter still lived there, and George's sister Polly was staying with her.
The people stormed into the burning house to find a scene of grisly horror — George's wife Emeline had been attacked with an axe, her arms broken, her throat cut. The daughter lay next to her dead with her skull crushed. Polly had disappered. She did not live there but was staying because Emeline was frightened while her husband was away. For they had $1,000 in the house.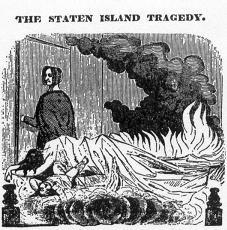 Nobody had actually remembered seeing Emeline come out of her house for the past couple days. But they did remember Polly. She was seen in town pawning silverware with the initials EH on it. And later that day, in Manhattan, she was seen spending the money, buying a green hooded cape and veils. So naturally suspicion naturally pointed to Polly. Townspeople began search parties, while women and children were locked in their homes.
Polly was considered a 'wanton woman' with a spurious reputation. Her son worked as an apprentice at a drug store on Canal Street in Manhattan, and his employer was also Polly's lover.
Polly would make her way to the landing of the Tompkinsville ferry, a precursor to the Staten Island Ferry. She was camped in a corner, getting drunk on gin, and witnesses recognized her "by her long, hooked nose." By strange providence, George Housman returned to New York that very day, and found Polly on the street with George's cousin Freeman Smith. They must have had quite a lot to talk about.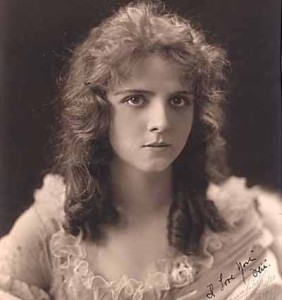 Above: from the podcast, Olive Thomas, the young starlet who haunts the New Amsterdam Theatre
She was eventually arrested and sent to county jail. The day after she was arrested, Polly gave birth to a stillborn child.
Polly eventually went on trial in June of 1844 but by then, news of the alledged lascivious murderess — one baby dead from an axe, another from her womb! — spread to Manhattan and beyond.
Special ferries were installed to bring people over to the courthouse. Reporters were sent from neighboring states, including one from Pennsylvania, by the name of Edgar Allen Poe who is heavily critical of how the trial was being handled:
"The trial of Polly Bodine will take place in Richmond and will no doubt excite much interest. This woman may possibly escape, for they manage these matters wretchedly in New York…..I have good reason to believe that it will do public mischief in the coming trial of Polly Bodine."
Curiously enough, Poe would write up his article the same year his story of the publication of The Tell Tale Heart.
Not everybody was as sure as Poe however. Edward Van Emery in his 1945 'Sins of New York' states that "there has never been much doubt as to her having been the guilty party."
There was so much public flurry and gossip that a fair trial was virtually impossible. According to Henry Lauren Clinton's 1896 'Extraordinary Cases' Polly's life was spared by a single 'incorrigable' juror, and it was declared a hung jury.
So a second trial was held in Manhattan to even greater fanfare. She was so notorious that PT Barnum, in his downtown museum on Broadway and Fulton Street (blocks from where the trial was taking place), erected a wax homage of her. In the tableaux, he called her "the witch of Staten Island", representing the woman by hacking Emiline and her daughter with an axe.
Here's a picture of how the Barnum museum looked in the 1850s: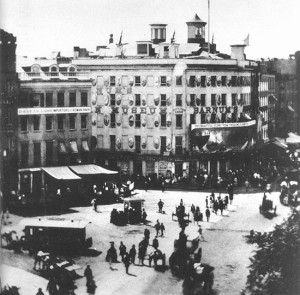 Like the great 'trials of the century' today, Polly has superstar representation (Clinton DeWitt) and the attentions of every tabloid on the Eastern seaboard. During this trial, witnesses changed their stories and truth readily bled into rumors. Due to this was soon declared a mistrial.
The final trial had to be moved out of Manhattan to Orange Country because of a lack of unbiased jurists. Finally Polly was found … innocent.
Her reputation ruined, Polly returned to her home, rarely to leave her home, for almost 50 years. She would die on 1892.
Yet like OJ, the "real" murderer was never found. And much conjecture from modern investigators suggest that Polly really was the murder, who hacked her sister-in-law and niece to death. Just down the street from the Housman home (near Forest Avenue and US 440, according to the NY Public Library) you can find the grave of Emiline and her daughter, and at night they say that a ghost of she and her daughter roam the cemetary looking vainly for justice.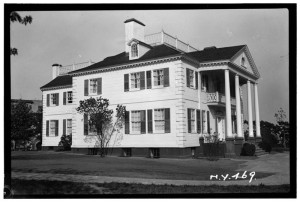 Above: the Morris-Jumel Mansion in Washington Heights, and home of the possible ghost of Eliza Jumel. Information on visiting the mansion can be found on the Morris-Jumel website..