(Secretariat Tower, in a dazzling light show during a special session on the international HIV/AIDS crisis.)
It's the only area of Manhattan that actually belongs to the world (literally). Come along with the Bowery Boys as we cut the security line to uncover the true story about the unusual headquarters of the United Nations, and why they ended up in New York City in the first place.
Listen to it for free on iTunes or other podcasting services. Or you can download or listen to it HERE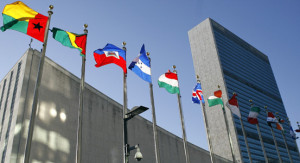 Yesterday was United Nations Day, marking the anniversary of the creation of the UN Charter by its five originating members (Soviet Union, China, Britain, the United States and France) and 46 other signatary nations. Currently there are 192 member nations.
The grounds of the United Nations are alive with an assortment of unusual sculptures from around the world. Although not open to the public, you can easily see most of these through the fence:
From Luxembourg, the very popular Knotted Gun, by Fredrik Reuterswärd, titled 'Non Violence' no explanation neccessary: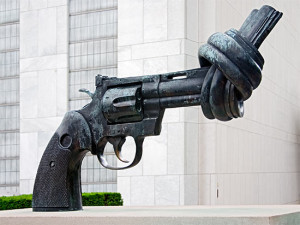 The Japanese Peace Bell, a gift from Japan before they were even members of the United Nations, holds a special significance on the UN grounds. It tolls twice a year, for the vernal equinox and on the first day of General Assembly.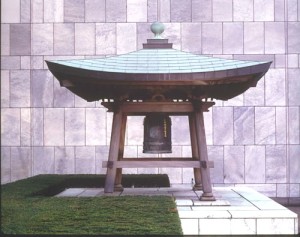 The circular Solidarity Among Sisters was a gift from 'Arab women' crated by Silvio Russo, "shaped … in the form of an abstract image of a number of women, each of whom is holding out her hand to the next."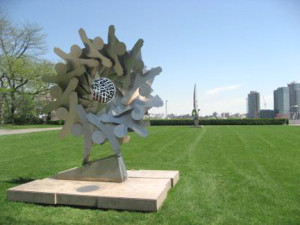 Tucked in the trees at the end of the garden is 'Sleeping Elephant', a bronze sculpture from three nations (Kenya, Namibia and Thailand) and cast from an actual living elephant by sculptor Mihail. Believe it or not, the size of its, um, 'member' was a point of contention when it was first installed in the park.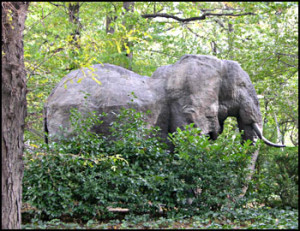 The most renown of all the sculptures is probably Let Us Beat Swords Into Plowshares an Evgeniy Vuchetich creation donated by the Soviet Union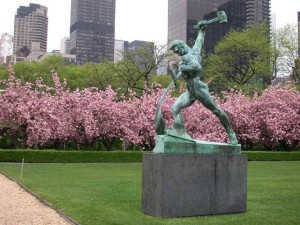 Additionally, the lobby of the UN has one object of significant note — a striking stained glass window commemorating the life of Dag Hammarskjold by French painter Mark Chagall: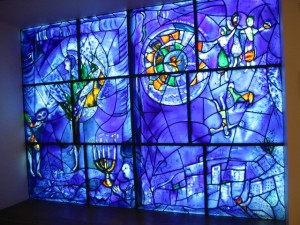 Then of course there's the most striking piece of all — 'Good Defeats Evil', by Georgian artist Zurab Tsereteli, a rather controversial gift from the Soviet Union in 1990. It conjures the legend of St. George slaying the dragon, with nuclear arms filling the role of the slayed beast.